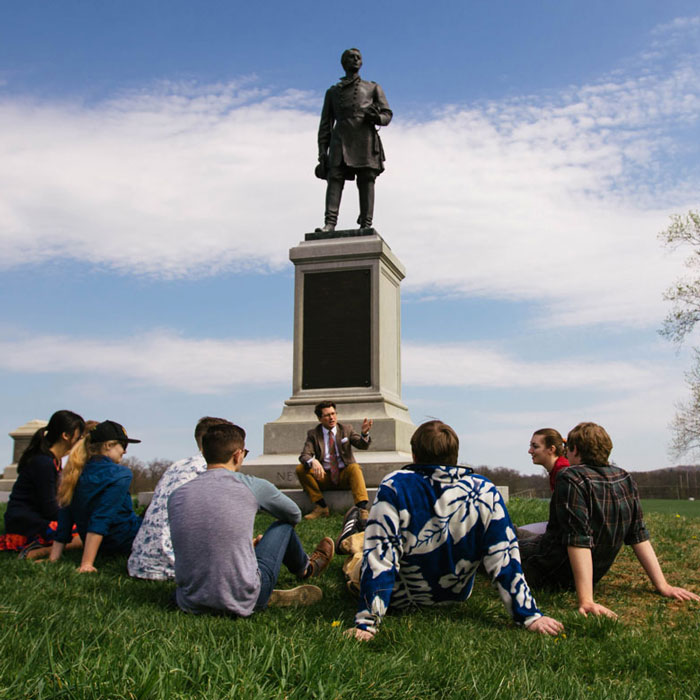 Tune into a new episode of Gettysburg College's podcast, Conversations Beneath the Cupola. In this episode, podcast host President Bob Iuliano is joined by two members of the Gettysburg College community: Chris Gwinn '06, a supervisory park ranger for interpretation and education at Gettysburg National Military Park, and Professor of Africana studies and history Scott Hancock, who is actively engaged in the recent Confederate monument debate. Together, they unpack the Confederate monument controversy, particularly in the context of the Gettysburg battlefield.
"The monuments and the battlefield have always been controversial. It ebbs and flows, of course, but this debate we're having now as a country about how we remember the Confederacy, this is not a new debate, and it's not a particularly novel debate," Gwinn said in the podcast episode. "If you go back to the early 1900s, Union veterans, the war department, which again, is managing the Park at that time, and Confederate veterans, they're engaged in almost this exact same debate."
The episode concludes with an anecdotal "Slice of Life" told from the president's perspective. Iuliano reflects briefly on the recent de-densification of a fully residential campus due to the continuing effects and efficiency of COVID-19. While it was a difficult transition that no one wanted, Iuliano emphasises the resilience of the College community. Quoting Socrates, he speaks of his confidence in faculty to continue fostering a learning environment in which students are challenged to think and grow.