For Goldman Sachs Vice President Richard Kampert '10, determining the conditions of financial markets and knowing when and how to invest and raise capital are crucial elements to long-term success for companies and governments. That same approach held true for Kampert's personal and professional growth and the investment he made in his education and experiences at Gettysburg College, which ultimately helped him develop the leadership skills necessary to navigate a career in the ever-changing global finance industry.
Early in his college career, Kampert identified his strengths and weaknesses thanks to Gettysburg's distinctive approach to education—The Gettysburg Approach. It helped him discover opportunities to become a well-rounded professional and cultivate multiple tools for leadership. Instead of specializing in just one area or expertise, Kampert credits his liberal arts and sciences education for his growth into "a master of one trade, and a jack of all trades."
"Working in finance, the people who are most effective at their jobs, they're obviously a specialist in the one or two things that they focus on, but what differentiates them ultimately is how much they learn about other facets of the job that are either tangentially related or not related at all and how they can weave that in to share a broader perspective with clients," said Kampert.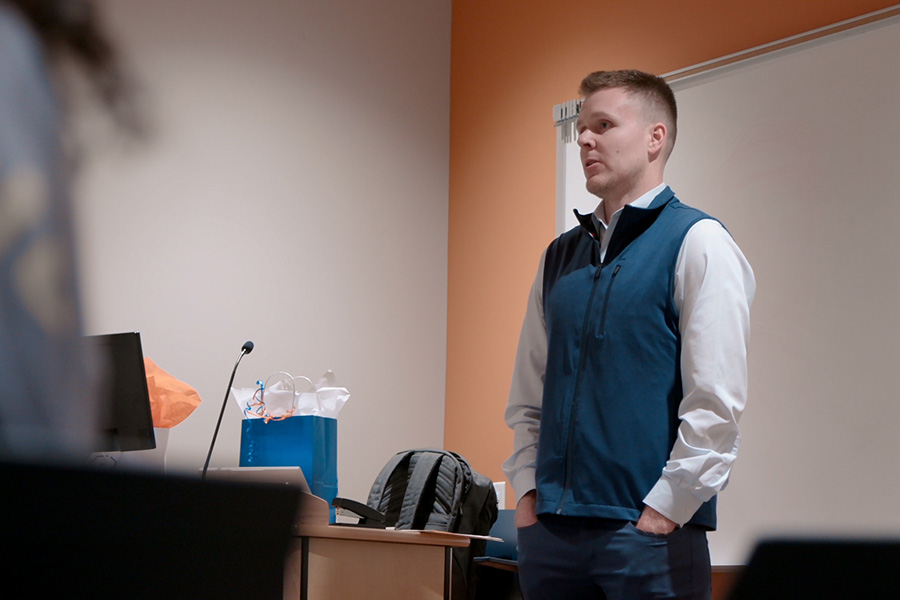 Kampert's path to Gettysburg wasn't direct as the Doylestown, Pennsylvania, native and graduate of Central Bucks West High School took a quick detour at a much larger institution on the western side of the state. Sitting in large classes in cavernous lecture halls with little interaction between students and faculty didn't appeal to Kampert. Gettysburg's personal approach to education, consequential location and proximity to major cities of influence, and intercollegiate soccer program captured his attention.
When the management and economics double major arrived on campus in the fall of 2007 after transferring, he found a community willing to help him at every turn. He was able to have one-on-one conversations with his mentors and engage with students in lively discussions in class.
"Gettysburg is a great place in terms of being able to experiment, have meaningful discussions, and if something's not working, finding other people to help and figuring out what ways you can recalibrate your perspectives to be more productive, whether it's learning to create an argument better or learning to be a better defender in soccer," said Kampert.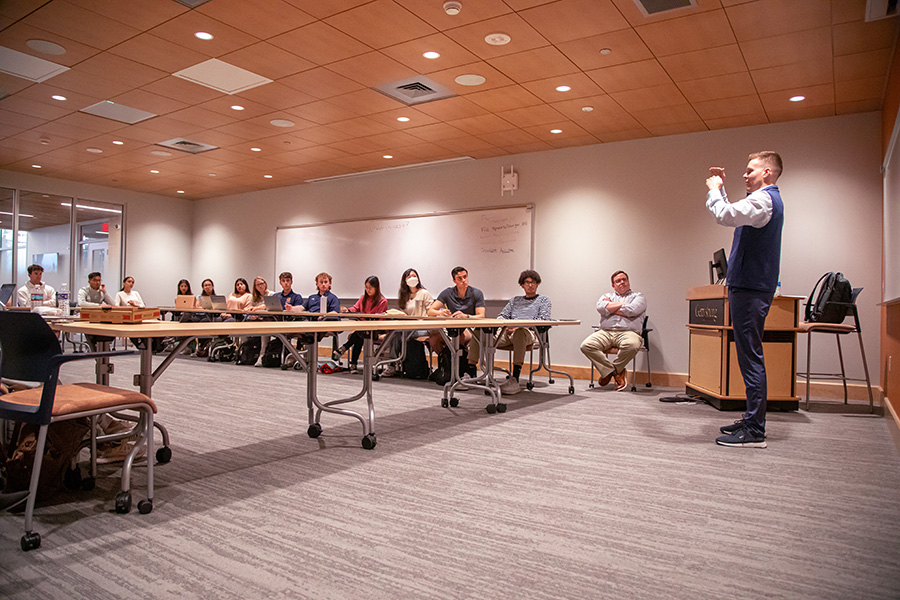 With support across campus, Kampert began investing in the opportunities he found at Gettysburg on and off campus. In the fall of 2008, he interned with Merrill Lynch Grove-Hoffeditz Group in nearby Chambersburg, balancing the opportunity to shadow a wealth management office alongside his academic courses and the fall soccer season.
During his junior year, he spent the spring semester living, working, and studying in Washington, D.C., through the Lutheran College Washington Semester program. While studying economic policy in the nation's capital, Kampert held an internship at the Bennett Group in asset management. As part of his course work, he also attended sessions in Congress at the height of the 2009 financial crisis. For Kampert, it was an impactful and transformational experience that paved the way for his future career in finance.
"We were going to hearings, sitting behind CEOs, senators, congressmen, congresswomen and actually watching history take shape, which was something that I don't think most other schools would have been able to offer me," said Kampert. "I just remember thinking to myself how surreal a moment that was in American history."
These same conversations played out in real time in many of his courses at Gettysburg, both before and after his semester in D.C. This adaptability and flexibility helped students like Kampert gain a better understanding of global markets, the effects of politicians' and public policy makers' work, and the potential solutions.

"I never felt that the curriculum was standardized," said Kampert. "I remember the professors in the economics courses and in the finance courses particularly tailoring the curriculum to what was literally happening in the news the previous week."
Leveraging his internship experiences and expanding knowledge of economics from Gettysburg, Kampert took a semester off during the spring of 2010 to pursue a full-time co-op working in energy marketing and trading at PPL Corporation in Allentown, Pennsylvania—an opportunity made possible by Gettysburg's faculty and administration, which allowed him to finish his academic requirements the following fall while earning credits for his co-op.

"When you look at Gettysburg's proximity to Philadelphia, New York City, Washington, D.C., there are just a number of easy avenues to find opportunities to get career experience, if you're willing to leverage what Gettysburg can provide," said Kampert, who also interned in fixed income trading with Janney Montgomery Scott in Philadelphia in the summer of 2010. "Then it just becomes a snowball. Your collective experience compounds and that ultimately allowed me to build a resume that would be competitive for a major investment bank in New York."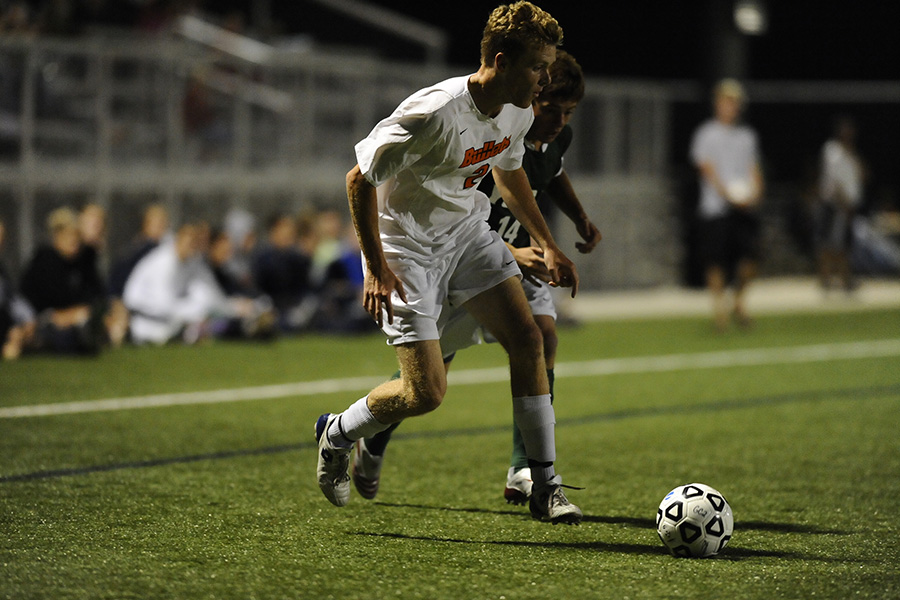 In the fall of 2010, Kampert captained the soccer team, leading Gettysburg to a berth in the Centennial Conference playoffs while completing his course work. As a December graduate, looking for a job in the finance sector could have been difficult, but a prior connection from his semester in D.C. led to an associate position at UBS Investment Bank in Stamford, Connecticut. After three years at UBS, a similar opportunity at Goldman Sachs in New York City became available in 2014, allowing Kampert to work on a team that had a larger footprint in the finance industry.

Currently as a vice president working in the Investment Banking Division at Goldman Sachs, Kampert joined a team that advises corporations and governments on capital raising and strategic debt optimization. He oversees a team that advises clients both in the United States and across Latin America.
Every day, Kampert's Gettysburg education plays a key role when he's communicating across cultures and finding ways for his team to succeed. With the breadth of knowledge and skills he developed through the Gettysburg Approach, he feels empowered to help colleagues and clients work through complex financial issues.
"In my view, leadership is either taking an individual or a group and being able to navigate them to a goal or objective that maybe they wouldn't have been able to otherwise achieve on their own," said Kampert. "A big part of that is starting with learning about yourself and identifying strengths and weaknesses. At Gettysburg, I was able to learn that in the classroom and on the athletic field pretty quickly."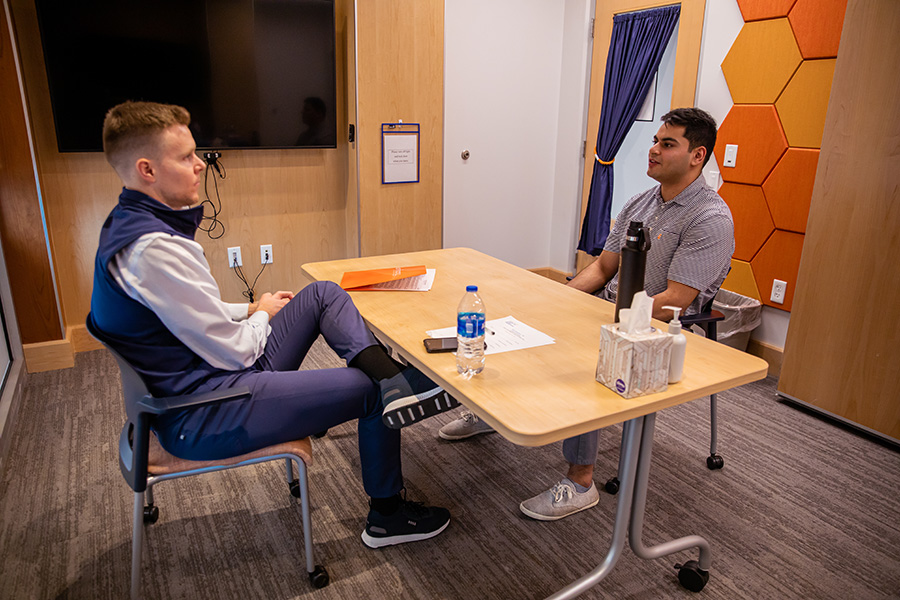 Gettysburg invested in Kampert's passions and aspirations from the moment he arrived on campus. Taking part in interactive and personal classroom discussions, embarking on professional experiences in Washington, D.C., and Pennsylvania, and serving as a captain of the soccer team all helped Kampert become the impactful leader he is today at Goldman Sachs.
"One thing that distinguishes Gettysburg is whether it's the faculty, the other students, administrators, or coaches, you feel that the people are invested in your development," noted Kampert. "Gettysburg strikes the right balance in terms of the community being invested in you, but also rewarding those who are able to leverage that investment to better themselves and those around them."
Learn more about Gettysburg's distinctive approach education and how we are preparing students to lead lives of consequence.
By Corey Jewart
Photos courtesy of Abbey Frisco and David Sinclair
Posted: 08/12/23