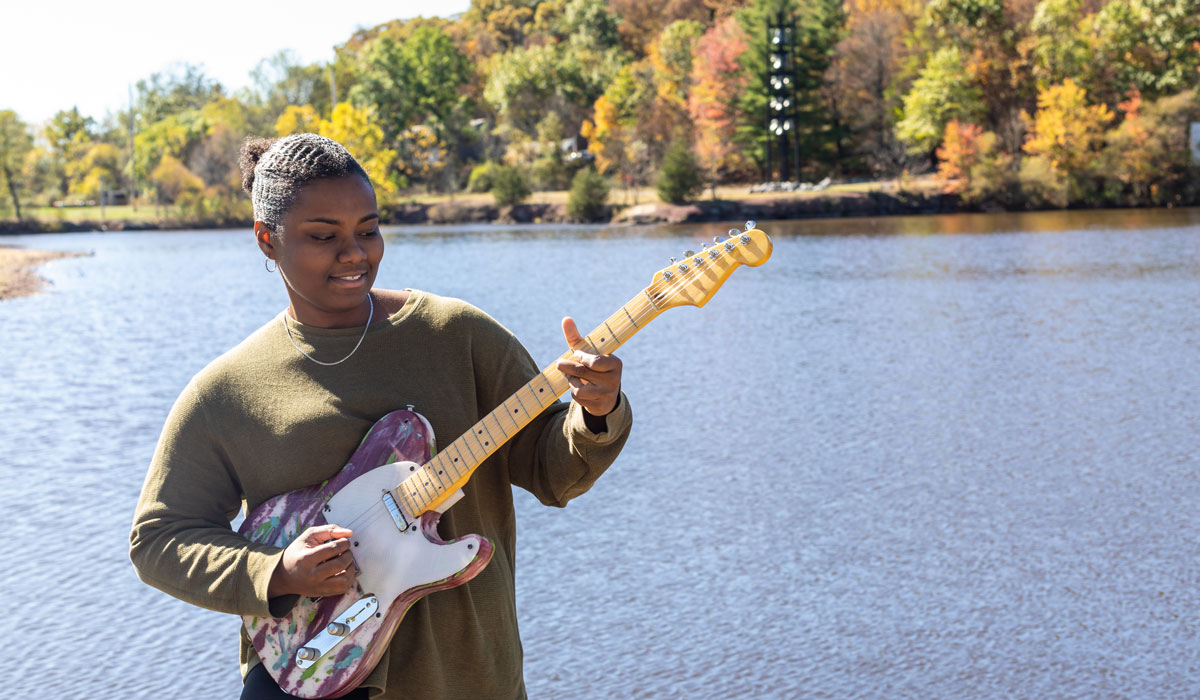 Hands-on opportunities are a staple of the Gettysburg College experience. They allow students to embrace an innovative mindset and discover new ways to help transform the world around them.
This past summer, Lamara White '21 of Newark, N.J., was able to do just that through the Digital Technology Summer Fellows Program. Combining her passions of music and computer science, she designed a one-of-a-kind instrument—a 3D-printed electric guitar. In just eight weeks, White learned about and operated 3D printers and software for the first time at the College's Innovation and Creativity Lab. It was here in this home for curious creations that she was able to execute her vision for a new instrument while learning the importance of technological advancements in the music industry and beyond.
Inspired by this project, White is now pursuing a major in music from the Sunderman Conservatory of Music.
White shared her takeaways from her summer fellowship.
How did you create your 3D-printed guitar?
"For my project, I used 3D printers to create the body of an electric guitar and then separately added hardware—pickups, bridge, and tuners—and wiring so that it was fully functional. The process was a bit complicated at first, but once I got more familiar with 3D printing and the necessary software, it began to work a lot better. One thing I struggled with early on was creating a model of the guitar using Maya, a 3D modeling software, but it was still really interesting to learn more about how 3D models are created. After the first week, everything ended up working well enough for me to begin making a miniature model of the guitar body."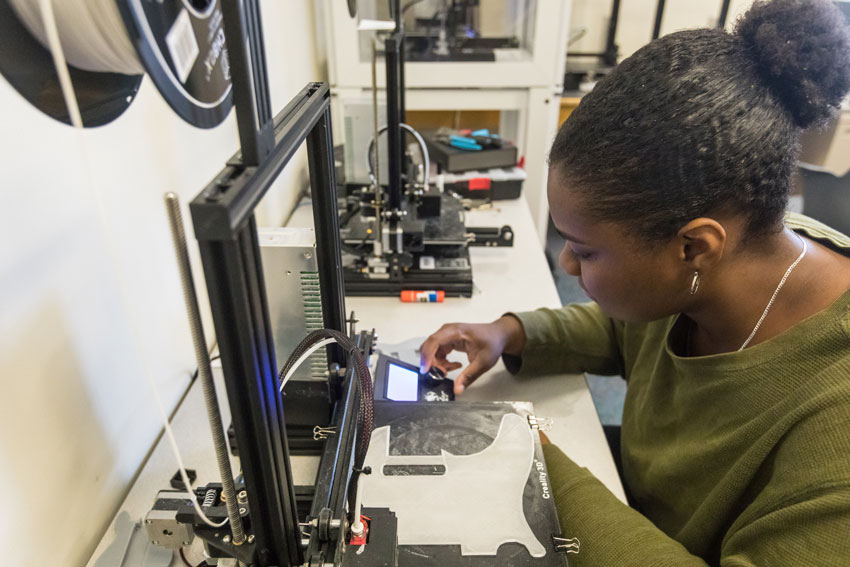 What inspired you to make a 3D-printed guitar?
"The inspiration for this project came from a video I saw on YouTube, where a guy had used a few thousand colored pencils to create a Fender Stratocaster guitar body. I had also watched a few shows in which 3D-printed objects were being used in medical fields, so I began to think about how 3D-printed instruments could become more common in the music industry and about the possibility of making instruments with unique sounds.
"Since making the guitar, I have only really used it to play with different sound settings on my laptop. There are a few different sound differences between this guitar and my normal one. I have a Fender Stratocaster, and although the two models are technically different makes—the 3D printed guitar is modeled after the Fender Telecaster—the printed model is definitely a lot more muffled and a little lower in volume overall. But, this is an issue I've narrowed down to an easy fix."
Do you plan to create any more 3D instruments?
"A few projects have come to mind now that I've finished creating the guitar. For one of the guitar body designs, I was thinking about possibly creating a slot for a DIY pre-amp or effects pedal that I would build and switch at any time, creating a wider range of potential sounds that the guitar could make."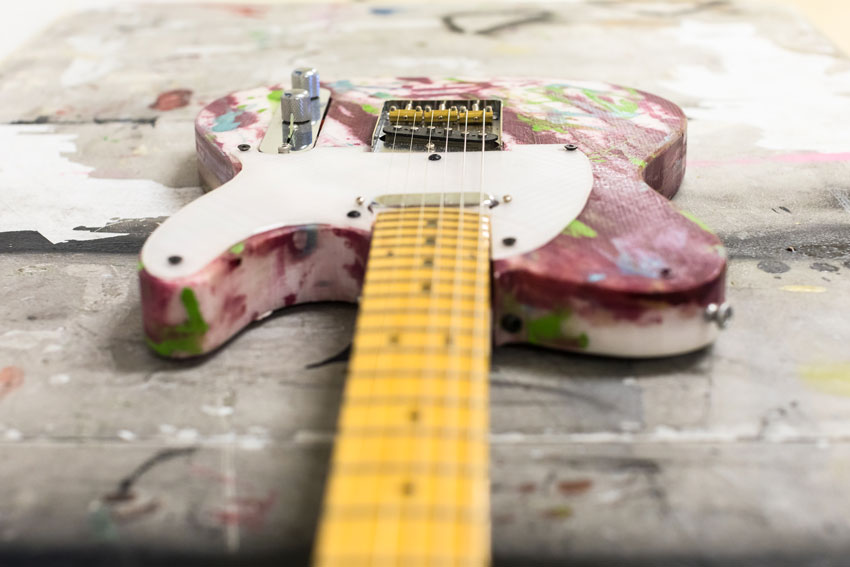 With the advancements in technology, how would you describe the value of 3D printing to be able to create things like never before?
"With current and future advancements in technology, I think that the 3D printing of objects is going to become much more popular. Especially with instruments like guitars, which are very dependent on the material used to make them, new ways to improve the sound and design of these instruments will definitely be modeled by, if not completely built with, 3D printers. 3D printing has definitely opened an entire new avenue of creation."
In your opinion, what is the importance of continued innovative developments?
"The use of 3D printers to create new, previously unheard-of instruments just shows how important continued innovative developments are. A guitar is a relatively small and meaningless item when it comes to the larger scale of potential advances in construction and design of 3D-printed objects. I think that continued research in this field, or any innovative field for that matter, is going to benefit everyone in the long run, especially when considering potential medical advances that could be made by using new technologies like a 3D printer."
Learn how you, too, can be innovative at Gettysburg College.
By Giacomo Coppola '22
Photos by Shawna Sherrell
Posted: 10/25/19