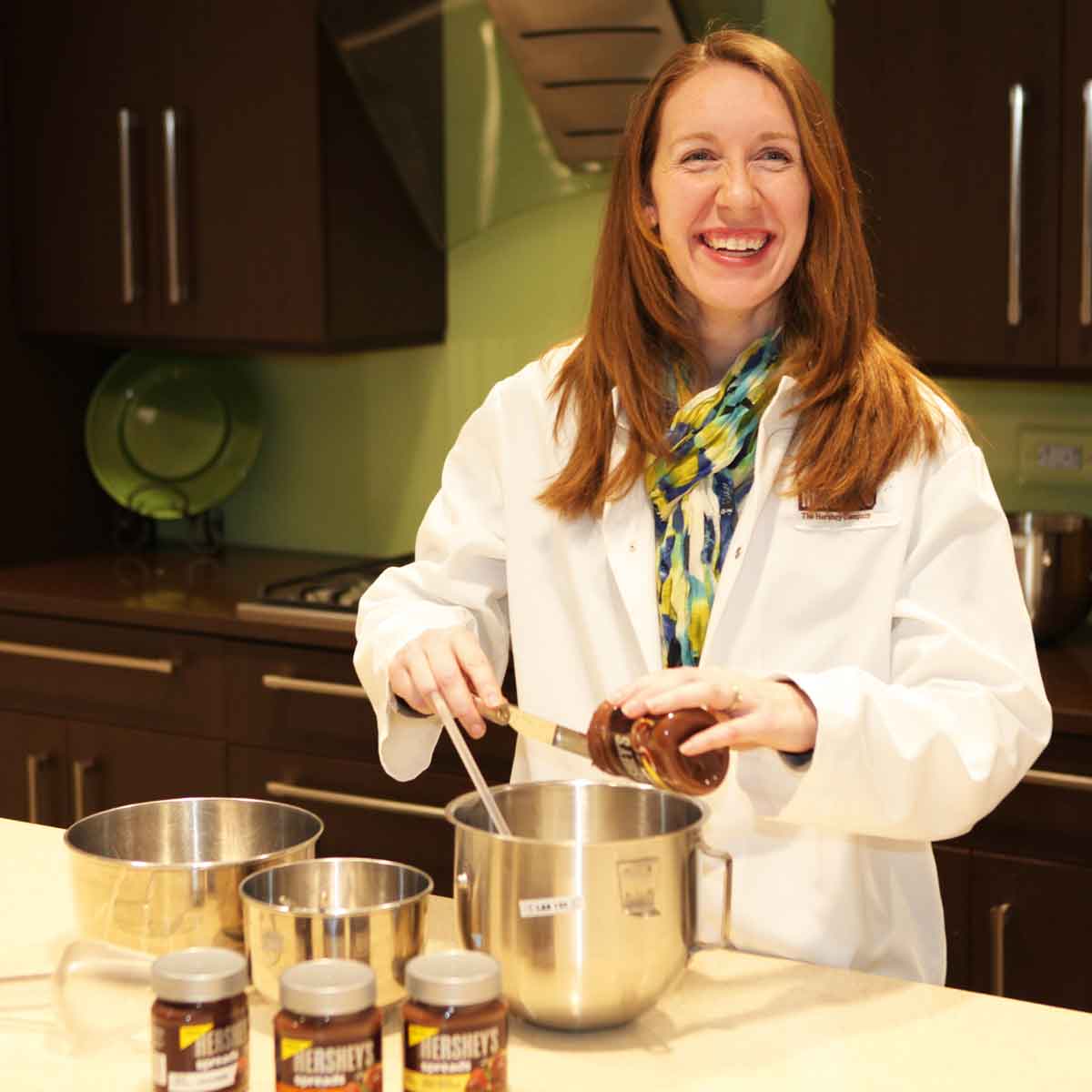 Kimberly Grove McMenamin '08 is a little like Willy Wonka. She spends her days creating new recipes for chocolate and tasting them for quality and flavor. It's a tough job to be a food scientist at the Hershey Company, but someone has to do it.
"I'm a Senior Research Scientist in Chocolate Product Development," explained McMenamin, who majored in chemistry at Gettysburg and has worked for Hershey for a decade. "I create new products or optimize existing products like Reese's Peanut Butter Cups and Kit Kats in the lab, which is like a combination of cooking and science. It's a great career."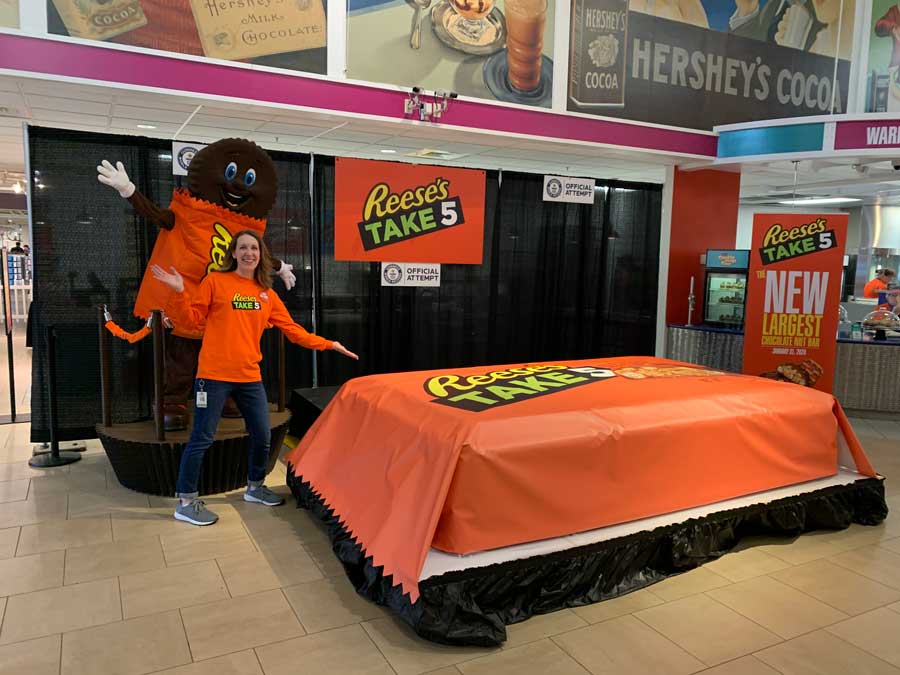 In her role, McMenamin is tasked with experimenting with new ideas in the laboratory on a bench-top scale, making small, sample batches, and finding out if her creations pass the test. If they do, they might end up in stores all around the world.
"It's a lot of iterating, playing around, and testing out flavors and different ingredients. There's a lot of eating chocolate at odd times, like at 8 o'clock in the morning. Then, I get to test them with consumers, get feedback, and optimize the recipe. It's definitely rewarding to take a product all the way from the production facility and into stores," she said.
Recently, McMenamin was able to do just that. In fact, for those who've tried and loved the new Mint Kit Kat Duos, you have McMenamin to thank. She's responsible for that perfect green color and fresh, minty flavor mixed with dark chocolate deliciousness.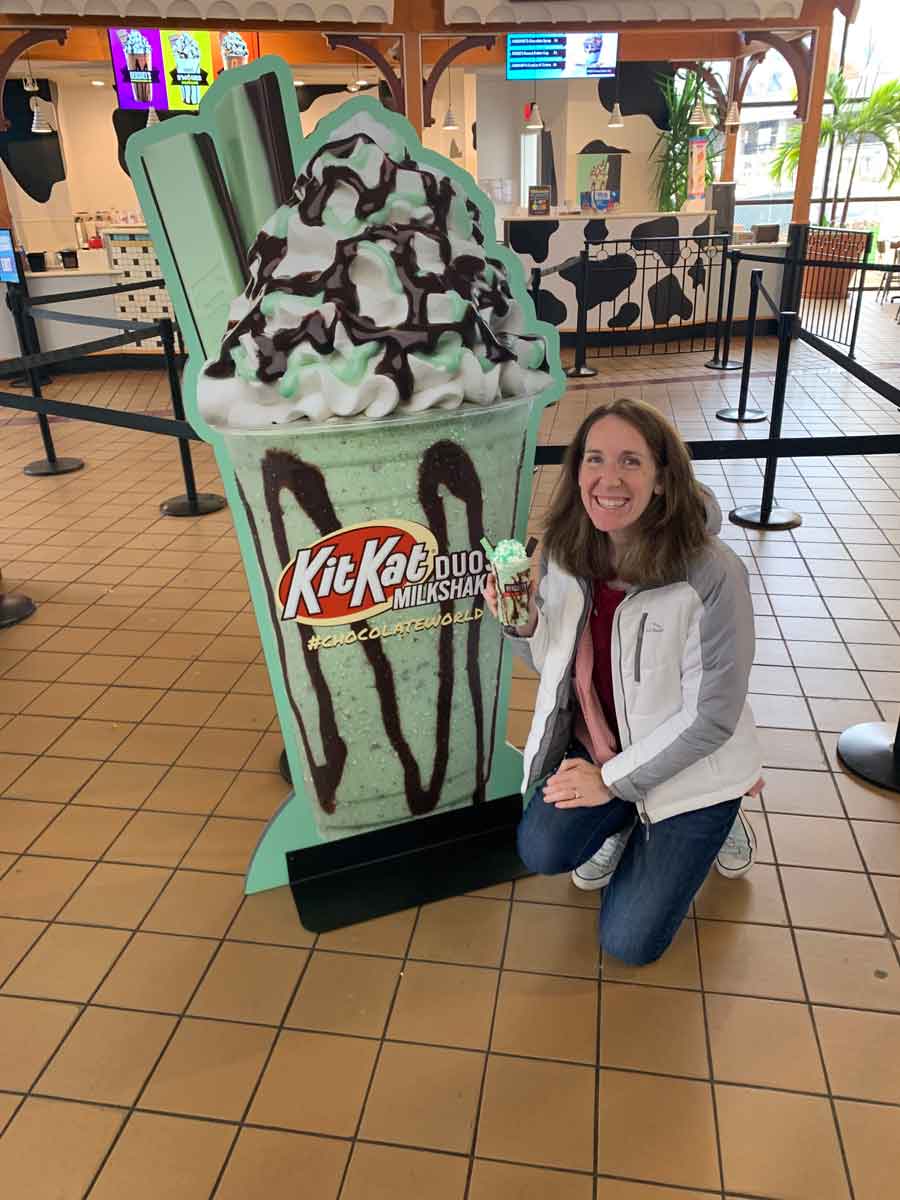 "It's a great feeling to see people pick up the new Kit Kats in stores and put them in their shopping cart. People don't realize how much work goes into getting a new product on the shelves," she said.
Growing up in Central Pennsylvania, McMenamin didn't always know she'd be in the business of chocolate, but was sure she wanted to study chemistry in college. She was drawn to Gettysburg College specifically because it was small, close to home, and had an idyllic setting with an excellent science center and chemistry program. She also liked that she could major in the sciences and still have the opportunity to try different classes and study globally.
"Oftentimes, science majors are on a strict schedule, but my Gettysburg advisors planned with me to ensure that I could spend a semester in Bath, England, and still be fully on track. I loved having the liberal arts experience as a whole because it made me a more well-rounded, worldly person," she reflected.
In addition to the global study experience, McMenamin was a member of the co-ed service fraternity Alpha Phi Omega and of the Skeptical Chemists Club. She also spent the summer between junior and senior year at Gettysburg conducting organic chemistry research with G. Bowers and Louise Hook Mansdorfer Prof. of Chemistry Donald Jameson. She conducted reaction experiments in the laboratory with a white, solid organic compound called Tröger's base. She said, "This type of research and close learning with professors is unique to small schools and I'm very grateful for the experience. I gained more independence in the lab and a greater feeling of ownership over my experiments. This prepared me well for graduate school."
When reflecting back, McMenamin is particularly impressed by the availability of the professors at Gettysburg and the ease of relationship-building on campus, particularly when she compares that to her graduate experience at a larger institution. "It opened my eyes to how different it can be at a larger school. The class sizes are huge and the professors are not easily accessible. At Gettysburg, I was gifted with one-on-one experiences and attention in the laboratory because of its small size and wonderful faculty. That absolutely made me a better and more confident scientist," she said.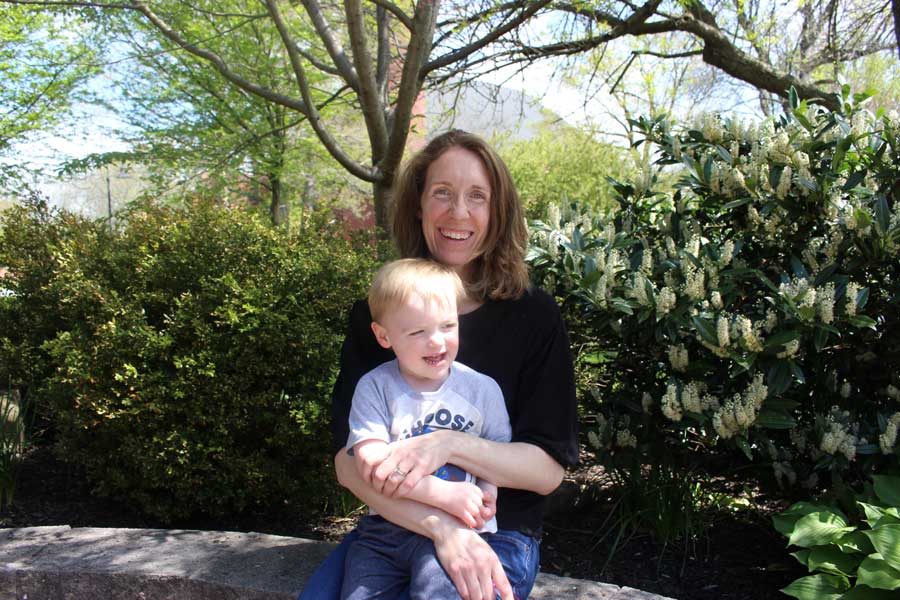 McMenamin still has a big soft spot for the Gettysburg campus. In fact, she recently visited with her family to drive around the campus and reminisce. Her memories are filled with great experiences, lasting friendships, delicious Servo food, and the beginnings of a career she loves as a food scientist making the scrumptious creations we all enjoy.
Read more about student-faculty research at Gettysburg College and how these hands-on, collaborative opportunities equip students with the skills to be successful across a variety of fields.
By Katelyn Silva
Photos courtesy of Kimberly Grove McMenamin '08
Posted: 07/10/20