At Gettysburg College, we harness the power of inspiration through innovative student-faculty research and creative projects. With average class sizes of 18, students have the opportunity to engage with and conduct meaningful, hands-on research alongside faculty inside and outside the classroom. Located only 80 miles from our nation's capital, Gettysburg College is at the epicenter of groundbreaking student-faculty research that promotes a breadth and depth of knowledge and set of enduring skills to prepare students for a lifetime of personal learning.
Why engage in student-faculty research at Gettysburg College?
With more than 65 academic programs to explore, including business, organizations, and management, English, psychology, and music, students can curate a dynamic degree experience around their research interests. Our professors, who are experts in their field and know you by name, support this vibrant, connected community of student-scholars. With Gettysburg College's experiential approach to learning, student-faculty research enhances the lasting impact of a Gettysburg College education.
10-1 student-faculty ratio
100% of tenured and tenure-track faculty have a doctorate or terminal degree
More than 50% of our students conduct student with a faculty mentor
Opportunities for both scholarly and creative engagement strengthen a resume or graduate school application and impart critical knowledge and skills to support a lifetime of learning. Whether examining identity formation among American Muslim youth, performing in a Sunderman Conservatory of Music recital, or researching coral regeneration in Australia, Gettysburg College students seek out new perspectives by asking questions about themselves and the world.
Exploring interests through research
Choosing a student-faculty research program
Gettysburg College student-faculty research programs are diverse. Most programs are organized by year and program of study. Students also have the option to pursue research opportunities outside Gettysburg through our study abroad program.
Kolbe Summer Fellows Program
Arts, humanities, and social science students who want to join a student-faculty research program the summer before their sophomore, junior, or senior year may do so with the Kolbe Summer Fellows Program.
The Cross-Disciplinary Science Institute (X-SIG
Students working with the X-SIG program develop the necessary skills to be an ethical scientist through interactive, hands-on research, answering science's most pressing questions.
The Office of Student Scholarly Engagement
The Office of Student Scholarly Engagement advises Gettysburg College students on all aspects of student research, including pursuing innovative research and projects.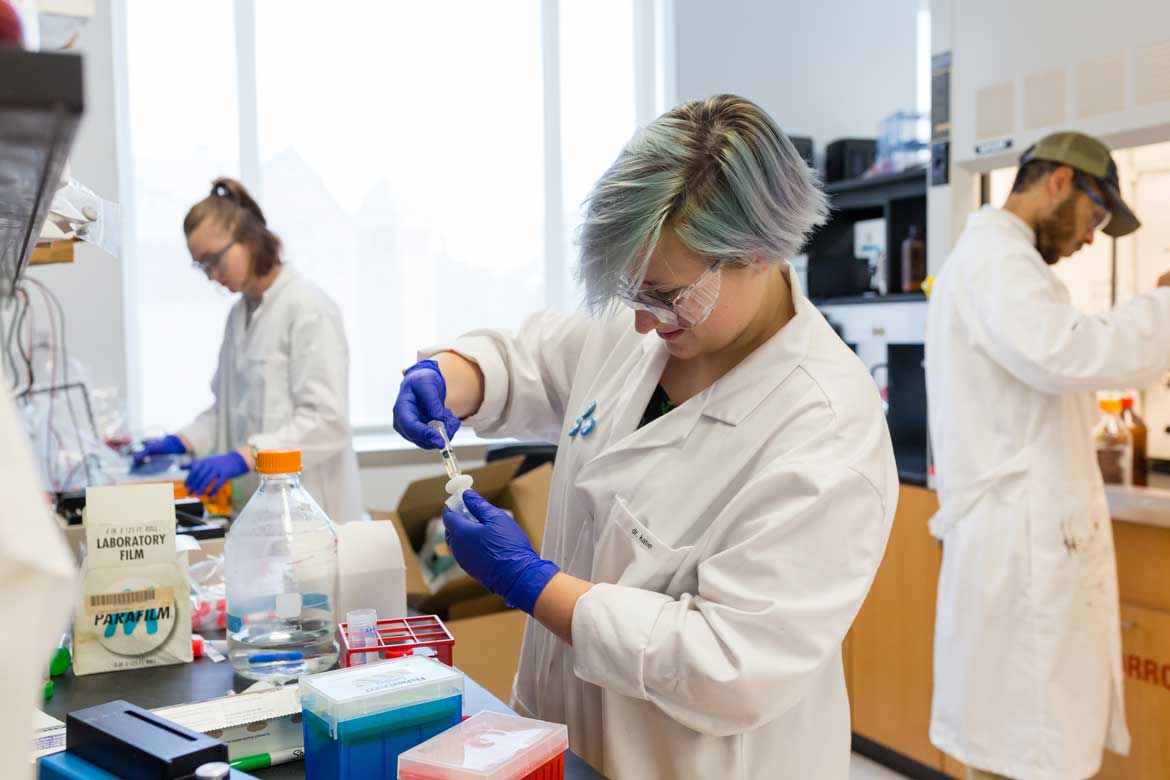 Those who apply for and are awarded competitive fellowships and scholarships—such as the Barry Goldwater Scholarship, Fulbright Grant Program, Rhodes Scholarship, and more—can also receive information about these scholarship opportunities from the Office of Student Scholarly Engagement.
Office of Student Scholarly Engagement
Research funding
Gettysburg College offers financial aid for student-faculty research. Students interested in student-faculty research may receive financial aid from $500 to $4,500, depending on their program of study and class year.
While all students at Gettysburg College have the opportunity to request reimbursement for research expenditure, the amount awarded depends on the research program.
Learn more about Gettysburg College's fellowships and scholarships
How to participate in student-faculty research
Many students embark on student-faculty research that follows the track of their major area of study. Others may find the research they are interested in is different from their degree program.
The first step is considering your interests. Regardless of your path, Gettysburg College actively encourages you to engage in research outside of your major to explore the many facets of our world through hands-on learning. For example, you can dive through Pennsylvania caves to document invertebrate life-forms during a summer X-SIG experience or serve as an immersion project leader on a Center for Public Service trip to Morocco.
Campuswide, students and faculty are invited to discover and explore mentored student-based research and creative activity. Students can present their work at a variety of symposia, including CAFE, a celebration of Academic First-Year Engagement, and department and program events that highlight undergraduate research, creative activity, and community engagement.
CAFE offers faculty-nominated first-year students with the opportunity to showcase their best work from their respective seminars.
If you want to visualize research firsthand through student-led presentations, watch live performances, or simply learn about findings from independent studies, annual campus events in April offer countless opportunities.
Students can also find opportunities to work alongside faculty to co-author scholarly articles and publications or lead discussions at national or international conferences.
Expand your horizons with student-faculty research
Whether you are interested in engaging in research inside the classroom, out in the field, or with a program outside your area of study, Gettysburg College student-faculty research programs and creative activities allow you to unleash opportunities you may have never imagined.
Learn more about research opportunities at Gettysburg by getting to know the Office of Student Scholarly Engagement or by requesting more information.