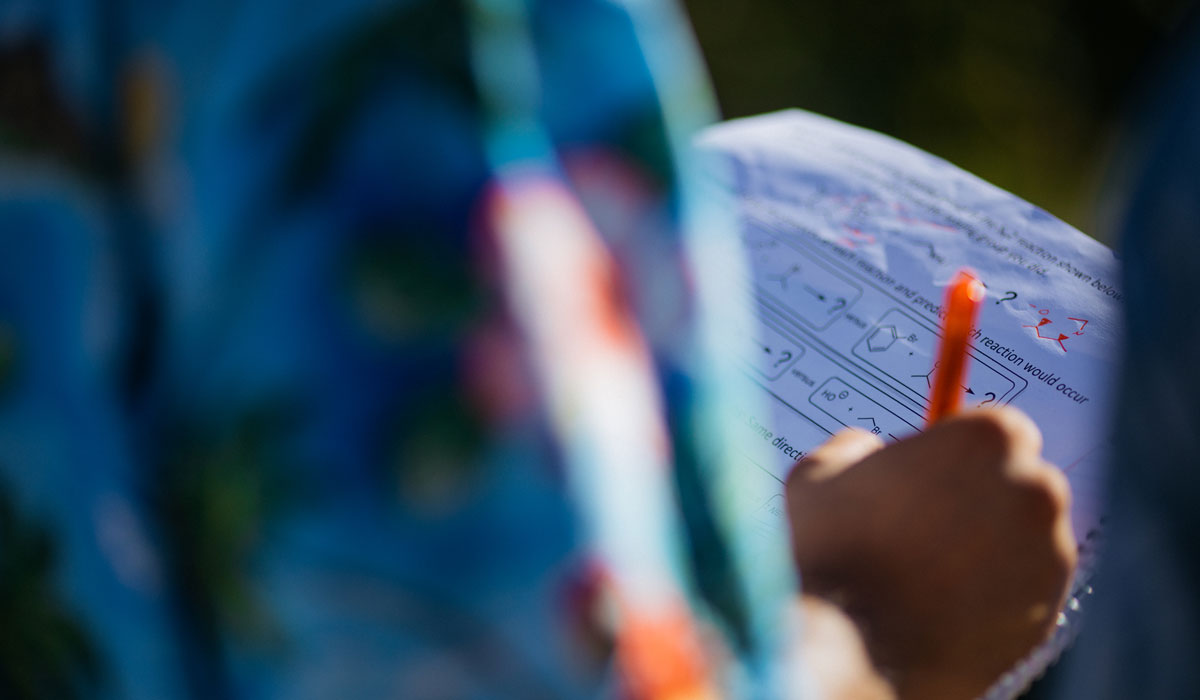 Every summer, with the support from the Cross-Interdisciplinary Science Institute (X-SIG), Gettysburg College faculty members and students conduct many collaborative research projects. Those research projects expand across academic areas including chemistry, biology, physics, computer science, and psychology.
Recently, chemistry major Paige Ashey '21 and biochemistry and molecular biology major and studio art minor Jordyn Markle '22 won chemistry merit awards from the American Chemical Society for their 2019 X-SIG research projects.
The American Chemical Society is one of the world's largest scientific societies based in the U.S. that supports students, professionals, and practitioners in the field of chemistry. The society offers awards, grants, and funding to scientific works that contribute to the knowledge and development of the chemistry field. These awards for undergraduate students focus on students' achievements and their contribution to scientific knowledge.
Dr. Judith Bond Scholarship
Recipient: Paige Ashey '21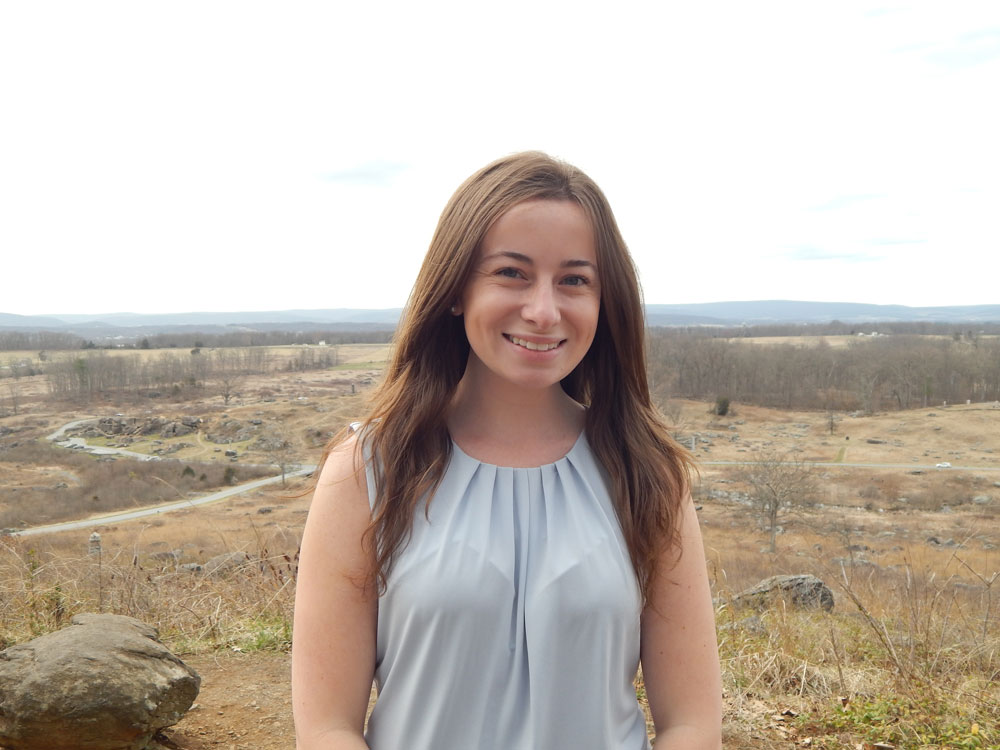 During the summer of 2019, Ashey and Chemistry Prof. Shelli Frey collaborated on an X-SIG-funded research project that focused on the interactions of macromolecules with cell membranes and the subsequent effects. Ashey specifically investigated the effects of charged nanoparticles on the size, stability, and morphology of model cell membranes.
Upon submitting an abstract of her research titled, "Functionalized Polystyrene Nanoparticles Alter the Structure and Stability of Model Cell Membranes," Ashey was invited to present her findings at the Colloid and Surface Science Division poster session at the American Chemical Society Conference last spring, but the conference was canceled due to COVID-19 restrictions. Her compelling research also led her to be selected for the 2020 Dr. Judith Bond Scholarship, which awarded her $500.
The Dr. Judith Bond Scholarship is one of many American Chemical Society awards and is given to a junior chemistry major within the Southeastern Pennsylvania Section who has shown competency in academic research.
"I was thrilled to hear that I was chosen for the Dr. Judith Bond Scholarship, as I felt proud that all my hard work was being recognized by others," Ashey said. "The Chemistry Department provides an extremely supportive environment for students to learn and grow in, and I was so happy to be acknowledged by ACS for the research accomplishments I made during X-SIG and throughout the academic year."
After graduating in May, Ashey plans to pursue a PhD in Chemistry at the University of North Carolina, focusing on polymeric materials.
"Gettysburg College has supported me in ways I never could have expected. In graduate school, I want to collaborate with other researchers to take on challenges in medical, energy, or health fields," Ashey said.
Colloid and Surface Chemistry PUI Student Award in Biomaterials and Biointerface
Recipient: Jordyn Markle '22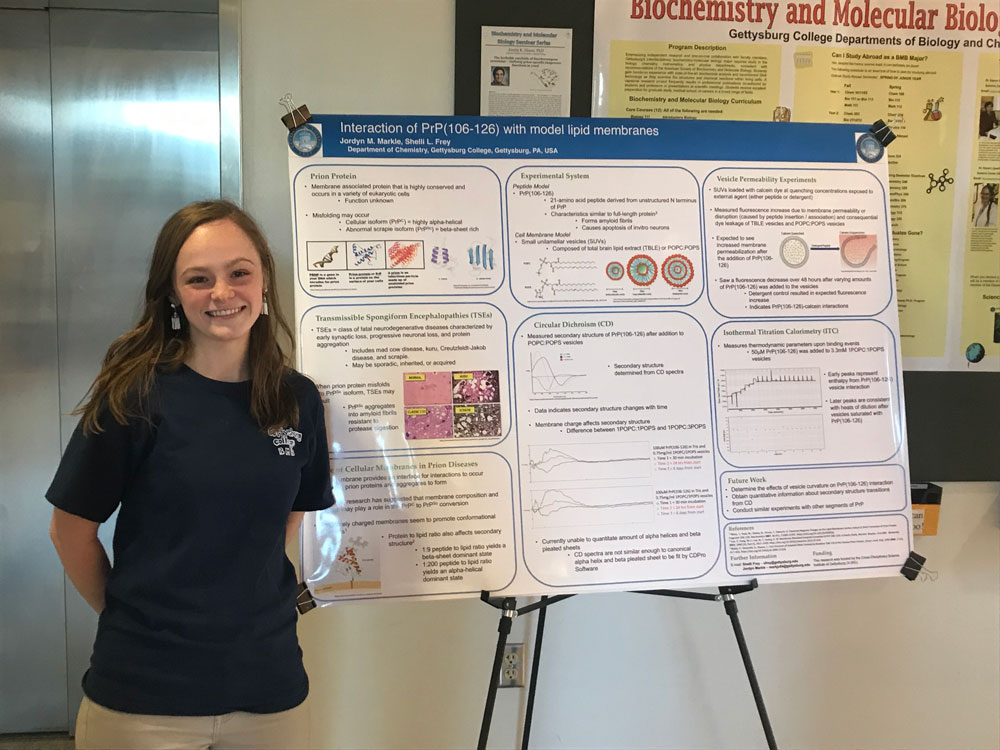 Markle also worked with Prof. Frey for her X-SIG research project in the summer of 2019, which focused on the prion protein: a protein that can misfold and cause neurodegenerative diseases such as Creutzfeldt-Jakob disease. This experience has solidified Markle's interest in biochemistry and lab research.
"My time spent in Dr. Frey's research lab has been integral to developing my passion for research and reaffirming that graduate school is the path for me. It's really great getting to work closely with my professors and other students, and I appreciate the fact that Gettysburg College fosters these connections," Markle said.
Every year, the Colloid Division of the American Chemical Society gives awards to undergraduate students whose research contribute to scientific knowledge of chemistry in different categories. Markle submitted the abstract of her X-SIG research for the Colloid and Surface Chemistry PUI Student Award in Biomaterials and Biointerfaces and was selected among a competitive pool of applicants.
"I was very happy and surprised," Markle said about winning the award. "Part of the award was being able to give a 15-minute research talk at the American Chemical Society's National Conference. Being able to communicate research is an integral part of the scientific community, and it was great getting to practice this skill on a larger scale."
More than half of our students conduct research before they graduate. Learn about the many student-faculty research opportunities that exist at Gettysburg College.
By Sokuntheary Heang '24
Photos by Miranda Harple and courtesy of Paige Ashey '21 and Jordyn Markle '22
Posted: 04/06/21