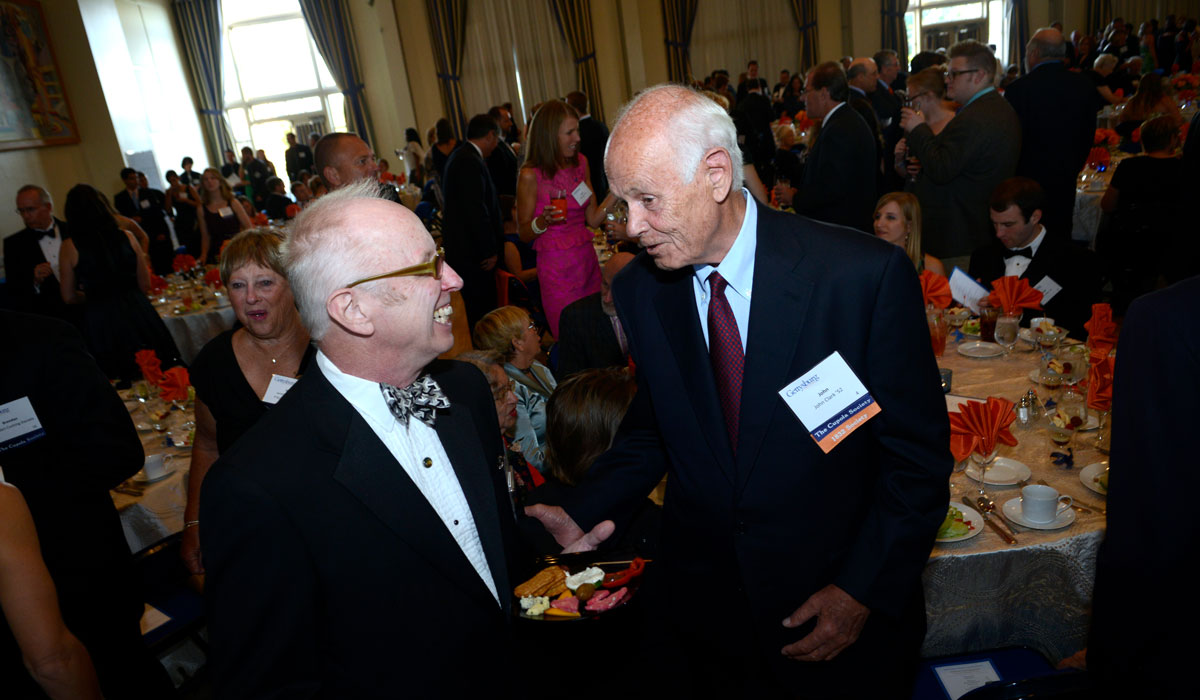 Gettysburg College Trustee Emeritus John W. Clark '52 passed away last Tuesday, Sept. 27, at the age of 94. A resident of Bigfork, Montana, and Las Vegas, Nevada, he is survived by his wife Mary.
Clark served on the College's Board of Trustees for eight years (1983-1991) and was honored as a Trustee Emeritus in 2010. He received the Distinguished Alumni Award in 1995 and, in 2004, he was added to the College's Benefactors Circle, which honors alumni, parents, and friends whose lifetime giving of $1 million or more has made an extraordinary impact on the institution. While perhaps best known as the namesake of Clark Field, Clark was an ardent and consistent supporter of a wide variety of initiatives and programs at the College, including scholarship and financial aid, faculty support, the Gettysburg Fund and, of course, athletics.
"John Clark was a true inspiration," said President Bob Iuliano. "He was committed to the development of the whole student, and he believed in the potential of every Gettysburgian to grow into a person of goodwill and a leader of good character. John stepped forward for our students, he invested in them, he showed up for them, and he cheered for them—in all of their endeavors. John, and his love for this community, will be celebrated at Gettysburg College for generations to come."
Orange and Blue athletics were near and dear to Clark as an alumnus and former student-athlete. He competed in soccer, track, basketball, and tennis during his time as an undergraduate, and his love for the Bullets continued for more than seven decades after his graduation. His support for Gettysburg College athletics led to the construction of a turf field for soccer and women's lacrosse, which was dedicated in his honor as Clark Field in 2004. Sitting in the shadow of the Peace Light Memorial at the northern edge of the Gettysburg Battlefield, Clark Field ranks among the nation's most iconic and picturesque venues in all of NCAA Division III--and it remains the home field for men's and women's soccer and women's lacrosse to this day.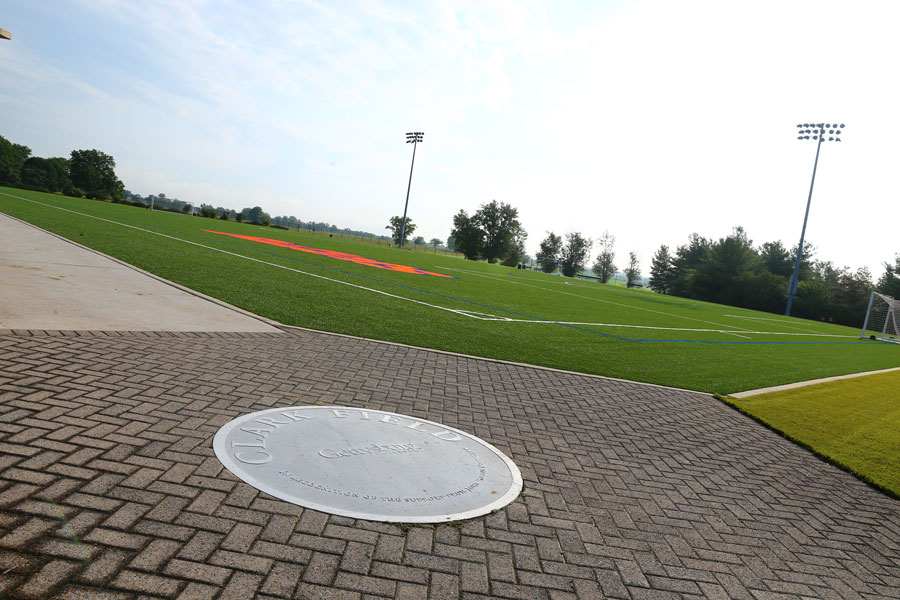 "John Clark was the epitome of a true gentleman," said David Wright, who served as Director of Athletics from 2002-18. "His kindness and compassion were second to none. He was one of the most selfless and caring individuals that I have ever met. Whenever he and I would talk, he would always ask about my family, the college, the coaches, but most especially our student-athletes. His magnificent smile would light up the room whenever the topic of our students came to the forefront. John Clark will be missed by all of us who had the privilege and honor of knowing and working with him."
Clark Field has served as a launching pad to some of the greatest moments in the long history of Gettysburg athletics, including three NCAA Division III championship titles won by the women's lacrosse program in 2011, 2017, and 2018. The teams who call that venue home have laid claim to 10 Centennial Conference championships and two ECAC South Regional championships in addition to hosting dozens of conference and national playoff contests over the last 18 years.
In 2010, Clark Field served as the host venue for the NCAA Division II and III Women's Lacrosse Championship, marking the first NCAA championship event ever hosted by the College. Four years later, Clark Field would once again welcome the NCAA Division III women's lacrosse championship.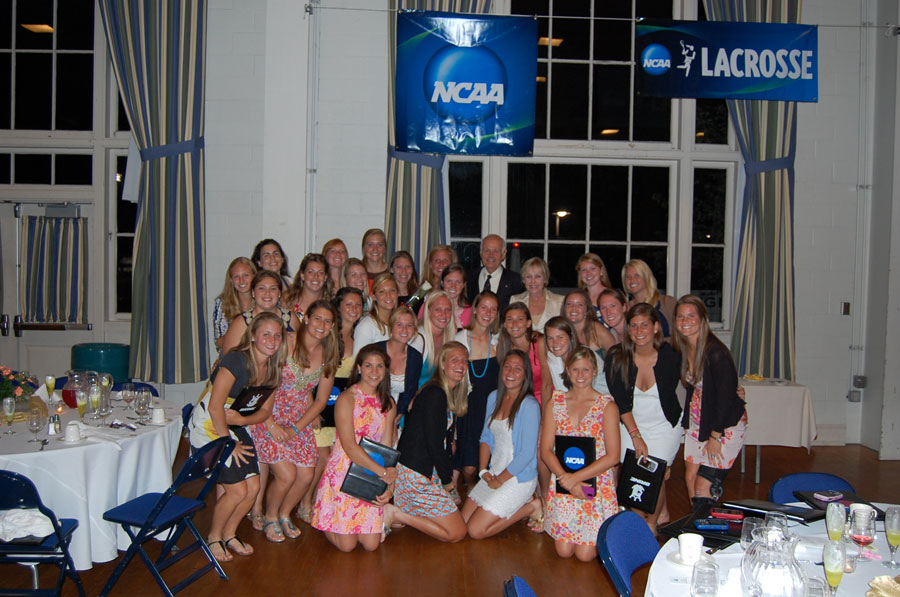 Although living the majority of his adult life on the west coast, Clark made regular trips back to his alma mater, quietly watching from the bleachers in his Gettysburg cap and jacket as student-athletes competed on the field that bore his name. His last trip to campus was one year ago, in October 2021.
"John Clark was an exemplary Gettysburg College citizen," said President Emerita Janet Morgan Riggs '77, who served as Gettysburg's president from 2009-19. "I think he was a role model for a lot of other alumni. He was quick to express his love for Gettysburg and he was always looking for opportunities to give back, whether it was through financial support or connecting with other alums and students. This is what we look for in alumni and he was such a great model for what it means to be a Gettysburg alum and citizen.
"When I think of John, I think of the consummate gentleman. He was so kind, thoughtful, and gracious. He's just one of those unforgettable people, really."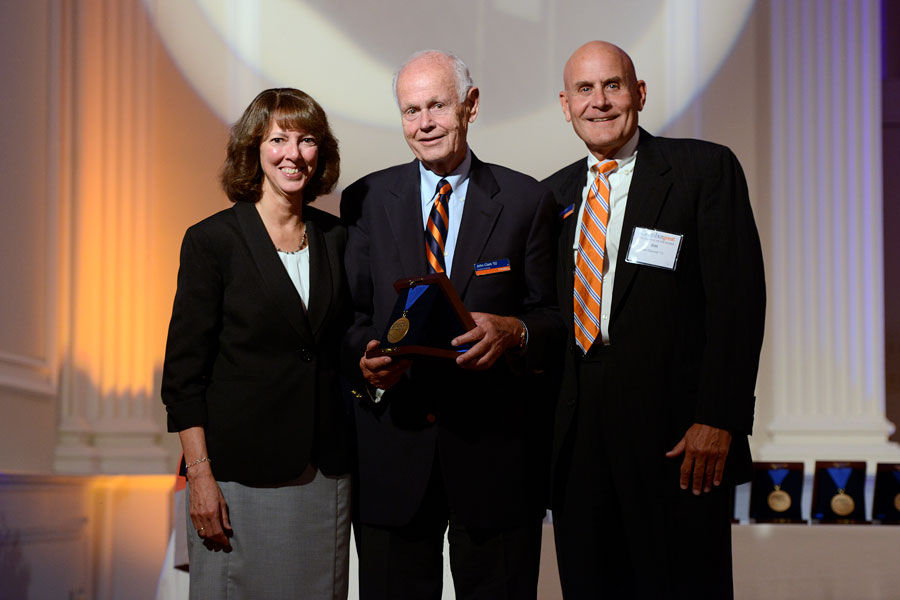 Clark was an engaged student from the time he stepped foot on the Gettysburg College campus, after making the trek from his hometown of Deerfield, Massachusetts. An economics major, he was a class officer, vice president of Sigma Alpha Epsilon and men's tribunal, president of the Arnold Air Society, dorm counselor, and a member of Pi Delta Epsilon (journalism honor society) and Pi Lambda Sigma (economics honor society). He also contributed to the G-Book, Spectrum, and The Gettysburgian.
Following graduation, Clark served two years in the United States Air Force before working for the Alcoa Company as a sales administrator and general salesman. During his 17 years with Alcoa, he spent four years in Australia as manager of direct sales and distribution. In 1969, Clark resigned from Alcoa and founded his own company, Clark Metals, Inc., located in Gardena, California.
In addition to watching his beloved Bullets, Clark was a regular attendee at a number of campus events, including Reunion Weekend, Cupola Society, and Benefactors Circle receptions. Throughout the entirety of his life and career, Clark carried his alma mater with him every step of the way.
"Nobody was a better friend to Gettysburg—or enjoyed his association with the school more—than John Clark," said Executive Director of Alumni Relations Joe Lynch '85. "He simply lit up with a twinkle in his eye when he was back on campus, and was always interested in what was happening at the school. He made his final trip to Gettysburg last October, at the age of 93, and had a magical visit, showing off the campus with pride, energy, and enthusiasm to his grandnephew, a prospective student from California. He treasured his four years as a student at Gettysburg and that was evident in all that he did for the school in the ensuing 70 years after graduating."
A moment of silence was held during the first athletic contests to take place on Clark Field on Oct. 1 following Clark's passing. A wreath will be placed next to the signature medallion near the entrance to the field for the soccer matches slated for Oct. 8.
By Corey Jewart
Photos by Corey Jewart and Jason Minick
Posted: 10/06/22