On this page: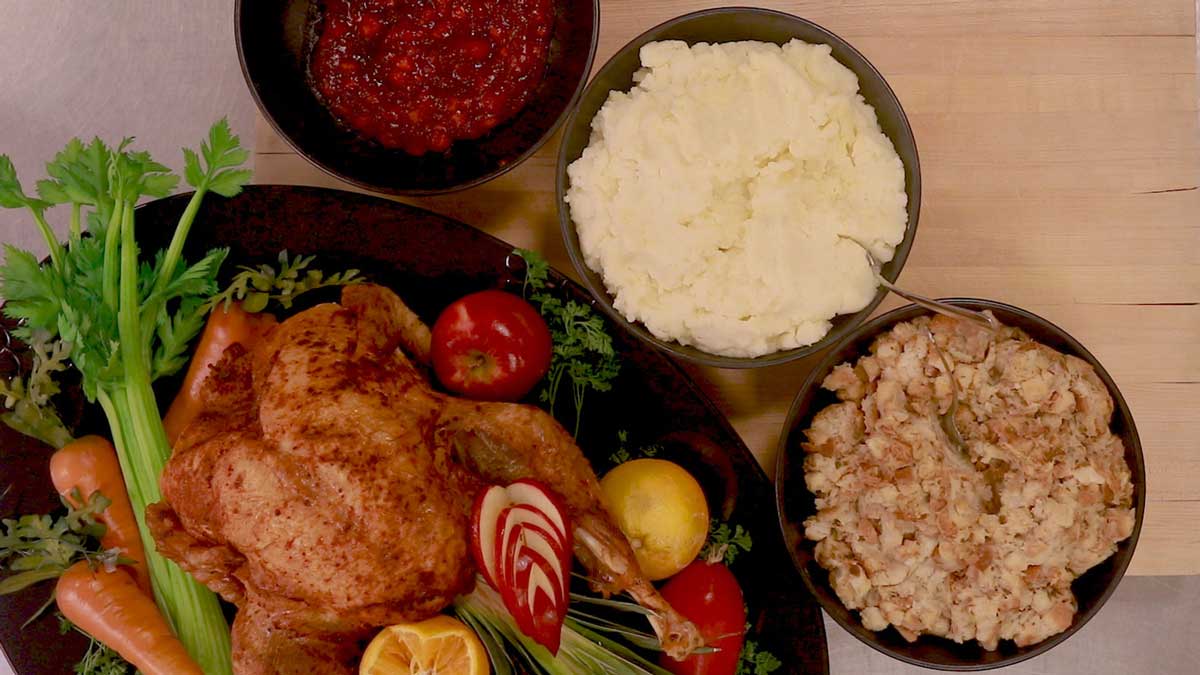 The Ultimate Thanksgiving Turkey Sandwich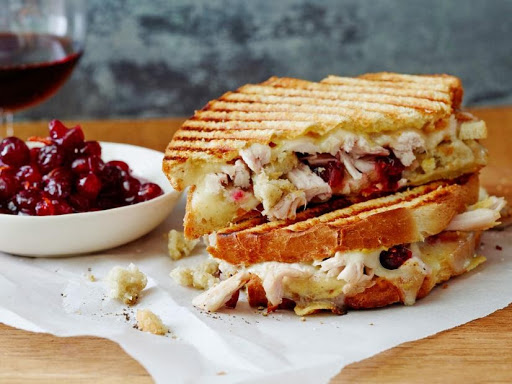 Ingredients
2 tablespoons Dijon mustard
2 slices sourdough sandwich bread
2 slices Swiss cheese
1/3 cup shredded leftover roast turkey
3 tablespoons leftover cranberry sauce
1/3 cup leftover dressing
2 tablespoons leftover gravy
2 tablespoons butter, at room temperature
Directions
Spread the mustard on both slices of bread, then lay a slice of cheese on each piece. On one slice, arrange the turkey and the cranberry sauce. On the other slice, lay on the dressing and spoon the gravy over the top.
Carefully unite the two halves into one sandwich, then spread the top side of the bread with 1 tablespoon of the butter.
Place the sandwich, butter-side down, onto a hot panini maker (or a grill pan or skillet over medium-low heat. Spread the top with the remaining 1 tablespoon butter.
Close the panini maker and grill until the bread is crusty and golden, the fillings are hot, and the cheese is melted. (If using a grill pan or skillet, flip the sandwich halfway through to grill on the other side.)
Pull the sandwich off the heat and slice it in half—this sandwich is to die for!
Cranberry Spinach Turkey Sandwich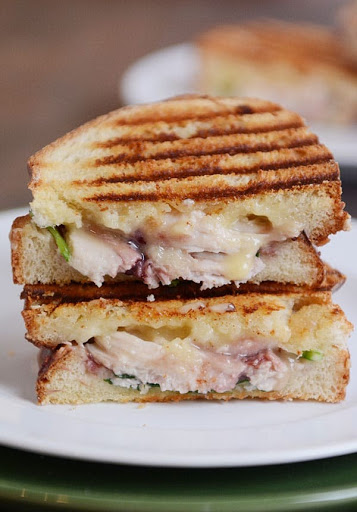 Ingredients
2 slices hearty white or wheat bread
Dijon mustard, optional (but delicious)
Brie cheese, thinly sliced or Brie Cheese Spread
2 slices deli turkey meat or leftover cooked turkey
2 to 3 tablespoons cranberry sauce, more or less to taste
6 to 8 baby spinach leaves
Butter, for grilling/panini-ing
Directions
On one slice of bread spread Dijon according to taste.
Layer on Brie, turkey, cranberry sauce, spinach, and another layer of Brie cheese
Top with the other slice of bread. Butter the outsides of the bread or heat butter in a nonstick skillet, a griddle, or panini press until sizzling.
Cook the sandwich in the hot skillet/griddle/panini press, pressing down with a spatula or a heavy saucepan (if you aren't using an actual panini press), flipping halfway through, until the bread is golden on both sides, and the cheese is melted.
Serve immediately.
Thanksgiving Leftover Pie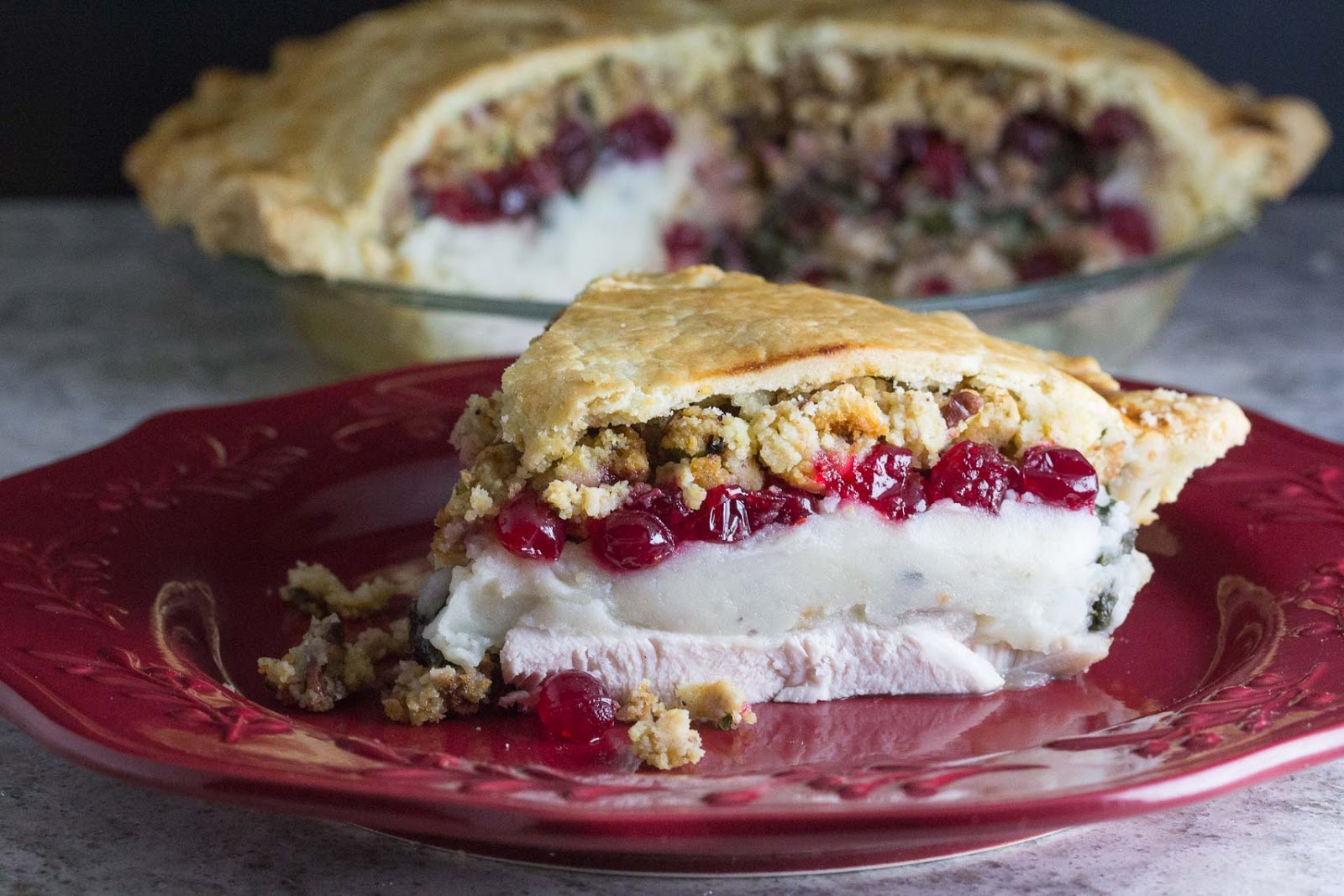 Ingredients
Pie crust (your favorite or store bought)
3-4 slices roast turkey
3-4 slices cooked ham (optional)
2 cups gravy
2 cups mashed potatoes
2 cups stuffing
1 cup cranberry sauce (optional)
Directions
Butter a 9-inch pie pan. Set aside.
On a floured surface, roll out both pieces of pie dough a little less than 1/4 inch thick.
Carefully lay your pie dough into the buttered pan leaving some extra pastry hanging over the edges in case your dough shrinks.
Building your Thanksgiving Leftovers Pie: In the base lay some ham and turkey. Follow that with 1/2 the gravy to keep the meat moist.
Next add a layer of mashed potatoes, stuffing, and of course, the rest of the gravy. You can tell by now that this is going to be a big pie!
Finish the pie with a nice thick layer of cranberry sauce.
Glaze the rim of the pie and carefully lay on the final piece of pastry, sealing and crimping the edges. Egg wash the top and make some slits for steam to escape.
Bake the pie at 375°F for roughly 45-55 minutes or until the pastry is a lovely golden brown.
Allow the pie to cool a few minutes once it comes out of the oven and then serve. Store remaining pie covered in the fridge for up to 4 days. This pie will also freeze well.
Fun Variations
Casserole Pot Pie
Mix Gravy, Mashed Potatoes, Stufing, and Turkey (Diced) in a bowl. Place into desired casserole dish. Top with Pie Crust and egg wash. Bake at 400°F until Crust is golden brown.
Leftover Fritters
Mix Gravy, Mashed Potatoes, Stuffing, and Turkey (Diced) in a bowl. Melt Butter in a frying pan on medium-medium high heat. Place about a half cup portion into the pan and flatten to 1 inch thickness. Sear until each side is golden brown.