Stressed? Distracted? Anxious?
Okay, right now, wherever you are, take a slow, deep breath.
Hold it...
Now let it go.
A little better, right?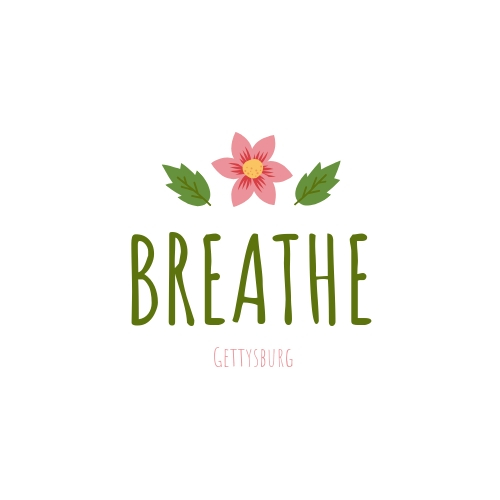 College can be tough, academically, socially, emotionally—but it doesn't have to be overwhelming, and it shouldn't tear you apart.
We launched Breathe Gettysburg as an initiative of the Center for Religious & Spiritual Life to help you build resilience to handle the challenges of everyday life by developing mindfulness skills.
What is Breathe Gettysburg? It's a collection of classes and experiences that fall under the broad categories of relaxation, meditation, and mindfulness. Some of these experiences spring out of specific religious traditions, some are more generally spiritual, and others are just plain fun and relaxing! All of them are open to the entire College community, no matter what your spiritual background is (or isn't!).
Breathe Gettysburg Schedule
Please check back in late January 2021 for spring's Breathe Gettysburg schedule. See Better Together for additional details about the spring semester.
Here's what we had going at Breathe Gettysburg in Fall 2020:
Morning Prayer
Start your morning with some centering prayers, thanksgivings, and a few short readings to set a positive tone for the rest of your day.
When? Mondays at 9:00 a.m. Where? Zoom ID 992 2482 1905 With whom? Chaplain Kristin Largen
Coping With Change & Loss
This is a meeting for anyone who is struggling with losses, including illness and death, or challenges around remote learning, home life, loneliness, anxiety, etc. We will share, encourage and support each other in a confidential environment.
On Zoom: When? Mondays at 3:00 p.m. Where? Zoom ID: 971 8484 5409 With whom? Chaplain Largen
In Person: When? Fridays at 2:00 p.m. Where? RSL House With whom? Chaplain Largen
Meditative Stretching
Make time in the afternoon for a little self-care. Join us over Zoom for a 20 minute session of light stretching and deep breathing; cameras off, just come as you are!
When? Tuesdays at 12:30 p.m. Where? Zoom ID: 991 6886 8097 With whom? Chaplain Kristin Largen
Arts & Crafts
Engage your creative side! We will be hosting an open craft hour where you are free to bring your own crafting supplies or use some of our materials. We have colored pencils, markers, coloring books, origami, and Canvas boards that are waiting to be turned into masterpieces.
When? Tuesdays at 4:00 p.m. Where? RSL House (75 W. Stevens St.) With whom? Chaplain Kristin Largen
Gratitude Moment
Take an opportunity to bring some gratitude and joy into your day. We'll share a brief gratitude meditation and then share something that has gone well or made you happy in the past few days!
When? Wednesdays at 1:30 p.m. Where? Zoom ID: 987 7612 3727 With whom? Chaplain Kristin Largen
Meditation in Motion: Qigong
Qigong is an ancient practice of physical postures and slow movement incorporating mindful breathing and imagery. The purpose is to cultivate and balance the physical, mental, and emotional Qi, or life energy, through meditation in motion. It is great for those who would like to meditate but have difficulty sitting still and emptying the mind.
When? Wednesdays at 4:00 p.m. Where? Zoom ID: 769 2105 2354 Pass code: EzD3RE With whom? Becky Colgan, Counselor at Gettysburg College Counseling Center
Evening Reflection & Intention Setting
Take time to wind down and reflect on the day with contemplation and prayer. Set an intention for tomorrow that will foster joy and gratitude.
When? Wednesdays at 9:00 p.m. Where? Zoom ID 932 6501 7641 With whom? Chaplain Kristin Largen
Meditation Moment
Everyone is welcome to take a 20-minute pause in your day for contemplation, meditation, and mindfulness. We will either sit on chairs or unroll our yoga mats, blankets, or towels (please bring your own), do a little gentle movement and stretching to center ourselves, then follow a brief guided meditation. You will emerge relaxed, refreshed, and ready to take on the rest of your day!
When? Thursdays at 11:00 a.m. Where? In the chapel With whom? Chaplain Kristin Largen
Get Outside & Breathe
Enjoy a nice afternoon meditative walk and take some time to stretch your legs, open your chest and heart, and take some deep breaths of fresh air. Leave your phones in your room!
When? Thursdays at 4:00 p.m. Where? Meet in front of the chapel. With whom? Chaplain Kristin Largen
Faculty/Staff Meditation – Headspace in the Virtual World
Need some Headspace this semester? Faculty and staff are invited to start their day with a brief 20-minute meditation. Join Katy Mattson for alternating in person and virtual mindfulness moments. Periodically we'll share ideas for finding quiet spaces during this challenging time.
When? Fridays at 8:30 a.m. With whom? Katy Mattson, Associate Director, Center for Career Engagement Where? Alternating Zoom and in person at the chapel:
Aug 28 – In-person in the chapel – Let's settle in
Sept 4 – Headspace in a Virtual World (HVW) – 10 Minute free meditation shared virtually (Zoom)
Sept 11 – HVW – 5 minute – followed by optional 10 minute group discussion successes/ challenges (Zoom)
Sept 18 – In-person (chapel)
Sept 25 – HVW – 10 minutes (Zoom)
Oct 2 – HVW – 5 minutes & successes/challenges (Zoom)
Oct 9 – In-person (chapel)
Oct 16 – HVW -10 minutes (Zoom)
Oct 23 – HVW – 5 minutes & successes/challenges (Zoom)
Oct 30 – In-person (chapel)
Nov 6 – HVW -10 minutes (Zoom)
Nov 13 – HVW 5 minutes & successes/challenges (Zoom)
Poetry Moment
Take a short break during the day to reflect on a piece of poetry, spiritual writing, or a brief reading from one of the world's sacred texts. We'll read it together, meditate on it in silence, and then reflect together with some discussion. Everyone from all traditions—or no tradition—is welcome. Come as you are for a bit of light and peace in your busy day!
When? Fridays at 12:30 p.m. Where? Zoom ID 959 7654 6464 With whom? Chaplain Kristin Largen
Yoga
A soft, slow-moving yoga flow practice followed by guided meditation to restore the mind and body. Bring a mat, towel, blanket or anything you have to keep you comfortable. No experience needed, come as you are.
When? Fridays at 5:00 p.m. Where? Zoom ID 921 734 7159 With whom? Emily Lashendock '21
Protestant Worship
Please join Chaplain Largen for a communion service that includes scripture reading, prayer, meditation and reflection. Everyone is welcome to attend!
When? Sundays afternoons at 3:00 p.m. Where? In the college chapel With whom? Chaplain Kristin Largen
Bible Study & Evening Prayer
Unwind on Sunday evenings with a Bible study and reflective prayer as the new week begins.
When? Sundays 8:00 p.m. Where? Zoom ID 981 1965 8256 With whom? Chaplain Kristin Largen