Residential Education
Residence hall living is a vital component of Gettysburg College's educational experience. The residential life program is designed to provide students with the opportunity to learn about themselves, others, and how to be engaged citizens on campus.
First-year students work closely with professional and student staff to develop vibrant communities and to capitalize on the "teachable moments" that emerge through the residential experience. The First-Year Residential Experience (FYRE) is intended to prepare students to be active leaders who take purposeful action in service of the community. Citizenship Pillars and Wellness Dimensions form the foundation of the learning plan.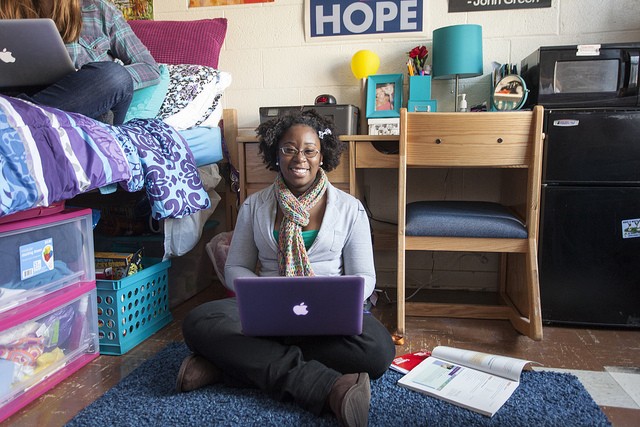 Housing Assignments
A Diverse Community
Part of the educational experience at Gettysburg includes the opportunity to meet and live among different people. Housing is therefore assigned to students at Gettysburg College without regard to race, color, religion, ethnic or national origin, age, physical challenge, or sexual orientation.
Gender-Inclusive Housing
First-year students may choose to live in a gender-inclusive room. This option allows two students to share a double room regardless of students' sex or gender. Gender-inclusive housing is not intended for romantic couples. Please review the gender-inclusive housing program for further information.
Substance-Free Living
Gettysburg College offers a substance-free program, First-Year RISE (Respecting Individual Student Expectations). Students who choose to participate in this program make a commitment to maintain a living environment which promotes and respects healthy lifestyle choices. All residence hall facilities managed by the College are officially smoke-free.
Disability Accommodations
Gettysburg College provides reasonable housing accommodations for students with disabilities. Housing accommodations are determined on a case-by-case basis according to documented need and prevailing standards for reasonable accommodations. Please review the information on how to apply for Disability Accommodations.
Housing Announcement
Housing assignment confirmations will be sent to students via their Gettysburg College email prior to the first week of July. Housing assignments will be available to view in CNAV/MyHousing.


First-Year Living Links