Exhibition details
Decameron Row, In Memoriam is a retrospective of Decameron Row, a collective art project for which a group of friends invited 100 artists from around the world to contribute one-minute videos documenting their time in isolation during the early months of the Covid-19 pandemic. The result is an eclectic and diverse virtual community of neighbors, housed together on an online city street. Together, their stories form a moving and unique record of 2020.
October 12 – November 12, 2022
Location
Reception
October 12, 5:00 pm – 7:00 pm
Lecture
October 12, 5:00 pm: In-Person Gallery Talk with two of the co-creators from Imaginary Places, Itamar Kubovy and Stefanie Sobelle (Assoc. Professor of English, Gettysburg College), with reception to follow until 7pm.
Virtual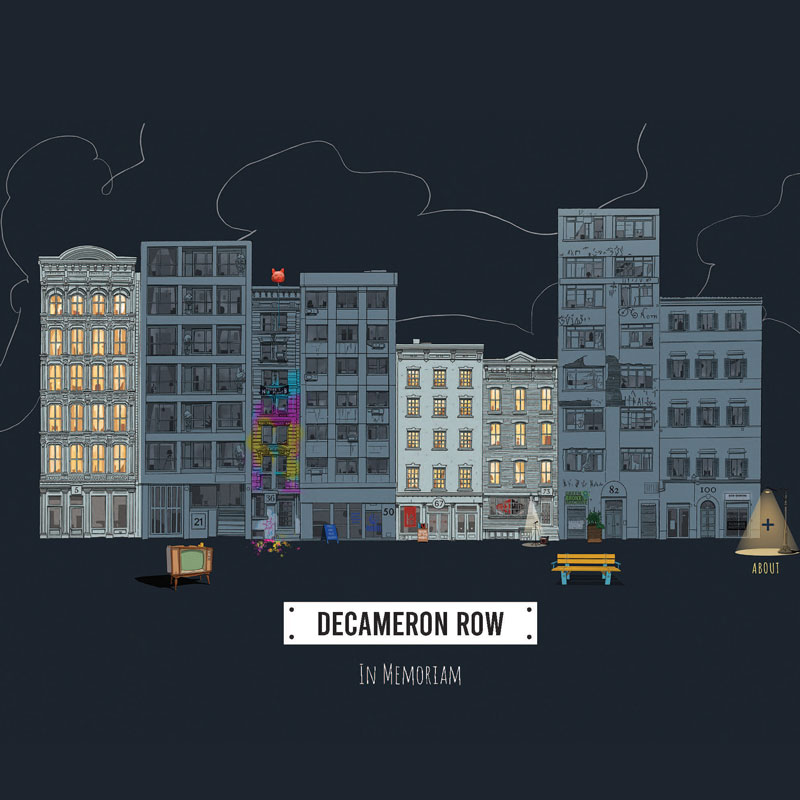 Works on display
Visitors to the exhibition will have the opportunity to explore the videos through an interactive projection, read books and materials published by the participating artists, and watch videos created by Gettysburg College students in response to the insights and creativity of the artists, writers, performers, and musicians featured in Decameron Row.
Decameron Row was created by Imaginary Places, a design collective whose members are Itamar Kubovy (producer), Joe Szuecs (engineer), Juan Diaz Bohorquez (designer), Sherry Huss (community builder), and Stefanie Sobelle (producer).