Exhibition details
Curated by Rob Evans, the exhibition Drawing on the Susquehanna features eighteenth- and nineteenth-century prints, paintings, books, and objects that examine the history and significance of the Susquehanna River on art and culture. While artists were interested in presenting the economic opportunities of the river and the surrounding environment for settlement and expansion, they also were drawn to the picturesque beauty of the landscape, with rolling hills and majestic trees cradling the bends and curves of the water.
September 6 – December 8, 2023
Location
Reception
Lecture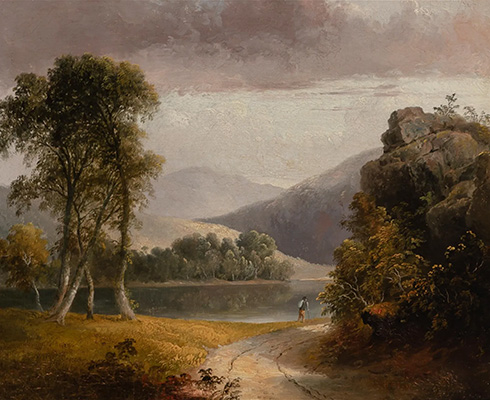 Works on display
Several works on display provide evidence of the larger commercial market for these images, as the landscapes appeared in maps, books, portfolios, journals, magazines, newspapers, and decorated china. The artists and publishers helped to "sell" the Susquehanna, making it one of the most well-known rivers worldwide along with its sister east coast river, the Hudson. While some of the images focus on seemingly "wild," pristine landscapes, many of the depictions celebrate new infrastructure in the environment, such as bridges, ferries, and railroad tracks. Ultimately, the river inspired artists, writers, and poets, but the place also reflects a complicated history and more nuanced sense of place.
Additional interpretation of these works of art, particularly the history and perspectives of Indigenous peoples, is provided by Hannah Vaccaro '24, Kolbe Summer Scholar, Gettysburg College, under the direction of Prof. Stephanie Sellers, English, Native American Studies, and Women, Gender, and Sexuality Studies