Exhibition details
This exhibition features the work of contemporary photographers Manal Abu-Shaheen and Aisha Mershani who examine how specific locations in the Arab World are marked by social, political, and environmental changes. Taken together, their photographs of architectural ruins, commercial billboards, border walls, and empty streets – all broadly understood as landscapes without human subjects – attest to a shared impulse to document the consequences of violence and occupation in the region.
January 24 – March 3, 2023
Location
Reception
February 3, 2023, 5:30 – 7:00 pm
Lecture
February 3, 2023: 4-5:30 pm Panel discussion with the artists, moderated by Professor Stephen Sheehi in Bowen Auditorium, McCreary Hall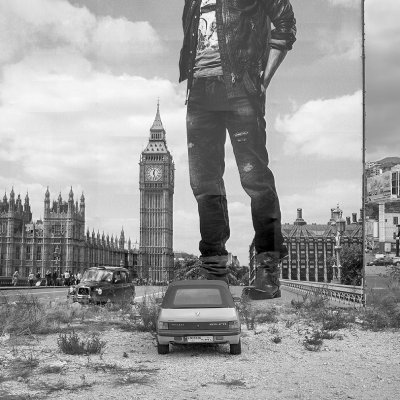 Works on display
Manal Abu-Shaheen powerfully pictures the impact of capitalism and the global economy in Lebanon through photographs of billboards, interior spaces, and the cityscape of Beirut. Her photographs are sometimes disorienting between the "real" and what is imagined – as advertisement, architectural rendering, or neoliberal fantasy of economic prosperity. Aisha Mershani's photographs convey profound insights into historical and present trauma in the region. In two different photographic series focused on Palestine – one of the Apartheid Wall and the other of the destroyed village of Lifta – the architecture stands, literally and metaphorically, for oppression, expulsion, and resistance. Ultimately, all the photographs in the exhibition reveal various perspectives about the Arab world through seemingly deserted landscapes and interconnected histories.
Stephen Sheehi, a renowned scholar who specializes in photography, psychoanalysis, minorities in the Middle East, Islamophobia in the United States and contemporary issues of the Middle East and North America, contributed an incisive essay to the accompanying exhibition catalogue. Sheehi's text offers a profound grasp of the larger political and social issues in the region and a careful reading of Mershani's and Abu-Shaheen's works. In conjunction with the exhibition, Sheehi is moderating a panel discussion with the artists on February 3, 2023 at 4:00 pm in Bowen Auditorium, McCreary Hall, Gettysburg College.
This exhibition is co-sponsored by the following departments and programs: International and Global Studies, Public Policy, Cinema and Media Studies, Middle Eastern and Islamic Studies, and EPACC, Gettysburg College