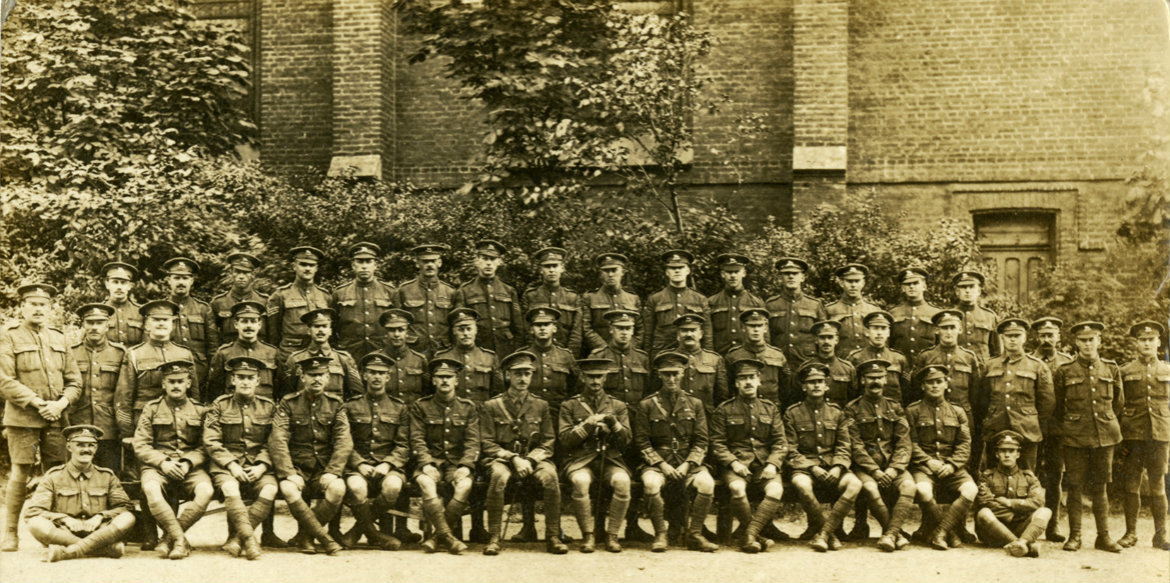 Students provide depth to WWI project through interpretation and personal commentary
There's a difference between studying history from a textbook and learning about it from the words of someone who lived it.
Meghan O'Donnell '18, a history and French double major, understands this better than most. As part of her studies about the First World War, she has worked with the letters of Jack Peirs, a British civilian-turned-officer who served in the war from 1915 to 1918 and fought in every major campaign waged by the British Army on the Western front.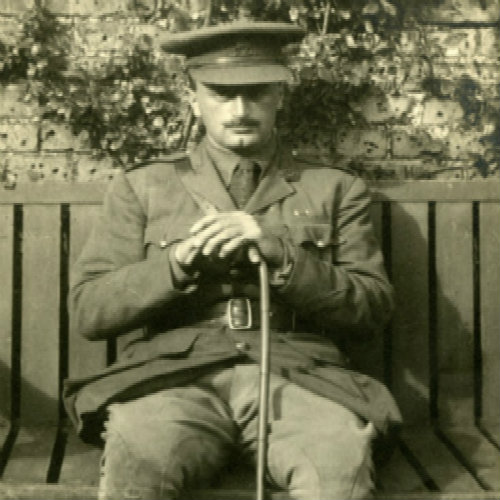 She will tell you after reading his accounts of war, she felt as if she knew Peirs and had talked with him face-to-face.
O'Donnell was able to work with the letters after Peirs's great-grandson, Marco Dracopoli '14, shared them with Civil War Era Studies (CWES) Prof. Ian Isherwood '00. A WWI expert, Isherwood recognized the value of the letters and partnered with College Archivist Amy Lucadamo '00 and Systems Librarian R.C. Miessler to embark on a multiyear digital history project that shares Peirs' letters, which were originally written around 100 years ago. Together, they've brought student research assistants on to the project, including O'Donnell, Kevin Lavery '16, and Jenna Fleming '16
"The students, in my opinion, have made this project possible," said Lucadamo. "I am impressed by the dedication they've given to this project. They have worked both on and off the clock to keep our webpage working, and have represented the project to alumni, descendants of Peirs, College administrators and faculty, staff at historic societies, archives, and museums in the UK, and the online public."
O'Donnell was taking Isherwood's course, The Great War, when he asked her to work on the project. Now, she maintains the website by uploading previously transcribed letters, updates the project's Facebook page, and writes informative pieces of commentary that provide background on the letters.
"The letters definitely help me envision more concretely Jack's experiences. It is certainly different reading the testimony of a soldier rather than a textbook excerpt," said O'Donnell.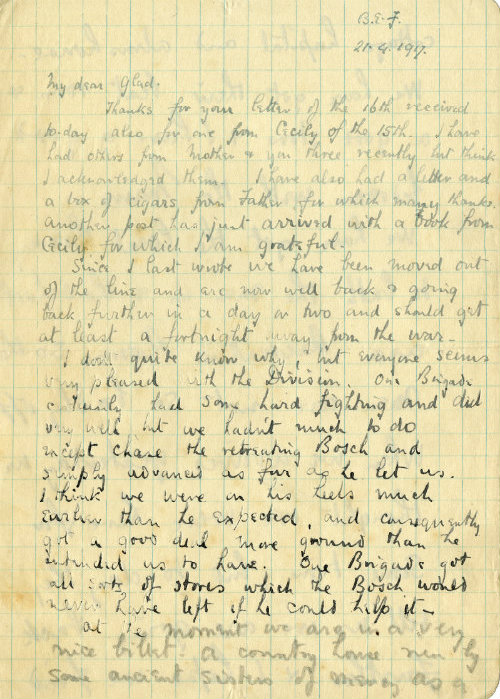 The work has changed her perception of soldier experiences during times of war, too.
"Being able to read the letters in Jack words, I have been able to envision how the soldiers defy our stereotypes. Of course, there were soldiers who were completely demoralized and didn't want to be there, but Jack is an example of someone who really felt that he was fighting for something important," said O'Donnell.
Fleming joined the project shortly after its conception. It developed her interest in archives and cemented her professional ambitions—she is currently pursuing a Master's degree in Archives and Information Science at the University of Pittsburgh. As part of her work on the project, she completed primary source research, meta-data analysis, digitization, and transcribing—which, according to Fleming, is not as easy as it may sound.
"It took me a while to figure out my transcribing process. It took practice and getting to know his handwriting," said Fleming. "One of the biggest challenges with transcribing was the language. I wasn't familiar with military terms or early upper class British slang."
After graduation, she has partaken in some administrative tasks like keeping up the project calendar and has written commentary. The commentary includes noted patterns in the letters and aspects that she feels accurately represent the project as a whole. She has focused on letters written to his mother and other family members.
The physical quality of the paper was also surprising; she envisioned Peirs writing from the muddy trenches as bombs went off around him. Fleming was able to visit the locations where Peirs wrote his letters and served in the war during a research trip to France, Belgium and England this past summer with Isherwood, Lucadamo, and Lavery.
During this trip, they participated in field research, visited archives, and read some diaries and letters from soldiers who Peirs had a chance to fight alongside and lead. They even came across additional letters written by Peirs that they had not previously had access to.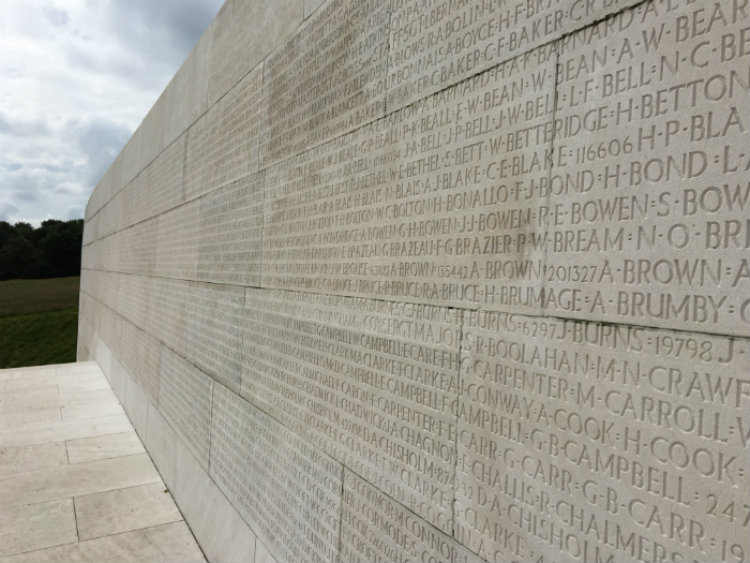 O'Donnell has also had the privilege of visiting important WWI battle sites and commemorations. She spent her spring semester studying abroad in France, where she continued to learn about World War I during its centennial anniversary. That experience, combined with the ability to read Peirs' letters first hand, has given her a nuanced appreciation of history.
"We can do so much interpreting as historians, and we can sit here and imagine what people mean when they write and interpret facts, but it's really something pretty special when you can share the words of somebody who lived through these events," said O'Donnell. "When you can let these voices speak for themselves, it's really meaningful."
The project began in the fall of 2014, and the team launched its website shortly after in September 2015. They have also added a map section, which annotates Peirs' journey with entries from his letters to understand where he was and what he was doing at specific times and places.
The letters are available in Special Collections along with other papers from Peirs. The entire multiyear digital project can be viewed online, and anyone can follow the project on Facebook, Twitter, and Instagram.
Founded in 1832, Gettysburg College is a highly selective four-year residential college of liberal arts and sciences with a strong academic tradition. Alumni include Rhodes Scholars, a Nobel laureate, and other distinguished scholars. The college enrolls 2,600 undergraduate students and is located on a 200-acre campus adjacent to the Gettysburg National Military Park in Pennsylvania.
Andy Milone, communications intern
Contact: Kasey Varner, assistant director of communications, 717.337.6808
Posted: Fri, 26 May 2017

Next on your reading list
Everything you need to know for Orientation 2018
---
Have you heard about the Cross-Disciplinary Science Institute at Gettysburg?
---
Sunderman Prof. Bill O'Hara pioneers video game music course
---
Share this story: