Seventeeth Annual Derrick K. Gondwe Memorial Lecture
The Wealth and Poverty of African States
Morten Jerven
Professor in Development Studies - Norwegian University of Life Sciences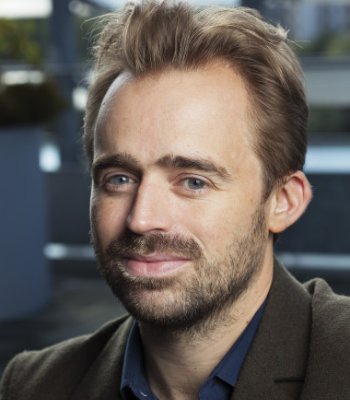 A wealth of new data have been unearthed in recent years on African economic growth, wages, living standards, and taxes. In The Wealth and Poverty of African States, Morten Jerven shows how these findings transform our understanding of African economic development. He focuses on the central themes and questions that these state records can answer, tracing how African states evolved over time and the historical footprint they have left behind. By connecting the history of the colonial and postcolonial periods, he reveals an aggregate pattern of long-run growth from the late nineteenth century into the 1970s, giving way to widespread failure and decline in the 1980s, and then followed by two decades of expansion since the late 1990s. The result is a new framework for understanding the causes of poverty and wealth and the trajectories of economic growth and state development in Africa across the twentieth century.
This lecture is co-sponsored by Africana Studies Program, Economics Department, and EPACC.
The Sixteenth Annual Derrick K. Gondwe Memorial Lecture
Race and Jobs at Risk of Being Automated in the Age of COVID-19
Dr. Kristen E. Broady, Professor of Financial Economics, Dillard University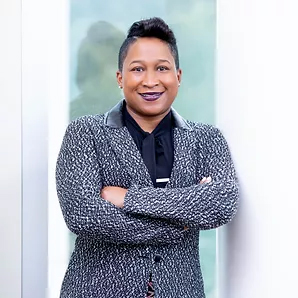 DAutomation allows both workers and companies to increase productivity through the use of technology. In 2020, automation— through new uses of technology—allowed millions of workers and students to work and learn from home to mitigate the spread of the pandemic. However, not everyone benefits from the effects of automation, particularly not those whose jobs are eliminated as a result of automation. In this lecture, I ask: How will the acceleration of automation, spurred by the COVID-19 pandemic, directly affect Black and Hispanic workers, communities and institutions? Using an Automation Risk Index developed by Frey and Osborne (2017), I identify the occupations and people who are most at risk of job loss due to automation. I then propose increased investments in higher education and workforce training programs to create pipelines to jobs with lower risk of automation.
The Fifteenth Annual Derrick K. Gondwe Memorial Lecture
The Ethical Algorithm
Michael Kearns, Professor and National Center Chair, University of Pennsylvania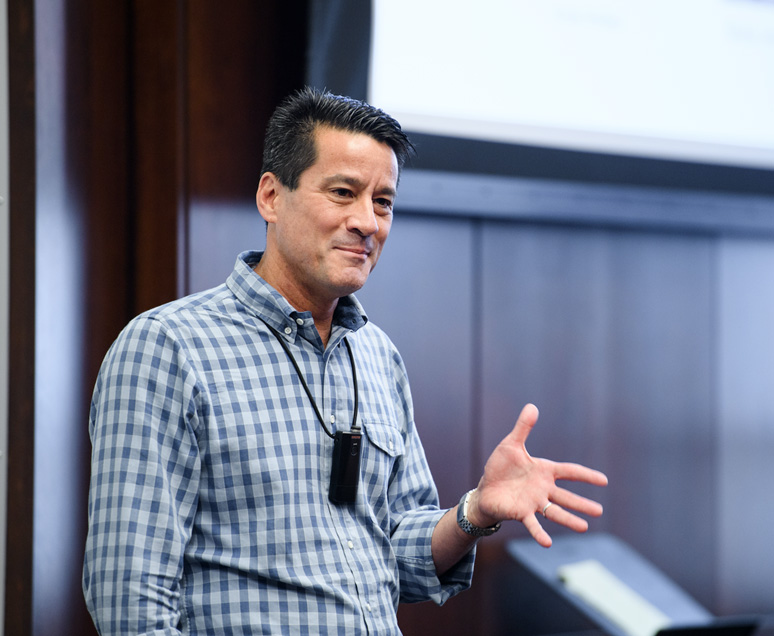 Many recent mainstream media articles and popular books have raised alarms over antisocial algorithmic behavior especially regarding machine learning and artificial intelligence. The concerns include leaks of sensitive personal data by predictive models algorithmic discrimination as a side effect of machine learning, and inscrutable decisions made by complex models. While standard and legitimate responses to these phenomena include calls for stronger and better laws and regulations, researchers in machine learning, statistics, and related areas are also working on designing better-behaved algorithms. An explosion of recent research in areas such as differential privacy, algorithmic fairness, and algorithmic game theory is forging a new science of socially aware algorithm design. I will survey these developments and attempt to place them in a broader societal context. This talk is largely based on the book The Ethical Algorithm, co-authored with Aaron Roth (Oxford University Press).
The Fourteenth Annual Derrick K. Gondwe Memorial Lecture
Odious Debts and Africa's Financial Hemorrhage through Capital Flight
Léonce Ndikumana, Distinguished Chair and Professor of Economics, University of Massachusetts Amherst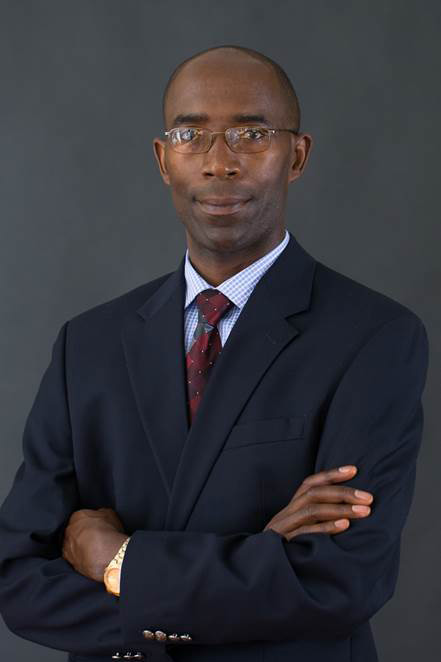 African countries continue to experience a steady volume of unrecorded capital outflows exceeding the amount that they receive in foreign aid or foreign direct investment. The continent has lost a combined $1.3 trillion through capital flight from 1970 to 2015 which, including interest earnings, accumulated to $1.8 trillion by 2015. This vastly exceeds the stock of external debts owed by the continent, ironically making Africa a "net creditor" to the rest of the world. Some of the capital flight is financed by loans that were meant to fund economic development, casting doubt on the legitimacy of such debts, making them indeed odious. This hemorrhage of the African continent is a result of a combination of domestic and external economic and institutional factors that must be addressed through concerted efforts at national and global level in a genuine Global Coalition Against Capital Flight. Only then genuine development can take roots in Africa and only then international development assistance can be truly effective.
The Thirteenth Annual Derrick K. Gondwe Memorial Lecture
Racial Bias in Policing and the Consequences for Minority Youth: Lessons from "Big data"
Joscha Legewie, Assistant Professor of Sociology, Harvard University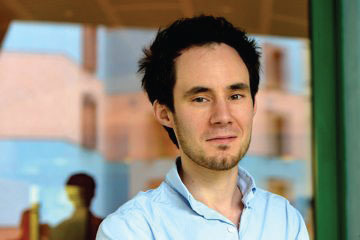 Over the last three decades, cities across the United States have adopted strategies known as proactive or broken windows policing with a focus on strict enforcement of low-level crimes and extensive use of pedestrian stops. As a consequence of these changes in the strategies and tactics of street policing, an increasing number of minority youth have involuntary contact with the criminal justice system. But are police stops racially biased and what are the consequences of the increasing presence of police in minority communities for the educational outcomes of minority youth? This talk addresses these questions using large-scale administrative ("big") data from New York City.
The Twelfth Annual Derrick K. Gondwe Memorial Lecture
White Predators: Hunting African Americans for Profit, From the 1793 Fugitive Slave Act to Lee's 1863 Invasion of Pennsylvania
Edward E. Baptist, Professor of History, Cornell University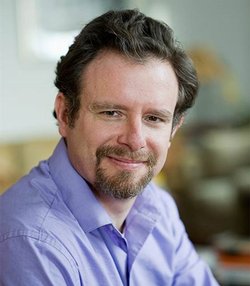 White Americans developed a system for hunting escapees from slavery, policing "free" people of color, and containing Black movement in the new nation. Some Northern states emancipated enslaved residents after the Revolution created a new nation. But one of the key nation-making bargains was the commitment to hunt escapees from enslavement. Not only did this help establish a national commitment to slavery, it also helped ensure that people of African descent would face a distinctive kind of surveillance and policing in even the "free" states. These patterns persisted all the way through into 1863—and beyond. However, Black resistance to this kind of policing began early, and shaped politics in both communities and the larger nation. This lecture will discuss both policing and resistance.
The Eleventh Annual Derrick K. Gondwe Memorial Lecture
Why Disability Inclusion Matters- The missing link in social inclusion
Charlotte McClain-Nhlapo, Global Disability Advisor in the Social, Urban, Rural and Resilience Global Practice of the World Bank Group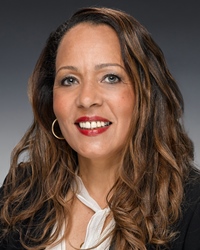 The lecture will explore some of the essential building blocks to an inclusive society. It will highlight the multidimensional nature of exclusion and how intersecting identities compound disadvantage. The lecture will look at the various drives of exclusion which are highly contextual and how they interact with achieving or not the new Sustainable Development Goals. The lecture will use a disability lens to illustrate stigma, biases and prejudice and will argue that more inclusive societies are often more democratic and caring. Finally the lecture will offer five building blocks to be considered in rethinking how we develop and design more inclusive societies.
Tenth Annual Derrick K. Gondwe Memorial Lecture
Black Lives Matter Movement
Opal Tometi, Co-Founder of Black Lives Matter Movement, is a dedicated activist working at the intersection of racial justice and immigrant rights.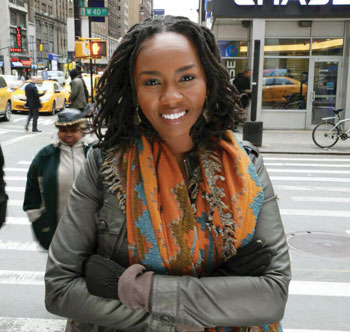 Incensed by the 2013 acquittal of George Zimmerman in the shooting death of Trayvon Martin—she starting the Twitter hashtag, #BlackLivesMatter, Tometi (together with Alicia Garza and Patrisse Cullors), prompted activism nationwide and introduced the banner for this generation's civil rights movement marches.
As the Executive Director at the Black Alliance for Just Immigration, Tometi is at the helm of the country's leading black organization for immigrant rights. She has also presented at the United Nations and has participated with the UN's Global Forum on Migration and Commission on the Status of Women. Tometi reveals raw insights into the adversity inflicted by social injustice, anti-black bias and uninformed views on immigration, educating and inspiring audiences to organize and stand together to transform society into a world where the lives and contributions of all individuals are recognized equally.
Tometi reveals raw insights into the adversity inflicted by social injustice, anti-black bias and uninformed views on immigration, educating and inspiring audiences to organize and stand together to transform society into a world where the lives and contributions of all individuals are recognized equally.
Ninth Annual Derrick K. Gondwe Lecture
Navigating Toxic Inequality
Dr. Thomas Shapiro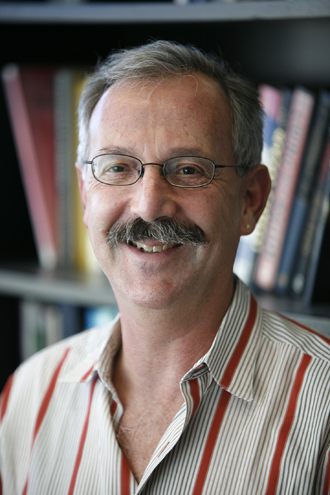 Dr. Thomas Shapiro directs the Institute on Assets and Social Policy and is the Pokross Professor of Law and Social Policy at The Heller School for Social Policy and Management, Brandeis University. Professor Shapiro's primary interest is in racial inequality and public policy. He is a leader in the asset development field with a particular focus on closing the racial wealth gap. In February of last year he co-authored a groundbreaking study, The Roots of the Widening Racial Wealth Gap: Explaining the Black-White Economic Divide, which statistically validates five "fundamental factors" that together largely explain why white households accumulate wealth so much faster over time than African-American households. His 2004 book, The Hidden Cost of Being African American: How Wealth Perpetuates Inequality, published by Oxford University Press, was widely reviewed, by the Washington Post, Boston Globe, and others. The volume was named one of the Notable Books of 2004 by The St. Louis Post-Dispatch. In addition, he co-wrote (with Melvin Oliver) the award-winning Black Wealth/White Wealth, which received the 1997 Distinguished Scholarly Publication Award from the American Sociological Association. Dr. Shapiro is currently focusing on writing Navigating Toxic Inequality, set for release in 2015.
Eighth Annual Derrick K. Gondwe Memorial Lecture
"Environmental Justice and Civil Rights: Race, Class and Equal Opportunity in the United States"
Jonathan Ostar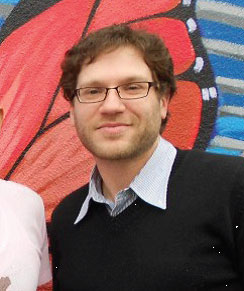 Jonathan Ostar has been working on issues of environmental justice for 15 years, first as an undergraduate at the University of Pennsylvania researching disparities in lead levels in Philadelphia water supplies, through time as a law student at Lewis and Clark Law School building capacity around asthma and air toxics in North Portland communities, and most recently as a co-founder and current director of OPAL Environmental Justice Oregon, working on issues of transit justice, fair housing and health equity. Jonathan has practiced Civil Rights law and has worked the streets as a community organizer, and brings an "on tap, not on top" approach to capacity-building and advocacy, with a goal of community empowerment. Jonathan also works as an Adjunct Professor of Law at Lewis and Clark, teaching courses on environmental justice and Civil Rights.
Seventh Annual Derrick K. Gondwe Memorial Lecture
Unlocking Africa's Potential
Kah Walla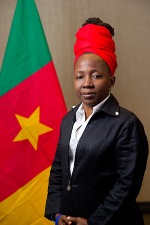 Kah Walla is the first woman to ever run for the Presidency of Cameroon. At 47, this entrepreneur, activist and political leader is internationally recognized for her expertise in management and her strong stance on Africa, its
women and its youth. In 2008, Walla was featured by the World Bank among 7 women entrepreneurs working to improve the business environment in Africa. In 2011, Newsweek & The Daily Beast as well as New African, respectively cited her as one of 150 women and one of the 100 Africans who shake the world. Over 17 years, Kah Walla has developed STRATEGIES!, an African consulting firm which offers services in leadership and strategy respecting the highest international norms. For 22 years, Walla has developed solutions and policies with business, governments and civil society throughout Africa to foster sustainable economic growth and democratic governance.
Sixth Annual Derrick K. Gondwe Memorial Lecture
"The Challenges of TB & HIV in Botswana"
Dr. Esther Kip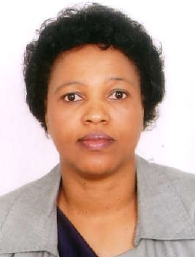 Dr. Esther Kip is a Malawian public health specialist based in Botswana. She holds a doctoral degree (DLitt et Phil in Health Studies) and Master of Public Health Degree (MPH). Dr. Kip was trained in research methodologies at the University of North Carolina (Chapel Hill), the University of Pennsylvania, the Royal Tropical Institute of Amsterdam, and the University of South Africa. She has worked for international organizations and in the private and public health care systems of Botswana, Chad, Lesotho, and Malawi.
Currently Dr. Kip is working on tuberculosis research projects with the Botswana-University of Pennsylvania Partnership (BUP). She is also coordinating and implementing a 14-country assessment of pediatric HIV, TB, and malaria policies and services in the Southern Africa region for Southern Africa HIV and AIDS Information Dissemination Service (SAfAIDS) in Pretoria, South Africa.
Between 2007 and 2009, Dr. Kip worked as a Senior Health Programme Officer in the Botswana National Tuberculosis Programme (BNTP), in the Ministry of Health where, working with the University of Botswana, BUP, the US Centers for Disease Control and Prevention's partnership with Botswana (BOTUSA), and other partners and stakeholders, she established a TB/HIV and AIDS research agenda for the National TB Programme.
Dr. Kip is Principal Investigator of a study of the Social Determinants of Health among the poor urban residents of Gaborone, the capital of Botswana, and several other current and recent projects and is the author of numerous articles in medical and public health journals.
Fifth Annual Derrick K. Gondwe Memorial Lecture
Inequality, Growth and African Development: Understanding the need for Structural Transformation of African Economies
Dr. Mwangi wa Githinji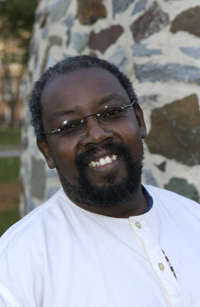 Mwangi wa Githinji, a native of Kenya, earned a B.A. at the City College of New York (1989), his M.A. (1991) and the Ph.D. (1997) from the University of California-Riverside, all in Economics. During graduate study, he worked as a researcher for various organizations, including the University of York (England), where he participated in the Darwin Project as a Research Assistant studying "the economic causes and consequences of biodiversity loss in Sub-Saharan Africa." He has also consulted widely for the UN and other organizations on development issues and was formerly an Associate Professor of Economics and Coordinator of the Africana Studies Program at Gettysburg College.
He is currently an Assistant Professor of Economics at the University of Massachusetts-Amherst the author of Ten Millionaires and Ten Million Beggars: a study of inequality and development in Kenya and co-author of An Employment Targeted Plan for Kenya in addition to numerous articles and chapters. His research interests are Political Economy, Development, and Environment with particular attention to issues of class, gender and income distribution in relation to transition in Africa.
Fourth Annual Derrick K. Gondwe Memorial Lecture, Fall 2009
Ambassador Shirley E. Barnes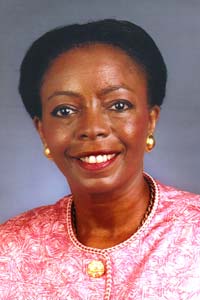 In a distinguished Foreign Service career, Ambassador Shirley Barnes served as ambassador to Madagascar (1998-2001), Consul General in Strasbourg, Director of Western European Affairs, and in Cairo, Dakar, Berlin, Sofia,Sanaa and Rome. She currently serves as the Director of the Barnes Findley Foundation, dedicated to combating human trafficking and promoting economic development, education and training for African women and girls. She is an active member of the Thursday Luncheon Group and the Association of Black American Ambassadors, among other organizations.
A graduate of City University of New York who was born in St. Augustine, FL, but considers New York City home, recently was confirmed by the U.S. Senate as the next U.S. ambassador to the Republic of Madagascar.
For Ambassador Shirley Elizabeth Barnes, the promotion was a step forward for a woman who worked for the Ford Foundation in the Congo and with the African-American Institute in New York City. She reached the level of vice president in several major advertising agencies in the city before she joined the State Department. In her foreign service career, Barnes served in Cairo, Dakar, West Berlin and Sofia. Her most recent overseas assignment was as consul general in Strasbourg.
Ambassador Barnes is an avid collector of African art, a member of the Delta Sigma Theta Sorority and a member of the American Foreign Service Association.
Third Annual Derrick K. Gondwe Memorial Lecture
Social Justice and Development
Dr. Thandika Mkandawire, Director, United Nations Research Institute for Social Development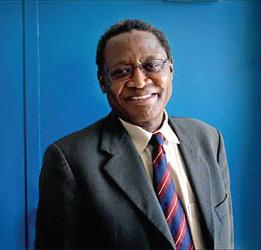 Dr. Thandika Mkandawire has been Director of UNRISD since 1998. Dr. Mkandawire is a Swedish national of Malawian origin, and an economist with many years' experience in the promotion of comparative research on development issues. He studied economics at Ohio State University and the University of Stockholm and has taught at the Universities of Stockholm and Zimbabwe.
Dr. Mkandawire holds a Doctorate in Letters from Rhodes University and has published broadly on the social sciences in Africa and on problems of policy making, adjustment and democratization.
Second Annual Derrick K. Gondwe Memorial Lecture, Fall 2007
Debt Relief and Poverty in Africa
Honorable Goodall E. Gondwe – Minister of Finance, Republic of Malawi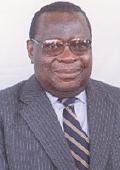 Mr. Gondwe, brother of Derrick K. Gondwe, comes from Kayiwonanga Village, Mzimba in northern Malawi. He is a Fellow of the Institute of Bankers (FIB), and holds a B.Sc. (Economics), London.
Mr. Gondwe has worked as General Manager of the Reserve Bank of Malawi; Secretary to the Treasury; Executive Director, Senior Vice President and Acting President of African Development Bank [ADB]; Senior Advisor, Director for Africa and Special advisor to the Managing Director of the International Monetary Fund [IMF]; and Chief Economic Advisor to the former Head of State, Dr. Bakili Muluzi.
He was appointed Minister of Finance in June, 2004.
Inaugural Derrick K. Gondwe Memorial Lecture, Fall 2006
How it all began: The Trans-Atlantic Slave Trade and the Origins of Under-Development
Dr. William Darity Jr.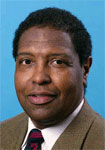 Dr. William Darity Jr., one of the country's leading economists, spoke at Gettysburg College on the economic history of slavery in the Americas and its relationship to under-development in Africa.
He was a fitting choice to deliver the inaugural Gondwe Lecture. He not only knew Dr. Derrick Gondwe personally, but his work honors Derrick's memory and life work by connecting intellectual endeavor with ongoing efforts to improve the life chances and experiences of people of African descent.