Programs
For students enrolled prior to Fall 2021:
Featured course
EDUC-225
Creativity: Teaching, Learning, and Cross Disciplinary Applications
Examination of traditional and contemporary models of intelligence and creativity, and their effects on learning and leadership. Designed to explore how the creative process transforms professional practices, the course examines creativity from educational, psychological, cultural, arts-based, and neurological frameworks, and addresses learner engagement and motivation. Through the creation of a cross-disciplinary project, students employ research-based principles to design, implement, and assess impacts of the creative process on learning and teaching.
EDUC-240
Special Topics in Education
Study of a topic not normally covered in depth in the regular curriculum of Education. Topics vary and may include education policy, global education, special education, diversity in education, linguistics, or school law. Offered irregularly.
EDUC-260
Globalization, Citizenship, and Education
Examination of changing notion of citizenship and the roles education play in constructing citizens in the era of globalization. The course will cover topics such as global market's influence on educational policy, curriculum, and teaching practices, international educational competition, educational inequity, migration, and global youth's creation of learning spaces. Case studies conducted in local contexts both in and outside of the U.S. will be used to explore these topics. Prerequisite: MUS_CLAS 149 or EDUC 199 (must have passed the course with C or higher grade); or permission of the instructor. Additional assignment is given to students who need to take this course as a 300 level.
EDUC-333
Literacy as Agency
Over the past decade, technological advances have exposed society to immense amounts of information via multiple texts. Literacy as Agency is designed to provide a forum where students can investigate the impact technological advances have had on serving literate and illiterate citizens by examining policy, pedagogies, and possibilities. Students will be exposed to literacy through a new lens, context-sensitive literacy that is critical for wide-awake civic engagement, for meaningful social action, and for democracy itself. Prerequisite: EDUC 115, EDUC 199, or EDUC 201; or permission of instructor
Education Department Programs
The Department of Education at Gettysburg College facilitates student inquiry into the nature of education from social, cultural, philosophical, historical, and psychological perspectives and encourages students to pursue collaborative, creative solutions to educational problems framed by careful reflection on the nature of education and teaching, broadly conceived.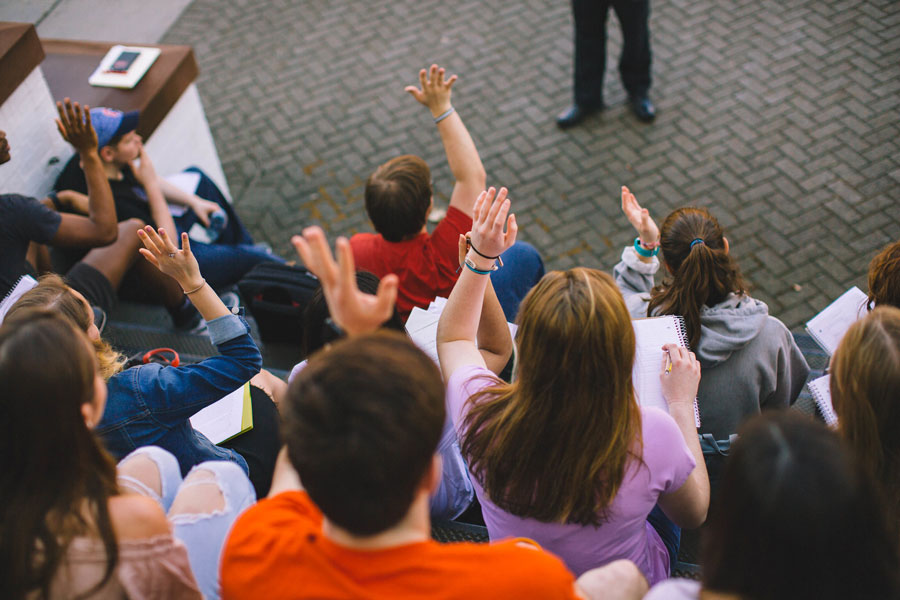 Our distinguished faculty's publications
Education Department Spotlight
Katie Durr '14
Durr currently works as an art therapist at the Center for Autism in Philadelphia,PA.
At the Center for Autism in Philadelphia, Katie Durr '14 makes a difference in the lives of children who are visibly suffering each day. She has witnessed non-verbal children learn to speak and violent children learn to safely request attention—actions that were previously considered impossible by medical professionals. "I have gotten so many crying phone calls of people thanking me because their child has learned to look at them, or say thank you to them, and a million other little things in between," Durr said. "Those moments make the hard parts worth it."
In addition to her full-time job at the Center for Autism, Durr also works at the Creative Healing Center, where she is a primary art therapist for teens suffering from trauma and other mental health difficulties.
Being an art therapist was a dream that came true because of the interdisciplinary studies program at Gettysburg College. Her personalized major, "Therapeutic Visual Arts Studies," gave her exposure to classes she would take in post-undergraduate education. "I believe that Gettysburg gave me a leg up over my [graduate school] classmates, some of whom had never written a research paper before," Durr said. "I am not sure I can even put into words how grateful I am to Gettysburg for making me the person I am today."