Programs
For students enrolled prior to Fall 2021:
Featured course
EDUC-368
Motivation in School and Society
Motivation - a popular touchstone in successful classrooms, in the workplace, and in life. In this course, we explore concepts and theories of motivation through TED talks, best-selling popular psychology books, and peer-reviewed educational and psychological research articles. We examine motivation through multiple theoretical and cultural frameworks. Students develop and evaluate interventions to support motivation in settings ranging from the classroom to the workplace.
EDUC-377
Education Policy & Politics
Charters. Choice. Testing. Standards. Equity. Over the past three decades public opinion has coalesced around the idea that our public schools are failing and desperately in need of reform. How much truth is there in these assertions? This course explores the implications of public school reform policy choices, focusing especially on the way reformers have framed the debate to their advantage. Special attention is paid to teacher quality, urban education, school choice, testing, and other issues raised by reform advocates.
EDUC-264
Education for Social Change
This course explores how schooling has made us the people that we are today, and asks if formal education has prepared us for the challenges that we face in this age of globalization. The course assaults the status quo nature of education and challenges us to imagine a pedagogy that is central to social change. This interrogation of education is not meant to raze the entire historical edifice to the ground, but rather to lead us to critically reflect on the far too frequent manifestations of dull educational processes that produce conformists, rather than inspire us to creatively overturn structures of inequities.
Education Department Programs
The Department of Education at Gettysburg College facilitates student inquiry into the nature of education from social, cultural, philosophical, historical, and psychological perspectives and encourages students to pursue collaborative, creative solutions to educational problems framed by careful reflection on the nature of education and teaching, broadly conceived.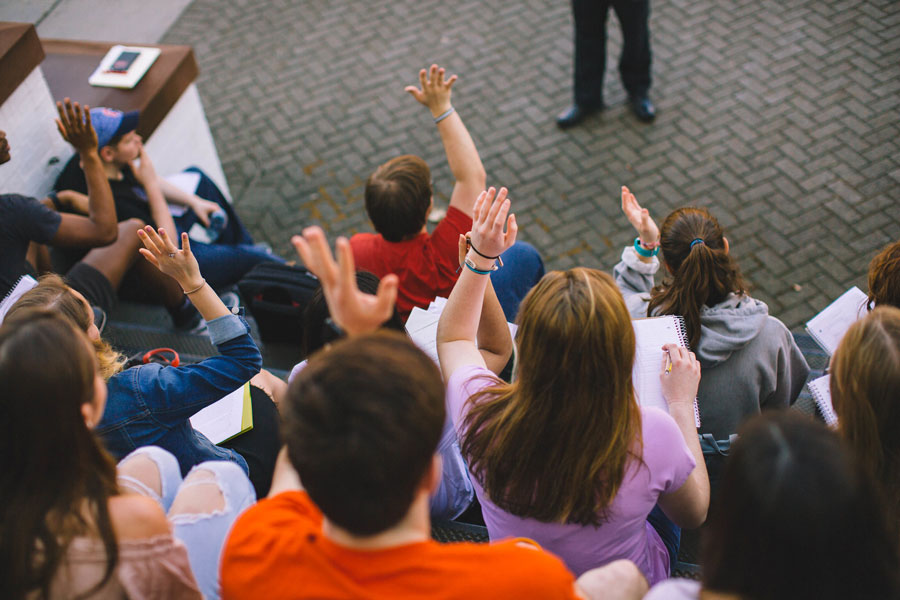 Our distinguished faculty's publications
Education Department Spotlight
Katie Durr '14
Durr currently works as an art therapist at the Center for Autism in Philadelphia,PA.
At the Center for Autism in Philadelphia, Katie Durr '14 makes a difference in the lives of children who are visibly suffering each day. She has witnessed non-verbal children learn to speak and violent children learn to safely request attention—actions that were previously considered impossible by medical professionals. "I have gotten so many crying phone calls of people thanking me because their child has learned to look at them, or say thank you to them, and a million other little things in between," Durr said. "Those moments make the hard parts worth it."
In addition to her full-time job at the Center for Autism, Durr also works at the Creative Healing Center, where she is a primary art therapist for teens suffering from trauma and other mental health difficulties.
Being an art therapist was a dream that came true because of the interdisciplinary studies program at Gettysburg College. Her personalized major, "Therapeutic Visual Arts Studies," gave her exposure to classes she would take in post-undergraduate education. "I believe that Gettysburg gave me a leg up over my [graduate school] classmates, some of whom had never written a research paper before," Durr said. "I am not sure I can even put into words how grateful I am to Gettysburg for making me the person I am today."