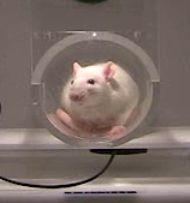 The Behavioral Neuroscience Laboratory is located on the 3rd floor of the Science Center. It provides a wide range of research opportunities for students who want to study the brain mechanisms of behavior. The primary focus of the lab is to study the neurobiology of play behavior in rats, although we also dabble into other areas of research as well and provide many opportunities for students to become actively involved in this research program.
Why study play? And why study play in rats? Almost all mammals play. It doesn't seem to matter if you're a rat, dog, or human; there's something simply irresistible about a good bout of raucous social play. What makes mammals so playful? Are we genetically pre-programmed to have fun? Can early postnatal experiences influence how much we play? What kind of processing goes on in the brain that can make one youngster more, or less, playful than another? Using the young rat as a model system for studying rough-and-tumble play, work in the lab addresses questions such as these.
We currently have funding from the National Institutes of Mental Health to study the dysfunctional play of the inbred F344 rat. More information on this project can be found here.
Some of the more recent publications from the lab are listed below:
Achterberg, E.J.M., Trezza, V., Siviy, S.M., Schrama, L., Schoffelmeer, A.N.M., & Vanderschuren, L.J.M.J. (2014). Amphetamine and cocaine suppress social play behavior in rats through distinct mechanisms. Psychopharmacology, 231, 1503-1515.

Siviy, S.M., & Panksepp, J. (2011). In search of the neurobiological substrates for social playfulness in mammalian brains. Neuroscience and Biobehavioral Reviews, 35, 1821-1830.

Siviy, S.M., Deron, L.M., & Kasten, C.R. (2011). Serotonin, motivation, and playfulness in the juvenile rat. Developmental Cognitive Neuroscience, 1, 606-616.

Siviy, S.M., Crawford, C.A., Akopian, G., & Walsh, J.P. (2011). Dysfunctional play and dopamine physiology in the Fischer 344 rat. Behavioural Brain Research, 220, 294-304.

Siviy, S.M. (2010). Play and adversity: How the playful mammalian brain withstands threats and anxieties. American Journal of Play, 2, 297-314.

Siviy, S.M., Steets, C.L., & DeBrouse, L.M. (2010). Effects of chlordiazepoxide on predator odor-induced reductions of playfulness in juvenile rats. Behavioural Brain Research, 206, 254-262.
Siviy, S.M. (2008). Effects of prepubertal social experiences on the responsiveness of juvenile rats to predator odors. Neuroscience and Biobehavioral Reviews, 32, 1249-1258. [Pubmed]
Siviy, S.M., and Harrison, K.A. (2008). Effects of neonatal handling on play behavior and fear towards a predator odor in juvenile rats (Rattus norvegicus). Journal of Comparative Psychology, 122, 1-8. [Pubmed]
Siviy, S.M., Harrison, K.A., and McGregor, I.S. (2006). Fear, risk assessment, and playfulness in the juvenile rat. Behavioral Neuroscience, 120, 49-59. [Pubmed]
Siviy, S.M., Love, N.J., DeCicco, B.M., Giordano, S.B., and Seifert, T.L. (2003). The relative playfulness of juvenile Lewis and Fischer-344 rats. Physiology and Behavior, 80, 385-394. [Pubmed]