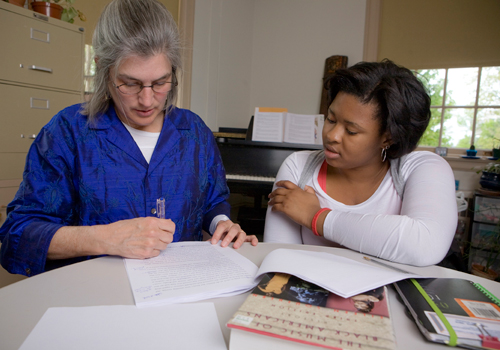 The musicology and ethnomusicology program at the Sunderman Conservatory of Music helps students, whether experienced musicians or novice listeners, understand the structural elements of music and the cultural processes of music-making. The study of European and American art music is integrated with other global musical traditions, and students learn to articulate why cultures, including our own, engage in particular types of music-making.
One of the hallmarks of our approach to historical/cultural studies is that each of the professors of musicology and ethnomusicology conducts scholarly research that includes a performance specialty: Dr. Paul Austerlitz is a jazz performer, Dr. César Leal is a conductor, and Dr. Marta Robertson performs Okinawan classical dance. The study of musicology and ethnomusicology also extends beyond our courses into the fabric of the Conservatory where music education students perform on the College's Balinese gamelan ensemble, students in liberal arts world music courses present a performance as a final exam, students interested in Library Studies apply for an internship under the direction of our music librarian, and seniors with interests in opera or jazz may elect seminars which include immersion trips to New York. All students have additional opportunities to work with experts in cultural traditions, whether taking an Okinawan dance lesson, participating in a class with a visiting jazz pianist, studying performance practices with guest artists from Piffaro Renaissance Band, or teleconferencing about research with the Digital Reference Team at the Library of Congress.
Whether for majors, minors, or non-majors, the musicology and ethnomusicology courses contribute to College and Conservatory curricular goals. Together we will develop your critical thinking skills through the lens of musicology in three areas: Historical and Cultural Thinking, Analytical Thinking, and the art of asking Essential Questions. Musicologists and ethnomusicologists analyze human thought and culture, but through a lens focused on musical products. We also use music theory as a grammatical tool to aid historical and analytical thinking.
The musicology sequence for music majors teaches you to "do musicology." And the ultimate goal is for you to become a more informed thinker, learner, performer, and listener.