We are excited to welcome members of the Gettysburg College Class of 2026 and their guests to Get Acquainted Day, a day-long celebration where accepted students can experience our beautiful campus and welcoming community firsthand!
Schedule of Events
Registration and Information – 9:00 a.m. to 10:00 a.m.
Students and guests will check in for Get Acquainted Day in the College Union Building (CUB) Lobby.
Welcome and Presidential Q&A – 10:00 a.m. to 10:45 a.m.
Carey Thompson, Vice President for Enrollment and Educational Services, will welcome students and their guests to campus with a few opening remarks before introducing Gettysburg College President Bob Iuliano, who will conduct a question-and-answer session moderated by two current Gettysburg students.
Clubs and Services Exposition – 10:45 a.m. to 12:15 p.m.
Students and guests will be directed to Bream Gymnasium and Hauser Field House to explore the "Expo" and learn more about Gettysburg College's extensive co-curricular offerings and student services.
Lunch and Campus Tours – 11:15 a.m. to 1:30 p.m.
Lunch in the Dining Center is provided free of charge to all accepted students and their registered guests. Student-led tours will depart from the from the side entrance of the Bream Wright Hauser Athletic Complex.
Academic Presentations – 1:30 p.m. to 2:45 p.m.
Accepted students and their guests will be able to attend their choice of two academic department presentations during this period. Each presentation will be offered twice—first from 1:30 p.m. to 2:00 p.m., and then again from 2:15 p.m. to 2:45 p.m.
Community Reception – 3:00 p.m. to 4:00 p.m.
Accepted students and their guests can mingle with each other and with members of the campus community at a casual reception to close out the day's events.
Financial Aid Meetings
The Financial Aid staff will be offering individual financial aid meetings throughout the day in the College Union Building. Meetings will be conducted in 15-minute intervals. If you would like to meet with a financial aid representative during Get Acquainted Day, we highly recommend that you call the Financial Aid Office at 717-337-6611 to schedule an appointment.
Campus Map
This campus map features all of the locations you will be visiting during Get Acquainted Day: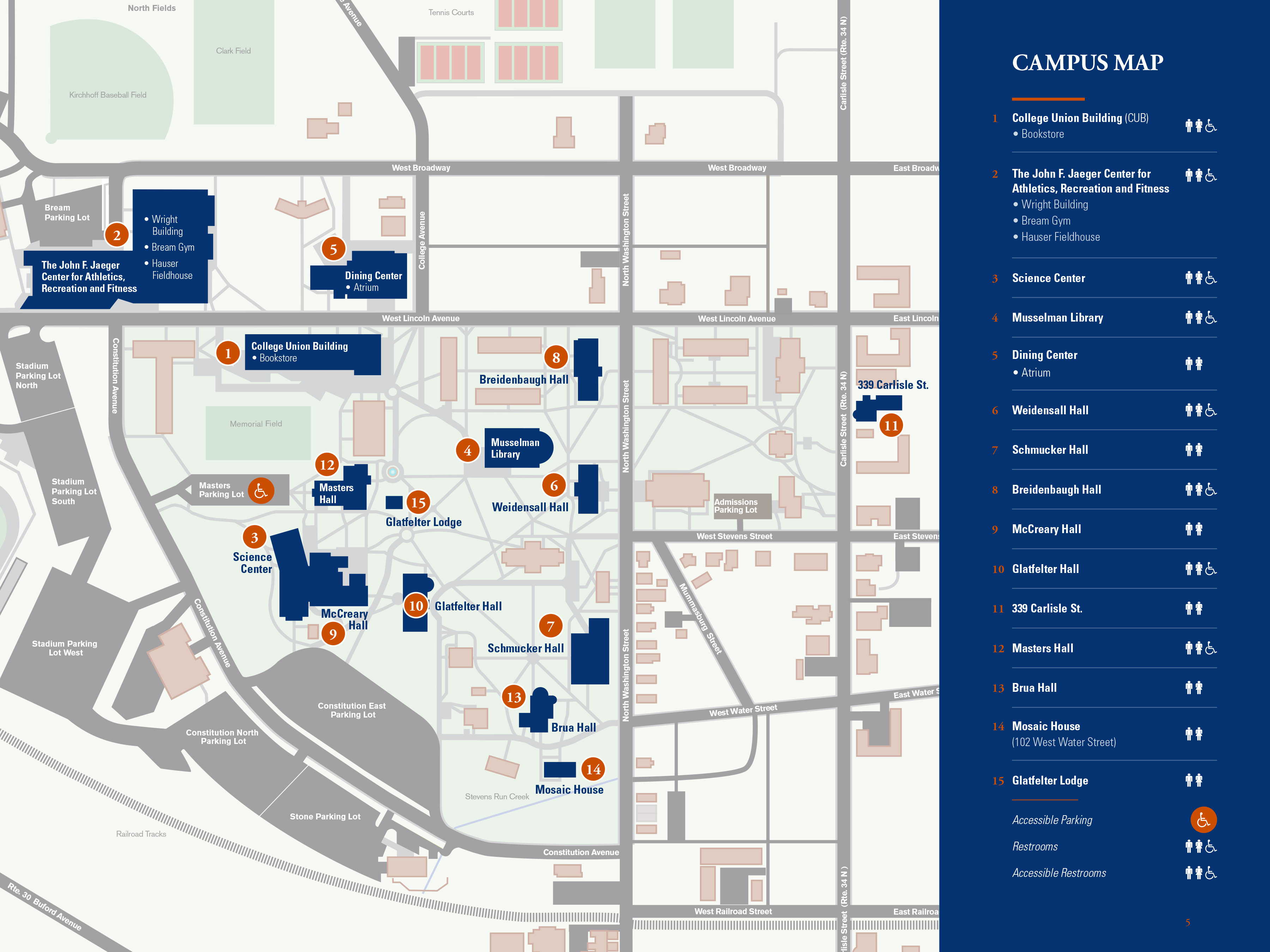 We hope to see you at Get Acquainted Day, and we look forward to welcoming you to campus! If you have any questions, please contact us!
Explore other on-campus events