Saturday, May 16, 2020
4:00 p.m.
Location: North Side of Pennsylvania Hall (Commencement Site)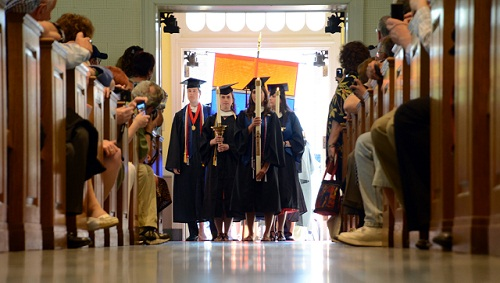 2019 Baccalaureate video
A long-standing tradition and an integral part of Commencement Weekend, this welcoming and inclusive service provides an opportunity for graduates and their families and friends to come together in thanksgiving for all that has brought them to this day, celebration of their accomplishments, and hope for all the future holds. It is a moment of rest, joy and community in a very busy weekend. The service is optional, but everyone is warmly invited and we hope you will attend!
The service lasts approximately one (1) hour.
No tickets are required for this ceremony.
On-campus air conditioned alternate viewing locations with livestreaming video will be available; details to follow as they are available.
This event will be available as a video livestream beginning at 4:00 p.m. on Saturday, May 16. Watch the livestream (link will go live when the ceremony begins.)
Seating will be reserved for guests with disabilities. Please see an usher for assistance. See Accessibility pages for additional information.
Translations of the Baccalaureate Ceremony (will be uploaded the week prior to the ceremony)