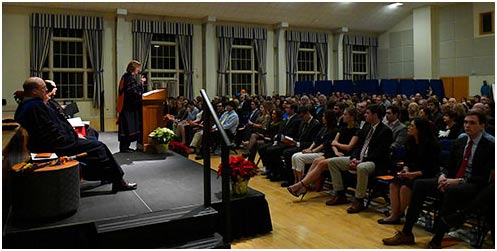 The 2018 Midyear Graduates Recognition ceremony was held on Wednesday, December 12. Alan Perry, Professor of Italian, was the Faculty Speaker. Congratulations to all students who completed their degree requirements in August and December 2018!
---
This special ceremony honors students who have completed degree requirements in August or are expected to complete degree requirements in December. Students and families involved are contacted with details of the ceremony in the fall.
Although diplomas are not distributed and graduates do not wear caps and gowns, the ceremony is a warm and intimate celebration for August graduates and expected December graduates. Following remarks from the President, Provost, and faculty speaker, the honored students are called up to the stage individually to be recognized. Guests and the campus community are invited to a reception with light refreshments after the ceremony concludes.
Students who are recognized at the Midyear Graduates Recognition ceremony are invited and encouraged to participate in the May Commencement exercises and will receive their diplomas at that time. In January, midyear graduates will receive a copy of their transcript showing a December 31, 2018 graduation date, a final GPA, graduation honors if that is appropriate, and a letter from the Registrar confirming that they have completed all requirements for graduation. That documentation should be sufficient for presentation to potential employers or for admission for further study. Official transcripts will be available upon written request. Please contact the Registrar's Office directly with any questions regarding degree requirements and diplomas.
2017