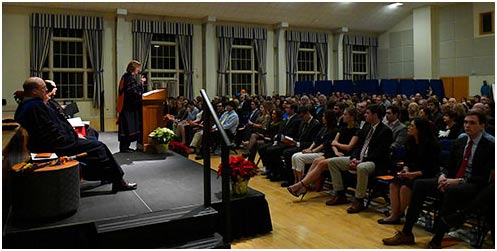 Wednesday, December 16, 2020
CUB Ballroom
5:30 p.m.
2020 Faculty Speaker:
TBD
---
This special ceremony honors students who have completed degree requirements in August or are expected to complete degree requirements in December. Students and families involved are contacted with details of the ceremony in the fall.
Although diplomas are not distributed and graduates do not wear caps and gowns, the ceremony is a warm and intimate celebration for August graduates and expected December graduates. Following remarks from the President, Provost, and faculty speaker, the honored students are called up to the stage individually to be recognized. The ceremony lasts approximately 40 minutes. Guests and the campus community are invited to a reception with light refreshments after the ceremony concludes.
Students who are recognized at the Midyear Graduates Recognition ceremony are invited and encouraged to participate in the May Commencement exercises and will receive their diplomas at that time. In January, midyear graduates will receive a copy of their transcript showing a December 31, 2020 graduation date, a final GPA, graduation honors if that is appropriate, and a letter from the Registrar confirming that they have completed all requirements for graduation. That documentation should be sufficient for presentation to potential employers or for admission for further study. Official transcripts will be available upon written request. Please contact the Registrar's Office directly with any questions regarding degree requirements and diplomas.
Guest Information:
Seating
The Ballroom will open at 5:00 p.m. for guest seating. No tickets are needed.
Reception
A light reception will immediately follow this ceremony in the CUB Ballroom. All graduates and their guests are encouraged to stay and enjoy refreshments and an opportunity to visit with faculty, family, and friends.
Photography
Following the ceremony, a professional photographer will be available in the Ballroom to take formal photographs of students and their families.
Lists of locations and links to area activities
Parking
Visitor parking is available in parking lots throughout campus, including Masters Lot, Musselman Stadium Lot, Constitution Lot and the Admissions Lot. See campus map, (PDF.) On-street parking may also be available along West Lincoln Avenue in front of the CUB.
If you need a guest parking permit for overnight visits, please contact the Department of Public Safety at 717-337-6912.
Accessibility
Limited accessible parking is available in front of the College Union Building (CUB) and in the Masters Lot behind the CUB. The accessible entry point is at the Bullet Hole entrance on the east end of the CUB.
CART (Communication Access Realtime Translation) service will be offered for this ceremony. The URL is posted at the top of this page and loaner iPads will be available if needed. Please see an usher with an orange and blue name tag to borrow an iPad or if you need any other assistance.
Please direct any questions you have about special needs to Katie Barako, Special Projects Coordinator (kbarako@gettysburg.edu,717-337-6012.)
Past Midyear Graduates Recognition Ceremonies:
2019