25Live Tutorial
25Live is Gettysburg College's web-based scheduling and event-publishing product. The 25Live scheduling system provides data repository for events. Users can view event information and submit requests.
Before you start
Mozilla Firefox and Google Chrome are recommended browsers.
Frequently asked questions
Please see https://www.gettysburg.edu/events/training/eventschedulingfaq
25Live Scheduling System User Guide
Sign in
Click on the "Create an Event" or Event Form icon at top to start request
This is where the event request process begins.
A text box may be displayed in each section of the event wizard to guide you through the process. This box contains helpful reminders/instructions related to the completion of the section.
Enter your "Event Name"
This field states next to it that it is a required field
The maximunm length of your Event name can be 40 characters. This includes spaces.
Please be specific;if your event will be published to the campus event calendar, your event name should be clear and accurate.
Avoid using acronyms for events that will display on the campus calendar.
DO NOT use apostrophes ' or quotation marks " or ampersands & in name.
Add your "Event Description Title"
This field can be used for ease of searching within 25Live.
The maximum length of your event description title can be 120 characters. This includes spaces.
Note: This is a searchable field.
Does NOT feed into Engage.
Select your "Event Type"
Choose an event type that most closely describes the type of your event. Only one event type may be selected
Events type determines who can see an event in Engage and whether events posts to campus calendar & other filters.
Private events and classes do not post to campus calendar.
To view the most accurate and update event type list please go to Event Types . For a quick reference please see table below.
Table 1: Available event types
| Event type | Campus calendar | Example | Status | Details |
| --- | --- | --- | --- | --- |
| Academic class/research | N | Review session, film for class, | | |
| Admissions Programs-calendar | Y | Info sessions, Open House | | |
| Alumni Weekend- calendar | Y | Class social, alumni event off campus | | |
| Athletic Game | Y | Field Hockey game | Open to General Public | Limited by user group |
| Athletic hosted-External | N | Use by Athletics only- when hosting another group | | Limited by user group |
| Athletic team meeting | N | VARISTY TEAM USE ONLY | | Limited by user group |
| Athletic team meeting/practice | N | Varisity sport use only , team practice | | Limited by user group |
| Campus Recreation IM League event | Y | Signups, tourneys, special events | Im league registration | Limited by user group |
| Conferences | N | Conference grouos in campus/external | | Limited by user group |
| Cubbie/information | Y | Cubbies in lobby- sign ups | | |
| FY Orientation | Y | Welcome session, first year walk | | Feeds Orientation Calendar! |
| Lecture- Public | Y | Lecture, panel | Open to General Public | |
| Majestic film | Y | Movies at majestic! | | |
| Majestic Performance | Y | Majestic public performances | | This is our public theater |
| Meeting/traiing/rehearsal -Private | N | Dept. staff meeting, budget meeting | | |
| Meeting/workshop- Calendar | Y | Faculty meeting, open senate mtg, cub meetings | | |
| Public Performance | Y | Play, recitals, concerts | Open to General Public | |
| Remote Engagement-Virtual calendar | Y | | | |
| Setup/facilities/storage | N | Block for repair | | Limited by user group |
| Social event- Calendar | Y | Social events, senior class party | | |
| Social event- private | N | Dept. social, closed social | | |
Select your "Primary Organization for this Event"
Click the down arrow in field:

Begin typing Organization and system will search for appropriate orgs.


Select your Favorite Orgs (top of listing)
Note: If the search does not return your expected result, try limiting your search to a key word from the organization's name.
Add your "Event Head Count"
Enter the estimated number of attendees for your event - must be greater than 0!
Add your "Event Description"
This section will soon be moving to EngageGettysburg.
This section only applies to events that will be published to the campus event calendar, skip if a private event as no one will see.
Add the appropriate details as they relate to your event.
You can embed links within your text to other websites, alter the font size and style, indent your text, and much more. Hover your mouse over each of the icons to learn what they do; this feature resembles Microsoft Word.
Select your "Event Date and Time"
Enter only the date and time of the actual event; this is what will show on the campus calendar.
Can use calendar to select date and new drop down for times!
System will default event duration to an hour, but you can adjust end time.
If you need to add pre-event or post event time please click on the "Additional time" button
Only use pre-event time if you need space prior to event.(Setup time field is mostly for schedulers and facilities use)
For events with multiple occurences continue scrolling.
You can click on the calendar to add additional dates. The system defaults to ad hoc.
If you need to use a repeating pattern, click on the repeating pattern button.Then select the pattern occurence: Daily, Weekly, or Monthly. Then add the needed details of number of occurences until end or end date of pattern.
You can view all occurences within the request by clicking on "View All Occurences" located immediately below the calendar.
If your event times will be different, a separate request should be completed.
Find and select your "Event Location"
If you know the specific location you are looking to request you can begin typing the location name in the search field
If you need to find a location from a searchclick the drop down for saved searches and it will show you a list of public saved searches and your saved searches. The list begins with the starred searches.
Public searches- allows you to select from a list that populates of common search criteria (ex. science center classrooms, CUB spaces, etc.)
There are two options listed above the location searches that will give you ways to help find an available room that fits your needs quickly. You can check whether or not you want the search to provide options that has conflicts and the system automatically checks enforce headcount to make sure the room you are looking for can fit the number of people you have listed for your event.
The search when populated will list out the rooms and to the left of the room name if there is a conflict it will say unavailable. However, if the room is able to be request it will say request next to it.
If a space has a conflict you can click on conflict details to see what is the conflicting event that is already scheduled in that space.
If you would like to remove a location from your event request, scroll down past the search list and it will show you what rooms you have requested. If you would like to remove one from your request click on the red Remove button.
Can't find what you are looking for? Send a note to scheduler detailing the space/location you would like to reserve (see below).
Please note you are not guaranteed your requested event location until you receive confirmation from the scheduler. Requests are processed in the order they are received, and the scheduler will do their best to accommodate all requests for space.
For Penn Hall Lyceum, CUB 208, and CUB260- please use drop down listing of layouts desired to select the layout you are requesting.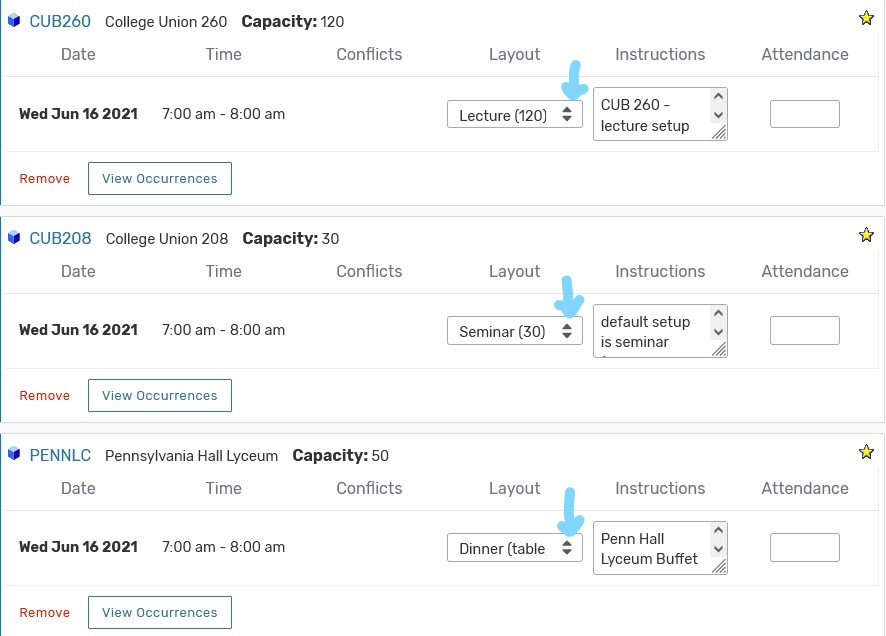 Select "Event Custom Attributes"
Not all attributes are an option on all event types.

Contact Roles for this Event
Please Do NOT adjust REQUESTER or SCHEDULER: if you are submitting- YOU are the requester. You can skip this part.

OR

You can ADD AN additional contact but please be CAREFUL! The page may automatically have the drop down in the wrong field. Move to the Contact field- you CAN add a different person as contact, if you so desire. The contact field can remain blank as it is not required. Make sure your name is still listed as requester.
Selected *REQUIREMENTS for this event.
Check * all that apply to this event.(This will trigger additional business processes.)
If you have any additional details about the requirements selected, please include that information in the comment section for any and/or all requirements you select.
Add notes to scheduler
Send any additional instructions and/or comments to the scheduler about your event request.
This information is only shown to the scheduler (not made public)
Verify and Affirm
Once you have completed your event request and entered all of the necessary information verify, read and check mark on affirmation page.

System will warn you if there are missing fields: complete and then save.

You will see a screen appear with message saying "Your request has been successfully submitted!" will appear at the top of the event wizard. Your event request has been saved as a draft and forwarded to the scheduler for processing.

Note: You will not receive an automatted email confirming your event request. You will receive an email from the scheduler once your event has been approved.
Follow up tasks
Review your request?
If the scheduler sends you an email asking a question about your event, please reply so that details can be adjusted and events scheduled.

You can confirm your event request was submitted by clicking on the "25Live Pro" icon on your homepage. Your event requests are saved as drafts until the scheduler processes them. Be sure to refresh your screen to update the page.
If you have any questions, you can see which scheduler has been assigned to this request.
Notes:

You WILL receive an email when event has bee scheduled!If your event changes, send the scheduler an update.
PLEASE DO NOT submit a new request!
When using the event form, you can toggle away from the form to view calendars in 25Live without having to restart the form.
Checking the Status of Your Requests (Drafts)/Events

Sign into 25Live
Scroll down to the "Event Drafts" box.
The number of events you have requested that have not been confirmed(still in Draft status) will be listed here. You might have to hit browser refresh button.
Your event drafts equal # Event Drafts in which you are requestor.
Checking the status of your events
Sign into 25Live.
Scroll down to the "Your Events" box.
The number of events you have requested are here.
To make changes to your event, open your events:

Right click on Event name. Options will appear including email Event details. Click on "email event details".
Put check mark to scheduler to send email to scheduler.
Write notes in message body to alert of changes desired.
Click on "Send" button