Stephen J. Nelson '69 and Janet Cooper Nelson Endowment in Honor of Professor Lou Hammann '51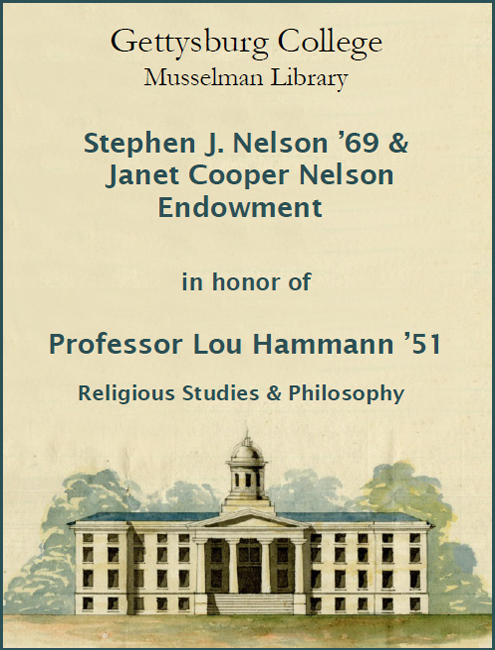 Purpose
Religious Studies and Philosophy
About the Donors
Stephen Nelson and his wife Janet Cooper Nelson (Wellesley '71) established this fund to honor Professor Lou Hammann and to recognize the impact of his intellectual curiosity and profound teaching on generations of Gettysburg College students.
More Information
Stephen majored in religion and history; his post graduate career has been dedicated to higher education. He earned his PhD from the University of Connecticut and has worked in academia as an administrator, professor, researcher and writer. Stephen notes, "Over the years, it became increasingly clear to me the extraordinary impact Professor Hammann had on my life and career. He meant so much to me in and out of the classroom. Janet and I could think of no more appropriate gift to underscore the stature of Lou's love of life and learning than this endowment."
Read more about this fund in the Fall 2015 Friends of Musselman Library Newsletter, p. 14 and the Fall 2014 Friends of Musselman Library, p. 19.