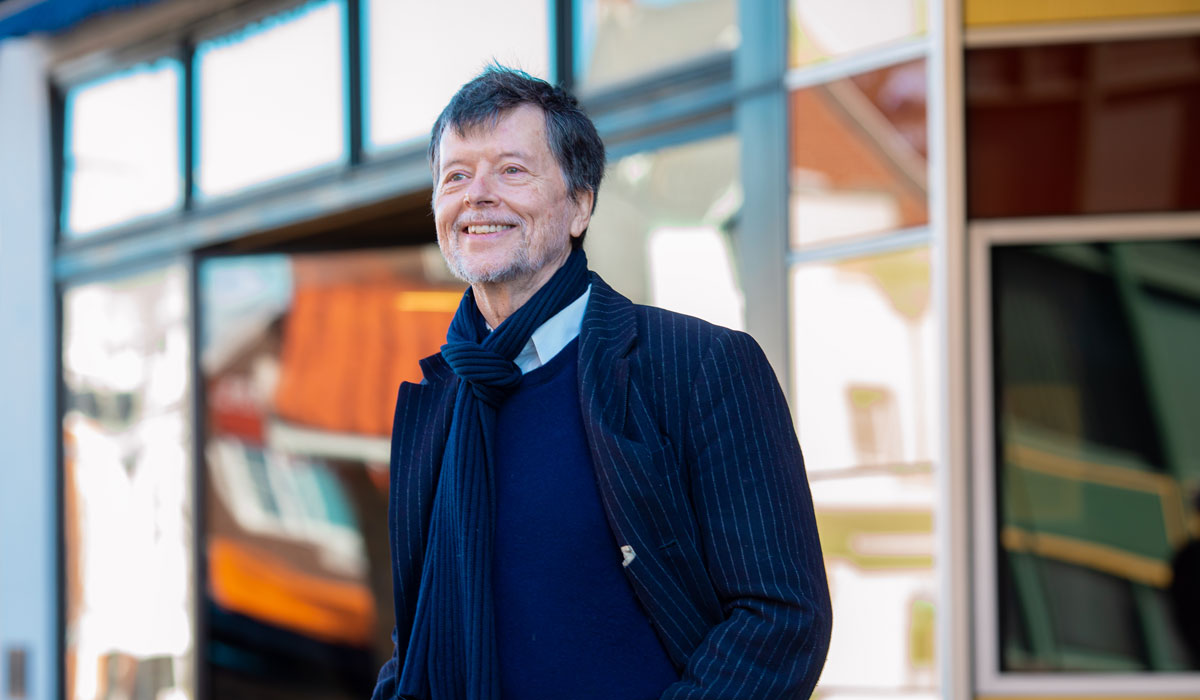 Who Are We? This simple yet profound question is at the heart of the American story—and each of the inspiring documentaries created by America's storyteller Ken Burns.
On Feb. 10-12, Gettysburg College hosted Who Are We?: A Festival Celebrating the Films of Ken Burns at the Majestic Theater. Our historic grounds served as a powerful setting for students, alumni and visitors alike to look inward and explore this consequential question through the lens of Burns's timeless works.
"My relationship with Gettysburg is so emotionally entwined with who I am as a person," said Burns upon arriving in town for the first-ever film festival dedicated to his more than 40-year career. "I'm always moved by my return to Gettysburg. It's important for us in our busy and distracted lives to remember what happened here. So much of who we are as a country is born here and articulated here and suffered here."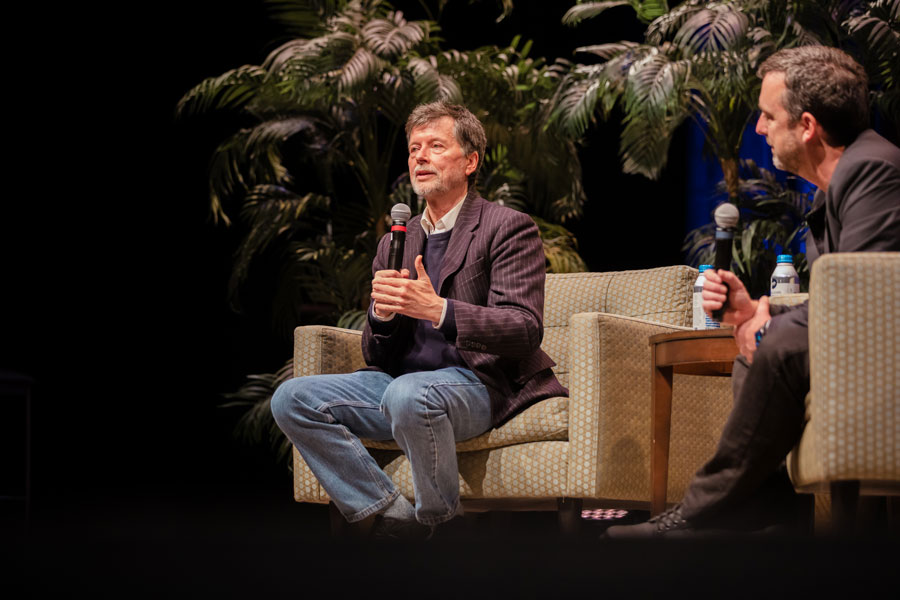 The festival featured 35 hours of programming over three days, including live discussions with Burns and his collaborators writer Geoffrey Ward; cinematographers Allen Moore and Buddy Squires; and musicians Jay Ungar, Molly Mason and Jacqueline Schwab. It also showcased screenings and thematic clip reels of Burns's most iconic works including Brooklyn Bridge, The Vietnam War and Country Music.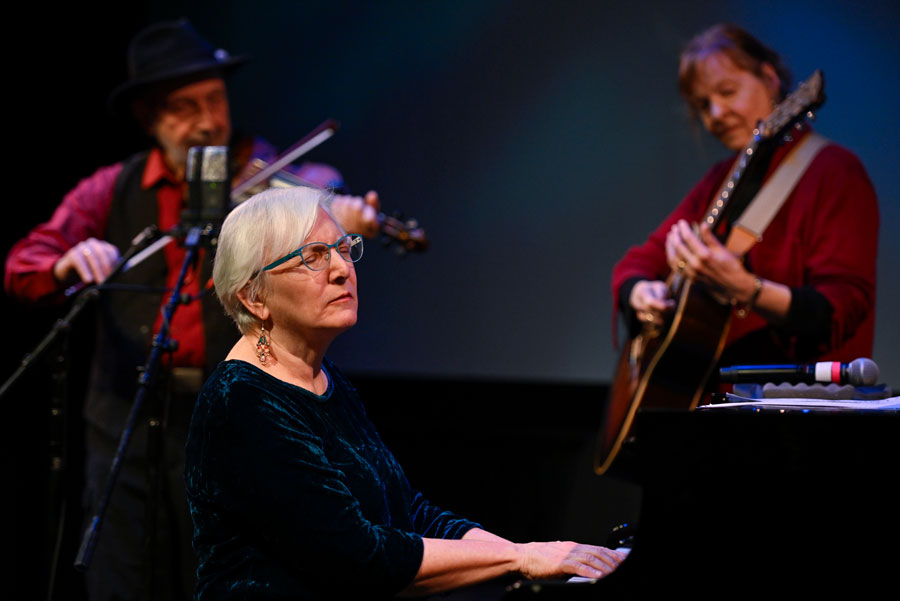 Of course, the centerpiece of the festival was a showing of all nine episodes of The Civil War, which premiered in 1990 and earned 40 major awards, including two Emmys, two Grammys, a Peabody, and the inaugural Lincoln Prize awarded by Gettysburg College in partnership with the Gilder-Lehrman Institute of American History.
The film series remains the highest rated and most celebrated documentary in public television's history. It rightly positioned Burns as one of the most influential documentary filmmakers of all time, and it sparked a renaissance in the public's interest in American history—especially the Battle of Gettysburg.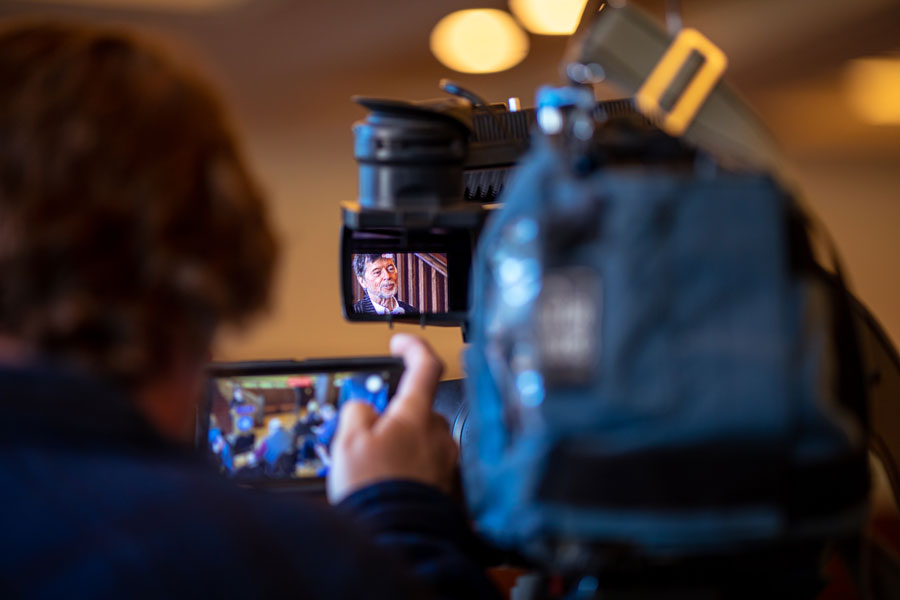 "It was arguably the first time that I ever binge-watched a show," said Cinema and Media Studies Prof. Jim Udden. "Being a recent college graduate with a history major, I had expected little and arrogantly thought I already knew the Civil War well enough. Instead, I not only learned how little I actually knew about the Civil War, I felt I had just seen that war for the first time despite all I had read before. Indeed, that is largely true of everyone who has seen that show—it literally changed how we see that war: what was once so long ago was suddenly now."
Even the Gettysburg National Military Park felt the impact of Burns's incomparable storytelling. During the festival, Burns shared a fond memory of visiting the Gettysburg battlefields with the superintendent in 1991, a year following the film's release.
"He bent over to pick up a Popsicle wrapper. He shook it in front of my face and said, 'It's all your fault,'" joked Burns. "Which I thought was the greatest review I've ever had." Visitation had increased dramatically in the film's wake.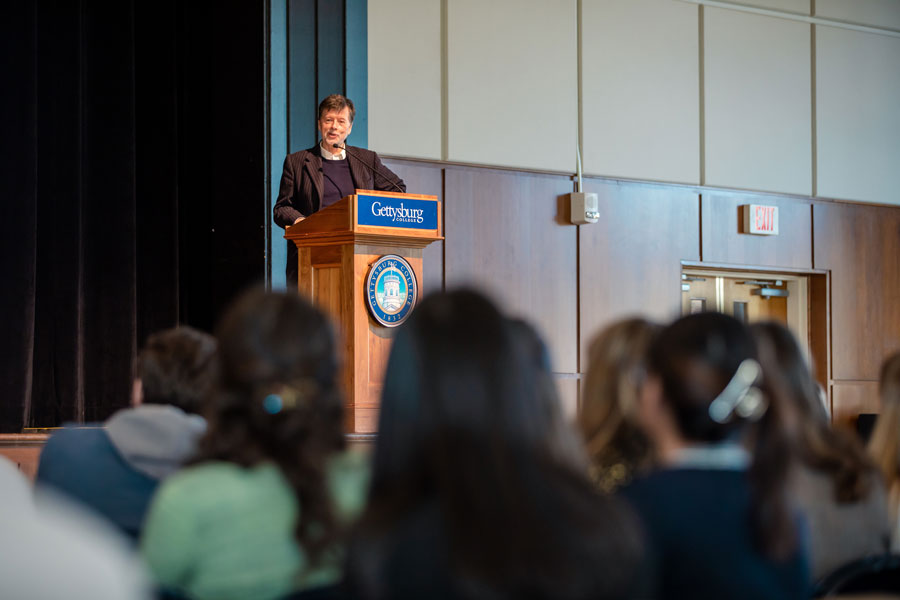 Teaching the next generation
Burns made a special point to begin the film festival weekend with an event specifically designed for Gettysburg College students.
The talk and clip reel presentation, titled "Activism and Protest," was compiled by UNUM, Burns's digital platform that connects our past to our present using documentary film. The session featured segments from Not For Ourselves Alone: The Story of Elizabeth Cady Stanton & Susan B. Anthony, Jackie Robinson, Muhammad Ali and The Vietnam War, followed by a live Q&A with Burns.
President Bob Iuliano kicked off the student event in the College Union Building Ballroom.
"Just up the road from here, Abraham Lincoln spoke to the importance of advancing the unfinished work of our democracy. The starting point for that work is a willingness to get engaged, to be heard, and to question the status quo," said Iuliano. "Students, we tell stories for a reason. There is power in narrative. It is a catalyst for change. Today, you will hear from one of the best to ever do it."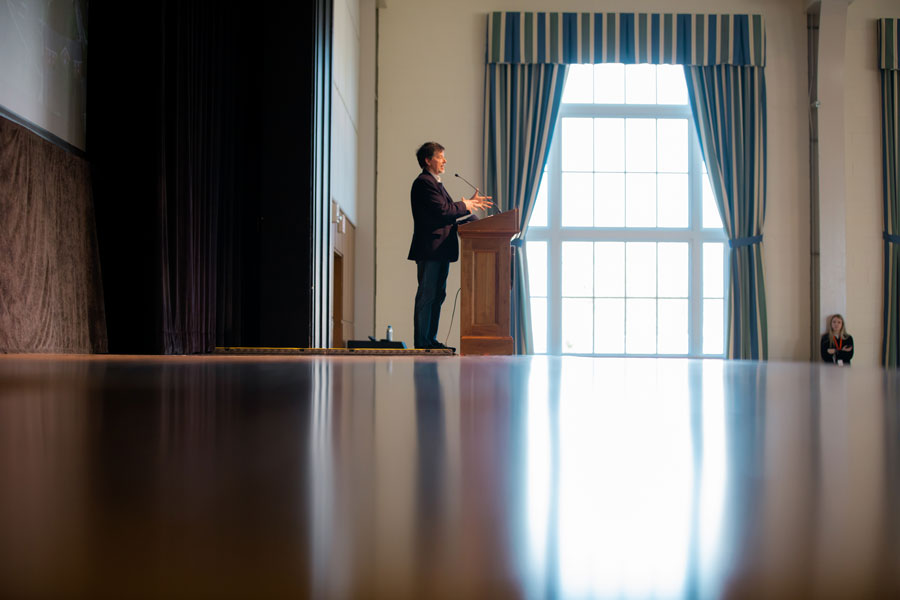 Burns emphasized to students that storytelling is the ultimate tool for breaking through the hyper-polarization we see in today's world and for creating meaningful change.
"Story is the editing of human experience," said Burns. "When you think about it, we are in a computer and media age in which everything is binary, when we know in fact from our lives that nothing is binary. Everything is a one or a zero in the computer world. Everything is good or bad, black or white, red state or blue state, young or old, rich or poor, gay or straight—and they are impossible dialectically to ever reconcile. But stories do that."
Burns also spoke to the interconnectedness of the human story and that while history does not repeat itself, it often rhymes—as Mark Twain is supposed to have said. It is a truth that Burns has been purposeful to amplify throughout his distinguished filmmaking career.
"Ecclesiastes, which is in the Old Testament, might have it best: 'What has been will be again, what has been done will be done again. There is nothing new under the sun.' That seems to suggest that human nature doesn't change and that human nature superimposes itself on the seemingly random chaos of events and, therefore, we hear the echoes, we see the motifs, the recurring themes, the rhymes," reflected Burns. "I don't know of a single film out of the 40 that I've made that I haven't been aware while I was making it of how much it was rhyming with the present."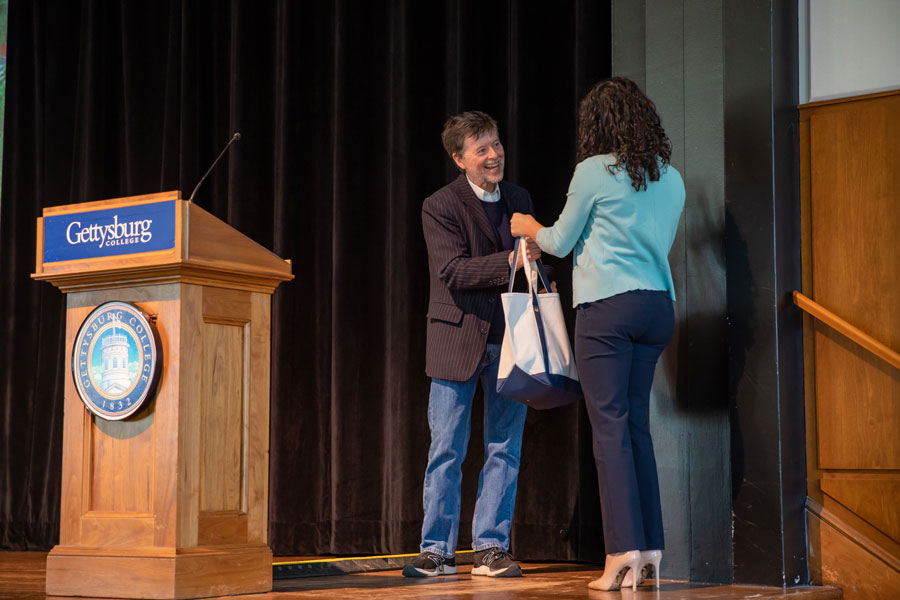 Gettysburg College students savored the opportunity to ask Burns a wide range of questions about his life, his career and how the filmmaker experiences the world. It was an event many students say they will remember forever.
"Ken Burns embodies his films as artistic expressions of history. He is clearly an artistic person and understands so much about how to convey the emotion and feelings that are present in a story," said Charlie Miller '25, a history major and Civil War era studies minor. "The festival was excellent for the College, and the crowd was very intrigued and into the event."
Interdisciplinary studies major Ashton Record '25 added, "Ken Burns speaks so eloquently and yet in a way that everyone can understand. The way he describes history is astounding. Listening to this has been a soul-transforming experience—very moving."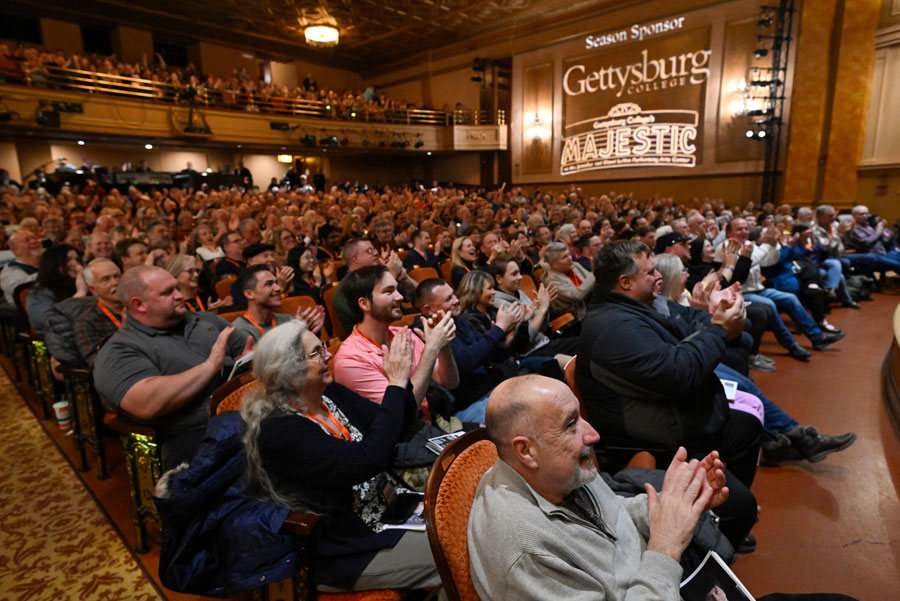 A moment to look inward
Perhaps the most emotional sessions of the festival occurred when attendees were asked to reflect on the nation's complicated past, including confronting the realities of war and the ongoing fight for racial justice.
Susan Eisenhower and Tracie Potts of Gettysburg College's Eisenhower Institute delivered a gripping retrospective of D-Day—June 6, 1944—when 1.5 million Allied troops took part in the greatest invasion in history. They also spoke to how World War II impacted every American—from Susan's grandfather, Dwight D. Eisenhower, to soldiers, to ordinary citizens. Their discussion followed a showing of "Pride of Our Nation," Episode 4 of The War.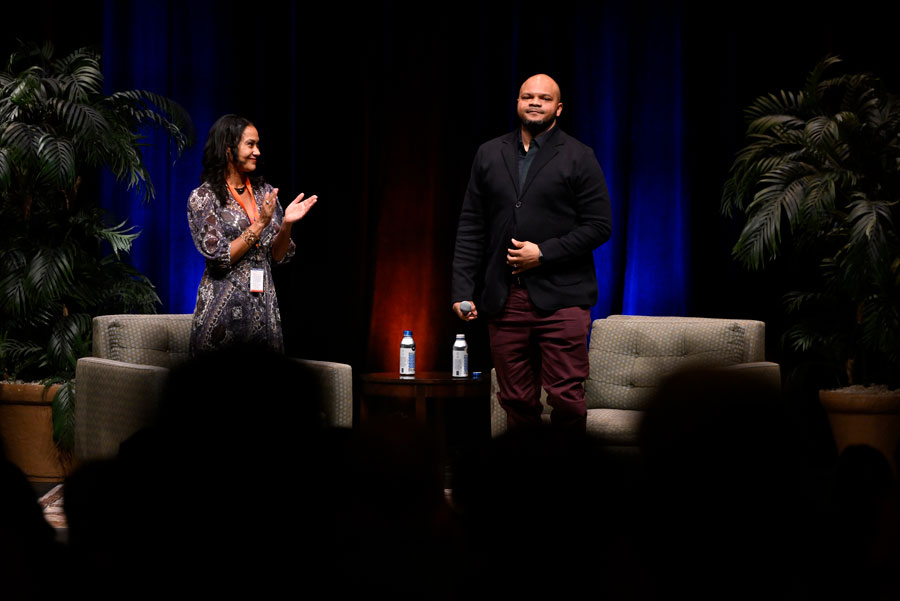 Alisha Sanders, a Gettysburg area educator, also facilitated a deeply moving discussion with activist Kevin Richardson, a member of the Central Park Five—one of five Black and Latino teenagers from Harlem who were wrongfully convicted of raping a white woman in New York City's Central Park in 1989.
Richardson shared a personal account of how his life was upended by this miscarriage of justice, while advocating for each member of the audience—individually and collectively—to contribute to building a better, more just society.
"We were called names by the press," Richardson told Sanders and the audience. "It left indelible scars. I don't take being alive for granted. I am happy to carry the torch and make my ancestors proud."
"Being able to see the documentary (Burns's The Central Park Five) and then hear directly from one of the victims struck me in being able to better comprehend the weight of this issue," said Ronald Moyer '23, a sociology major and religious studies minor. "There are many issues that cannot be understood through a textbook, but rather are best told and understood through the arc of story."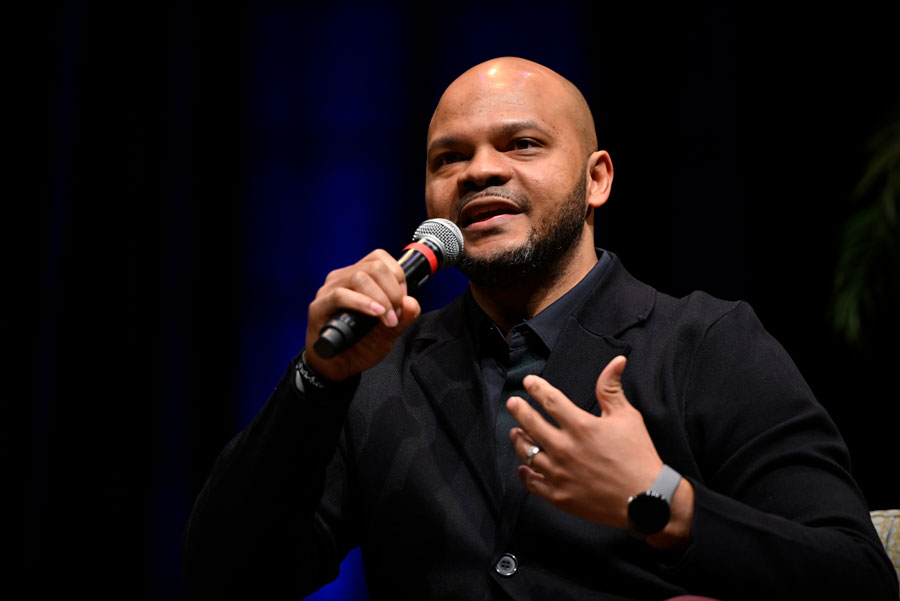 In all, Who Are We?: A Festival Celebrating the Films of Ken Burns attracted visitors from 28 states across the country, representing nearly 4,000 tickets sold. It is a testament to Burns's enduring legacy as a storyteller, as well as a thirst by the American public to explore difficult questions and strengthen civil discourse.
"Light needs to shine on the intricate and complicated history of the United States, which as a nation has 'unfinished work' in the words of President Lincoln. Ken Burns dedicates energy and time to his documentary films, which awaken an understanding in viewers to detailed facts, to challenges that bind our nation, and to the hope that exists as we the people persevere together," reflected Mary Gatterdam Folkemer '68.
"Each piece of history, starting with the building of the Brooklyn Bridge to the battlefields of the Civil War, World War II and Vietnam, bind us together as one nation under God. The call of the film festival, like the country music song 'Will the Circle Be Unbroken,' connects generations to live each day with renewed devotion; my own devotion to that end has grown stronger thanks to Ken Burns's film festival."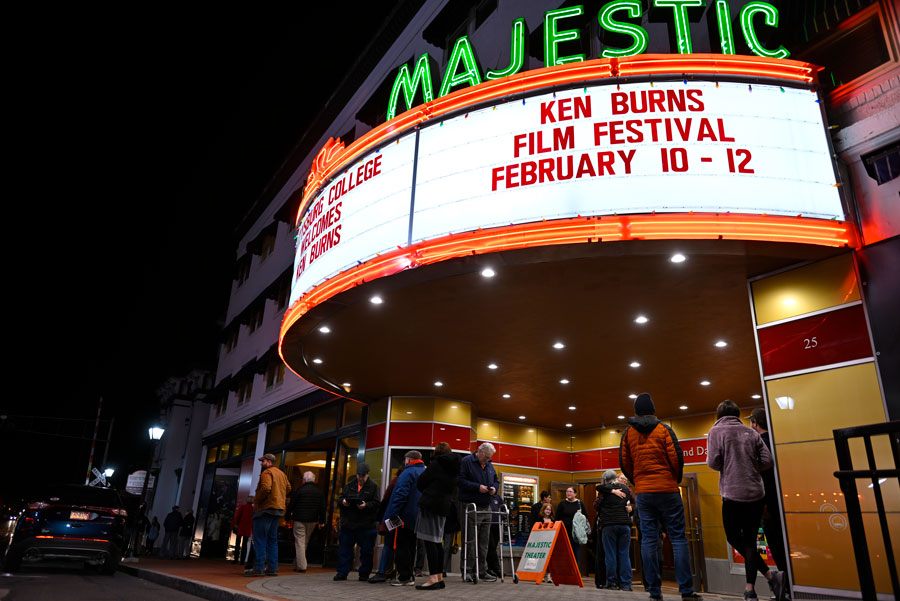 Special thank you
Gettysburg College extends its deepest thanks to Ken Burns and his collaborators; Film Festival Director Jake Boritt; Jeffrey Gabel and the Majestic Theater staff; and our generous sponsors who made this ambitious film festival a reality: Ken '66 and Elizabeth Lundeen (Platinum); David '68 and Pauline LeVan (Gold); Monica E. Oss and J. Jay Mackie (Gold); Dave '85 and Cynthia Salisbury '84, P'15 (Gold); The Union Hotel (Silver); The Vesta Fund (Silver); Gettysburg Hotel (Hospitality); and WITF (Media).
View film festival photos
Learn more about Who Are We?: A Festival Celebrating the Films of Ken Burns. Visit the Majestic Theater website for future events, films, and performances coming to Gettysburg.
By Mike Baker
Photos by Abbey Frisco and Jason Minick
Posted: 02/28/23