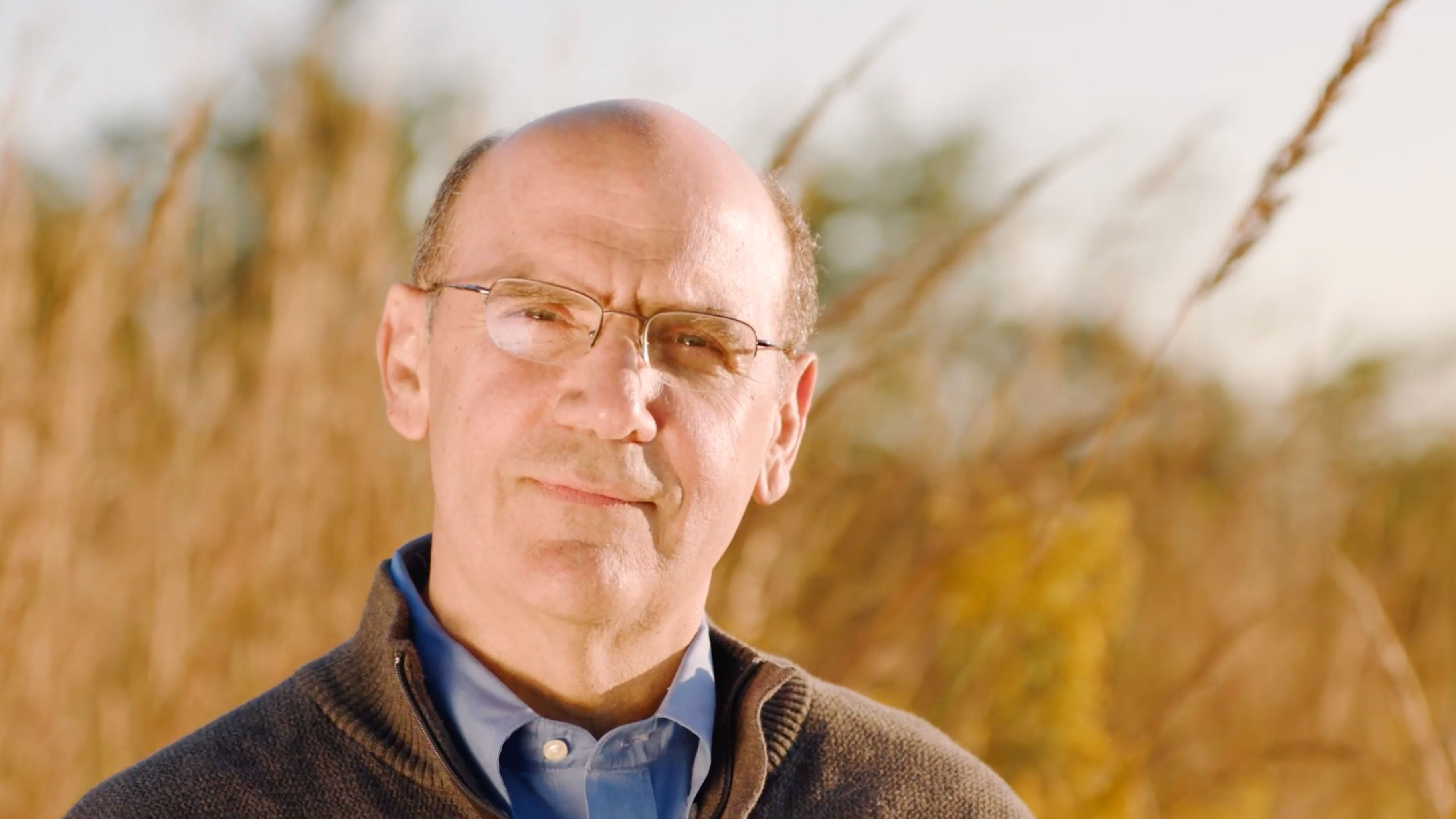 In a spirit of celebration and reflection, Gettysburg College formally installed Robert W. Iuliano as the 15th president in the institution's 187-year history on September 28, 2019.
Amidst students, faculty, administrators, staff, trustees, alumni, parents, community leaders, and guests, including delegates of higher education institutions from across the country and around the world, Iuliano delivered a captivating inaugural address that emphasized the distinctive role of liberal arts colleges—specifically, Gettysburg College—in the important work of sustaining our civic institutions and democracy.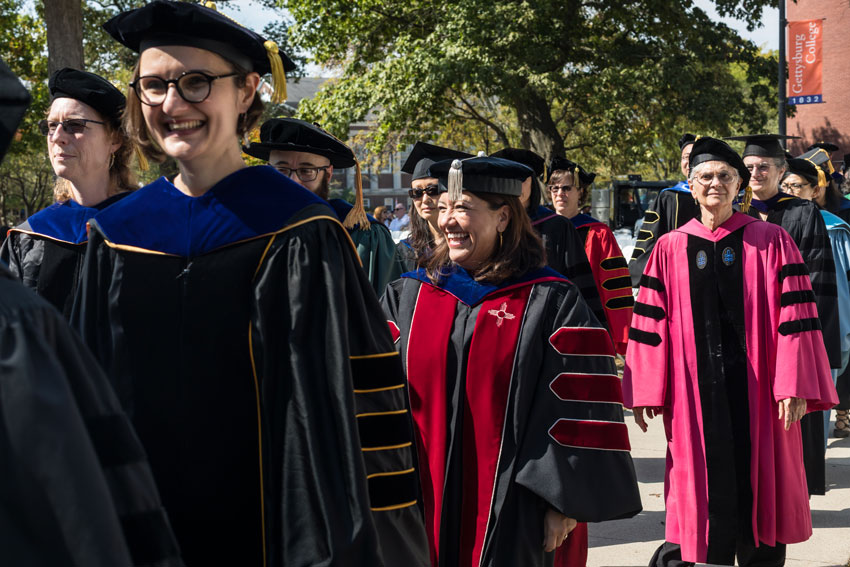 "As I stand here, on this hallowed ground, I do so not only with hope, but with a conviction that the work of this institution is as essential as it has ever been," said Iuliano, citing the College's proud connection to Presidents Abraham Lincoln and Dwight D. Eisenhower, as well as our iconic location, as inspiration to produce leaders of courage and conscience. "This place has seen too graphically the consequences of drift, of indifference, of hyper-partisanship. Society needs our thinking, our voices, our graduates; it needs people committed to the public good."
At the Installation Ceremony, Iuliano received heartfelt greetings from constituents of the local and College communities, including Lauren Bright '90, a trustee of the College and chair of the Alumni Association Board of Directors.
"We are excited by your energy, vision, and commitment to the work that lies ahead, as well as your focus on making sure that all current and future students will be the beneficiaries of an invaluable Gettysburg College experience," said Bright.
Following the Oath of Office, Iuliano was presented with the Presidential Medallion and Chain by David Brennan '75, P'00, chair of the Board of Trustees, and Charlie Scott '77, P'09, P'12, vice chair of the Board of Trustees. The Chain displays the name of each Gettysburg president since the institution's founding in 1832.
Among the celebration's top moments, Harvard University President Emerita Drew Gilpin Faust—Iuliano's mentor and former colleague—offered a moving endorsement of Gettysburg College's mission and our new leader.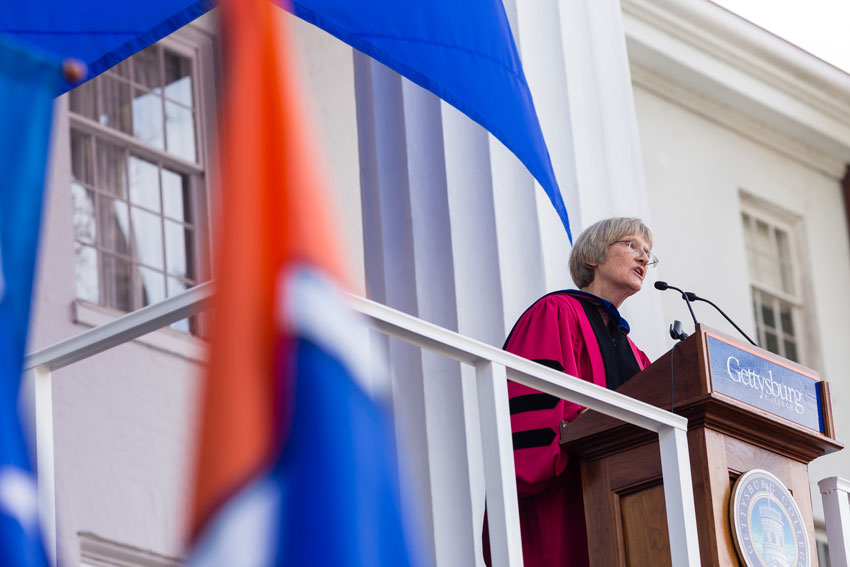 "It was my great privilege to work closely with Bob, and to rely on his dedication and exquisite judgment through my 11 years as Harvard's president," said Faust, a champion of higher education and the first female president in Harvard University's 383-year history. "Bob is here today, taking on these new responsibilities, because he believes so strongly in the value and the values of liberal arts education. At a time when pressures come from all sides to transform college into an increasingly narrow form of vocational training, colleges like Gettysburg stand for something precious—a commitment essential for us both to carry forward and continually reimagine, the commitment to an education that leads not just to good jobs but to good lives."
Prior to the ceremony, community members and guests enjoyed a series of exhibits, open houses, and panel discussions that highlighted the scholarly, creative, and innovative works of Gettysburg College faculty and students. The Inauguration Panels (with video)—Leadership Lessons from Eisenhower; Climate Change: Interdisciplinary Insights; and Economics, Politics, and Citizenship in the Trump Years—illuminated the complex and pressing issues facing our nation today, and offered examples of how Gettysburgians are actively addressing these challenges.
The weekend of events concluded with a campus-wide celebration, which featured several student musical performances and remarks by Elaine Negron '20, a senior currently studying Spanish and Women, Gender, and Sexuality Studies.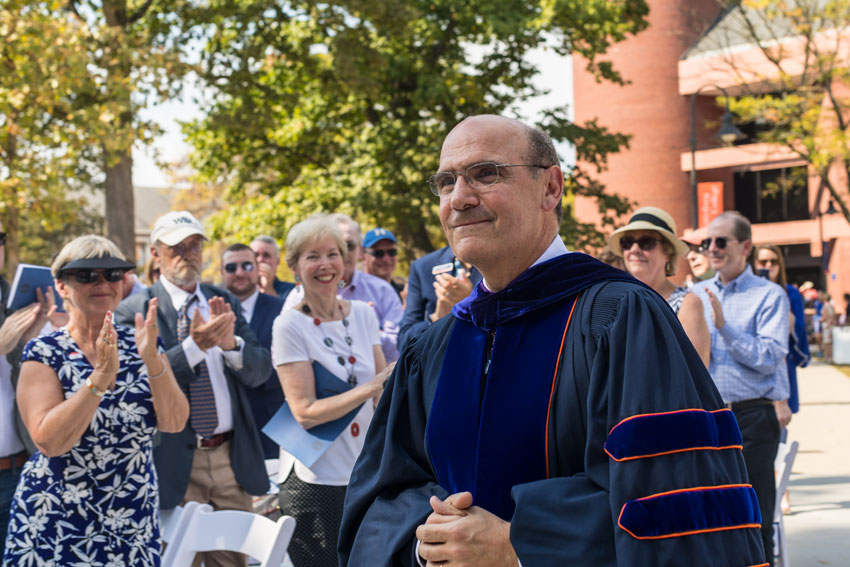 "Bob is a great listener. He's easy to talk to, and he is truly invested in making Gettysburg College the very best place it can be," said Negron. "I have every reason to believe President Iuliano will be a great leader on our campus."
Learn more about President Iuliano.
Photos from Saturday's events
Inauguration Weekend events included a Campus Showcase, Panel Discussions, Installation Ceremony, Reception, and Campus Celebration. View on Flickr
Inauguration Videos
Watch videos from the Installation Ceremony and Panel Discussions.
By Mike Baker
Photos by Shawna Sherrell and Jason Minick
Posted: 09/28/19