Gettysburgians often take the road less traveled—but everyone's path to discovery is different.
Before Daniel Jones '22 first stepped foot on campus, he felt strongly about double-majoring in biology and chemistry. Ready to dive headfirst into the sciences, he reached out to Judaic Studies and Interdisciplinary Studies Prof. Stephen Stern, his first-year advisor, for curriculum advice, but was soon surprised to read the response in his inbox.
Stern told him to seek options that could help him expand his worldview.
At Gettysburg College, students such as Jones are encouraged to explore their academic and social interests, but they are also emboldened to find new ones.
"Reaching out to him was the stepping-stone for a lot of other opportunities and developments, many of which he helped me discover and pursue," Jones said.
Upon arriving in Gettysburg from his hometown of Culpeper, Va., Jones took the first step of a much larger journey by signing up for select religious studies courses. In doing so, he quickly developed a love of religious studies—a new passion cultivated in the classroom that led to personal growth in the community.
Joining the Muslim Student Association, he expanded upon his lessons learned by engaging with fellow Gettysburgians on the topic. While he still enjoyed science, he built a strong affinity for raising questions that awakened global perspectives.
"Africana Studies Prof. Hakim Williams and his Human Rights in the Caribbean class really helped me figure out that I like human-centered work rather than—no offense to anyone in science—being in a lab all day," Jones said.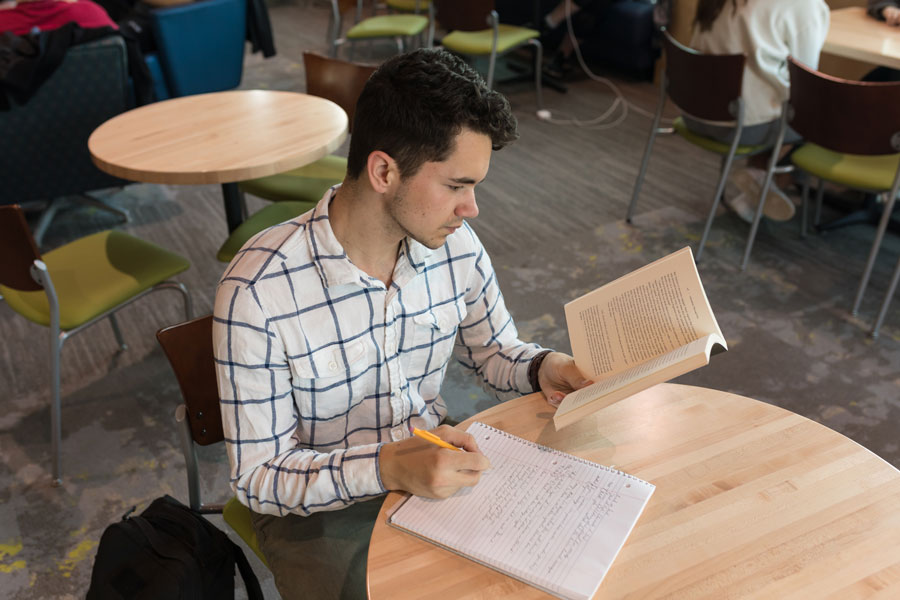 Wanting to learn more, Jones participated in Contours of the Middle East, an Eisenhower Institute program that allowed him to study Middle Eastern culture. Through meeting with Palestinian human rights lawyers and a host of ambassadors from the Middle East, he discerned the type of work that can aid people in need and felt inspired to help in any way that he could.
To gain a better understanding of governmental decision-making that can benefit communities, he then declared a second major in public policy.
Thanks to constructive conversations at Gettysburg, Jones' eagerness to broaden his knowledge beyond campus grew with the hope of making a difference upon graduation. He applied for the Critical Language Scholarship program sponsored by the State department, which could provide the opportunity to travel to Oman to learn Arabic and immerse himself in the culture.
However, as he awaits his application decision, he's taking action now. With the help of the Center for Global Education, Jones is planning trips to Jordan and Morocco.
"The programs in Jordan and Morocco are both centered in some way on religion or activism," Jones said. "I think that it would be a good experience to get an insider's view of those places and learn from someone who has lived there their entire life."
As he looks ahead to his junior and senior years, Jones remains dedicated to continuing to learn about all that Gettysburg has to offer.
"It might be difficult," he said. "But if you just go after what you want to do, you can make anything happen."
Discover your passions by exploring Gettysburg College's programs.