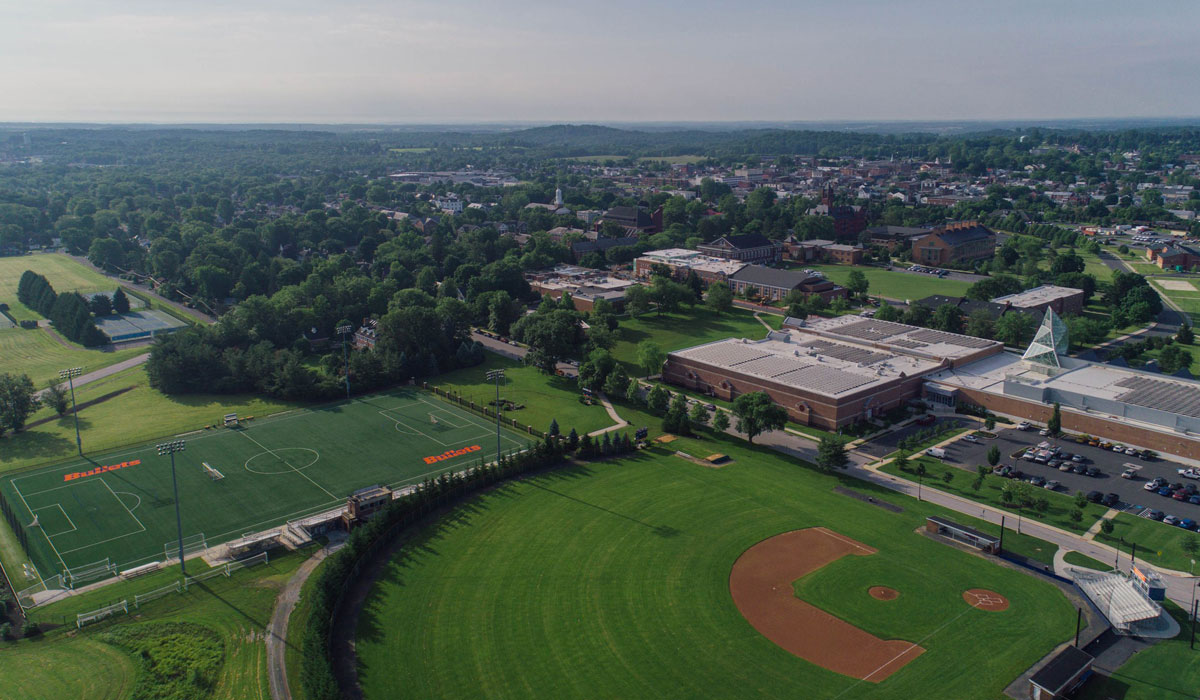 The Gettysburg College Department of Athletics has been planning and preparing for the time when conditions would allow for intercollegiate competition, and now that goal is a reality following an announcement made by the Centennial Conference Presidents' Council endorsing a plan for spring seasons in the sports of baseball, men's and women's golf, men's and women's lacrosse, softball, men's and women's tennis, and men's and women's outdoor track and field.
The announcement gives each institution the autonomy to make the call on participation this spring and Gettysburg will join the fray alongside a number of Centennial Conference colleagues. The decision follows months of discussions focused on the health and safety of student-athletes, coaches, staff members, and local communities.
"I am delighted that the Centennial Conference has endorsed a plan to proceed with athletic competition this spring."
– President Bob Iuliano
"I am delighted that the Centennial Conference has endorsed a plan to proceed with athletic competition this spring," said President Bob Iuliano. "The pandemic has presented challenges to so much of what we do, and I deeply appreciate the thoughtful work that went into the decision by the Conference.
"Above all, I want to express my heartfelt thanks to all members of our Gettysburg College community for their belief in and commitment to our health measures this semester, which have rightly positioned us for a return to competition. I want to specially acknowledge our student-athletes, who have remained focused and driven on our shared goal of a safe and successful spring season. I look forward to all they will accomplish, on the fields and in the classroom, this spring."
Gettysburg College instituted a strategic and comprehensive health and safety plan to combat spread of COVID-19 when students returned to campus in late January. Students and staff have received regular tests with the results supporting the institution's desire to move forward with competition this spring.
In addition to the increase in testing, the entire campus has instituted mandatory masking and social distancing guidelines to prevent close contact. These regulations have been in force since the athletic teams began practicing three weeks ago, first starting out in smaller groups and expanding gradually as the situation allowed.
Gettysburg along with its Centennial colleagues have adopted protocols on testing, travel, and game management standards that exceed the NCAA guidelines for spring sports. These protocols were established based on the advice of external public health and medical expertise.
Forced out of their normal routines focused on close-knit team engagement, the coaches and student-athletes have battled through adversity and presented a united front focused on the ultimate goal of returning to competition.
"After a year without competition I am happy that we will now have the opportunity for our spring student-athletes to represent the Orange and Blue in the sports they love," said Executive Director of Intercollegiate Athletics Mike Mattia. "All of our teams, coaches, and support staff have been extremely resilient, and have worked really hard to help put us in this position. I am confident they will continue to follow the criteria necessary that will allow us to safely and responsibly compete throughout the rest of the spring semester."
A modified Centennial Conference schedule and championship format will be released at a later date. As the season progresses, adjustments to scheduling may become necessary to protect the safety of all participants in accordance with federal, state, and local guidelines surrounding the pandemic. All situations will be continuously evaluated to ensure the safety of all participants.
The Presidents' Council noted outside spectators will not be permitted at Centennial Conference contests. However, institutions are dedicated to providing live video streaming and live statistics for as many competitions as possible. The policy on spectators will be reevaluated throughout the season as state requirements and health and safety conditions evolve.
For additional details, visit the Gettysburg College Department of Athletics website.
By Corey Jewart
Photo by Miranda Harple
Posted: 03/05/21