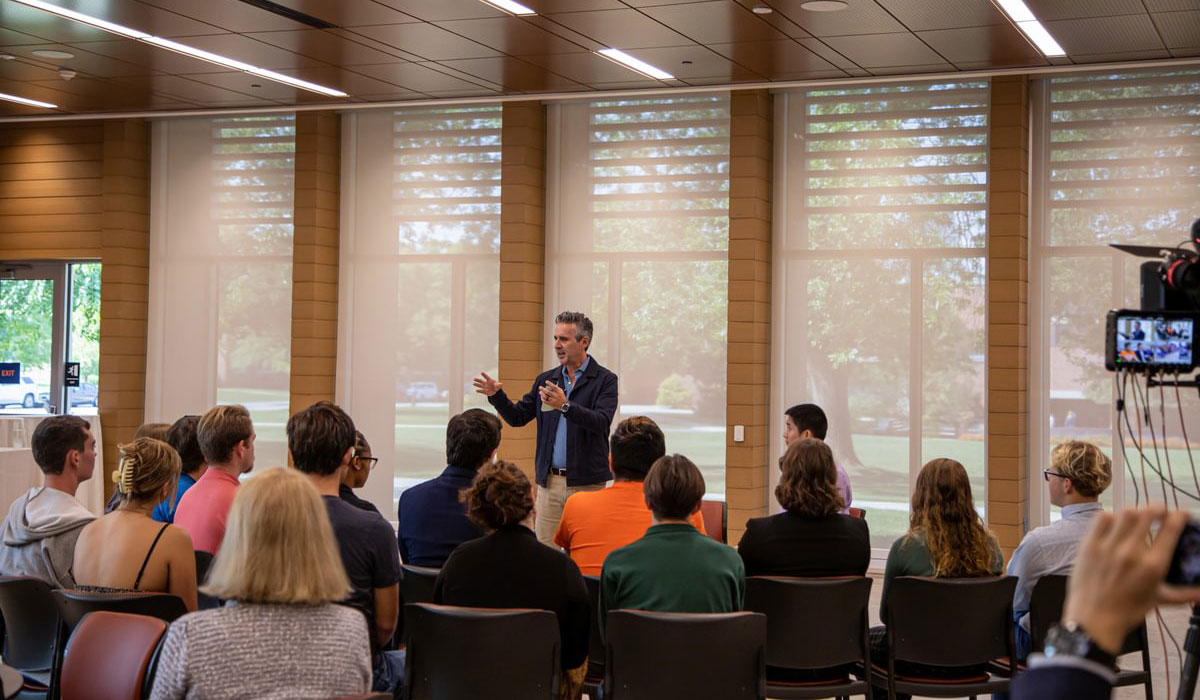 Dedicated to strengthening democracy and building bridges to a more perfect union, the Eisenhower Institute at Gettysburg College hosted "Speak! Gettysburg: A Town Hall on American Values" as part of its 2022 Democracy Week on campus. The event provided a forum for students to express their wide range of political viewpoints and perspectives, and discuss whether today's government and elected leaders are representing what truly matters to them.
At the town hall, Gettysburg students were joined by members of the Harvard Public Opinion Project (HPOP), the nation's largest poll on political opinions and civic attitudes of young Americans, ages 18 to 29. The qualitative data collected will inform the HPOP's next nationwide poll. Gettysburg was selected as an ideal partner for the conversation thanks, in part, to the College's budding relationship with Harvard University in recent years.
Meet the Press Reports was also on hand to film the exchange among the student focus group, which included Gettysburg students of conservative, liberal, progressive, and independent political leanings. The 12-minute Meet the Press Reports segment is scheduled to air this October on NBC News Now.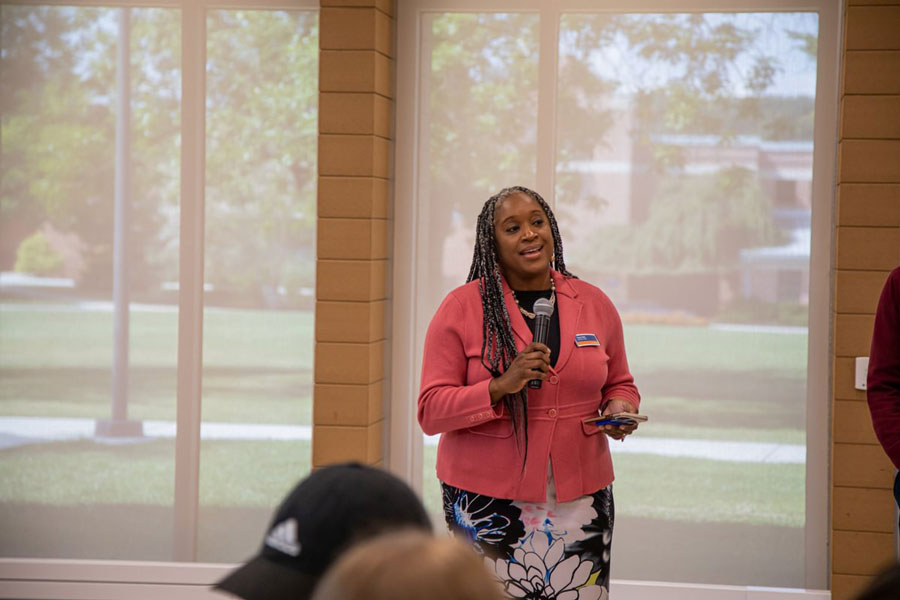 "Democracy is a big idea. It's the foundation for how our country is governed. It's also personal, giving each individual the opportunity to speak and act on issues that matter to us. We saw that in this forum," said Tracie Potts, executive director of the Eisenhower Institute. "Providing a platform for Gettysburg students to elevate their voices beyond our campus is essential work that we can and must do."
Through the facilitation of John Della Volpe, director of polling at the Harvard Kennedy School Institute of Politics, and Harvard junior Alan Zhang, Gettysburg students reflected on topics of relevance in the national discourse, including women's rights, gun violence, public education, and the state of democracy in the United States.
While the focus group articulated a number of pressing issues confronting the country heading into the midterm elections, Gettysburg College students were unified in their hope for the future—and the impact they will make on the world as Gettysburg graduates.
"The town hall provided a respectful setting, where I could gain some perspective into the issues that my peers find important but don't often get to discuss in everyday interactions," said Clayton Brosend '24, an economics and public policy double major. "This experience stood as a testament to the great opportunities present within a liberal arts education for one to embrace difference and continually refine and reevaluate their own priors."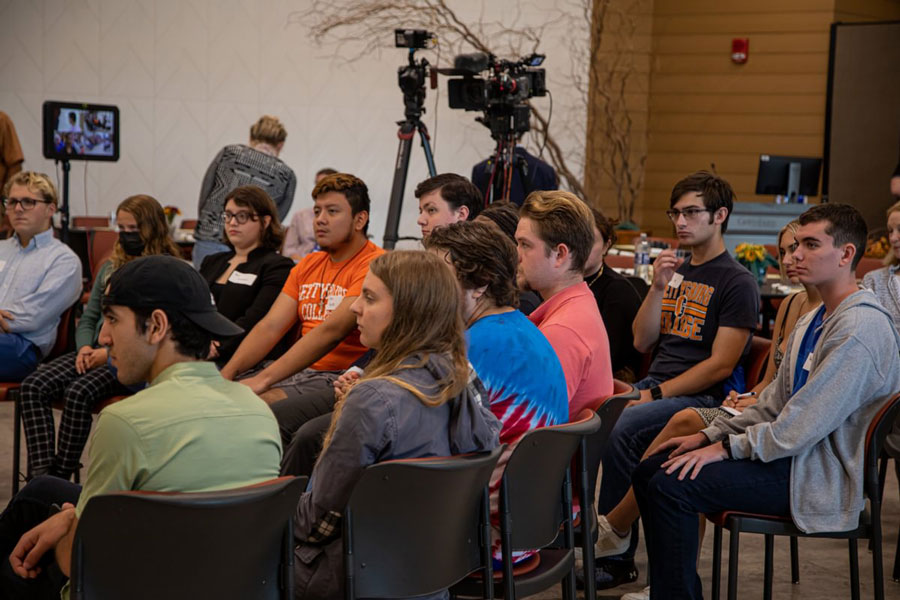 The Eisenhower Institute engages diverse individuals and ideas to find common ground—and to take meaningful action on important public policy issues. These principles were on full display at "Speak! Gettysburg," and throughout Democracy Week, as Gettysburg students thoughtfully and respectfully presented their positions and listened across difference.
Rachel Fischler '24 believes this form of dialogue presents a roadmap for how to heal our polarized nation.
"I walked away feeling optimistic," said Fischler, a public policy and women, gender, and sexuality double major and peace and justice studies minor. "While many of us had different viewpoints, I felt that there was not a single person who I didn't feel comfortable having a genuine and respectful conversation, wherein we could find common ground and recognize our shared humanity. It made my heart bigger and makes me feel more connected to my fellow students."
Learn more about the Eisenhower Institute and its mission to prepare young adults for a lifetime of public, private, and nonpublic service.
By Ameer Mohra '25
Photos by Thia Anyaoku '23
Posted: 09/23/22