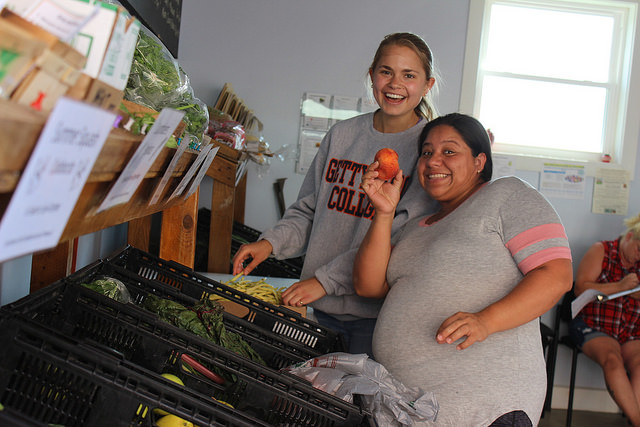 Overview
In addition to the central components of all CPS Summer Fellowships, the experience in Gettysburg is a unique opportunity to work with a variety of organizations to understand to intersectionality of social issues as well as multiple ways that organizations support each other and community.
During the first week, all Fellows (Gettysburg and Tucson) travel to the border of Arizona and Mexico to learn about the intersection of immigration and food justice. Fellows return to Adams County for a second week of training to further understand how similar issues play out in the County. They visit agencies, speaking with community members and volunteering. By the end of the week, they will also understand intersections between food and immigrant life in Adams County.
Once orientation is complete, Fellows begin working on a variety of projects related to food justice, immigrant's rights, educational equity, and poverty eradication. Each week there will be a number of activities that the Fellows will do together like garden, preserve fruit and tutor adults in ESL. In addition, each Fellow will work with CPS staff to find an area of interest and project to spend additional individual time developing in conjunction with a community agency.
Fellows stay together in campus housing, which is paid for by the Fellowship.
This 9-week experience is fully-funded by a generous gift from Jim Heston '70. Gettysburg Fellows receive a stipend of at least $3,500.
Community Partners in Gettysburg:
Fellows work with a variety of community partners in Gettysburg. Some examples include:
Painted Turtle Farm: PTF is a campus-community hub for food justice which brings students and immigrant community members together to grow and access healthy foods, share food traditions and create a pathway towards larger scale farming.
Campus Kitchen: The Campus Kitchen rescues food, repackages it into nutritious meals and delivers them to community member in need.
Casa de la Cultura: Casa de la Cultura promotes the cultural rights of immigrant communities through educational and cultural activities that explore the arts and healthy living, emphasizing Latino culture and its realities. Programs include adult English classes, swimming clinics, soccer, immigration reform and DACA support and well as connection to food access programs.
South Central Community Action Programs: SCCAP empowers families and engages the community to pursue innovative and effective solutions to break the cycle of poverty. Programs that Fellows will engage with include Circles Initiative, the Gleaning Network and Work Ready.
Migrant Education Program: Migrant Education provide supplemental education for children of migrant and formerly migrant agricultural workers.
Adams County Office for Aging: ACOFA provides assistance to and advocacy for older people in Adams County supporting them to maintain their independence and their dignity within their own communities.
---