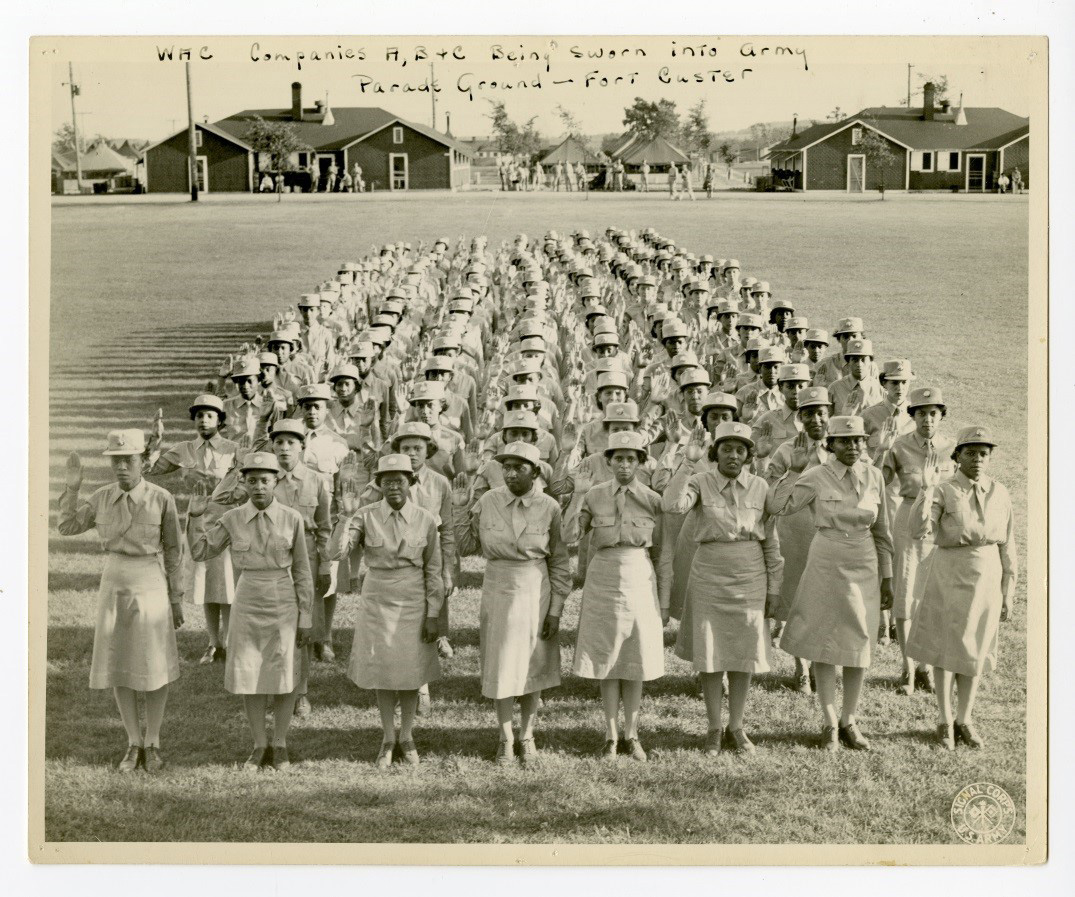 MS-247: Sinclair-Donaldson Papers - Full Finding Aid
Provenance
Special Collections purchased this collection in 2019 from James E. Arsenault & Company.
Biographical Note
Connie Sinclair (1911 July 5 - 2009 February 13) and her adoptive sister, Natalie "Jackie" Donaldson (1908 February 19 - 1974 March 4), served in an all African-American Women's Army Auxiliary Corp during World War II. Sinclair served in the U.S. Army from 1943 to 1946, reaching the rank of first lieutenant. After the war, she became the director of the Service Club Number Two at Fort Chaffee, Arkansas. She went on to teach Spanish at Van Buren Public School and Ramsey Junior High.
During the war, Donaldson rose to the rank of Captain and was a part of the first group of black commissioned officers who graduated from Fort Des Moines, Iowa. Donaldson would serve at Fort Huachuca, Arizona before her company was disbanded in 1945.
Historical Note
The Women's Army Auxiliary Corps was formed in May 1942, with members becoming the first women other than nurses to serve within the U.S. Army. The first jobs available were switchboard operators, mechanics, and bakers, but within one year, over 400 jobs were filled, including postal clerks, stenographers, and armors. In July of 1943, the W.A.A.C. was converted to an active duty status within the Army (W.A.C.), which gave women all the rank and benefits of their enlisted male counterparts. About 150,000 women served in the W.A.A.C. and W.A.C. during WWII between the years 1942 and 1945. The branch was disbanded in 1978 and the female units were unified with the male units.
Sinclair and Donaldson were part of the all African-American Thirty-Second and Thirty-Third W.A.A.C. companies, which became the first units assigned to a military instillation within the United States. The companies were organized in Iowa in 1942 and in December of that year, reported to Fort Huachuca, Arizona, the largest black military post at the time. Under the command of Fort Des Moines's first class of commissioned officers, including Donaldson, members performed clerical and administrative work.
Scope and Content Notes
The Sinclair - Donaldson Collection includes photographs and ephemera saved by Connie Sinclair, an African-American W.A.C. member who served during WWII. It consists of sepia-toned and black and white photographs taken during training and enlistment, many captioned. Among the images are official Army photos, including women in a mess hall, the Nurse Corp at Fort Huachuca, and Native American soldiers at the same location.
Also contained within this collection are military pins, patches, and insignia, including the Pallas Athene and Sinclair's dog tag; a W.A.C. song book from 1944; and Sinclair's Service Recognition certificate. Two Service Club scrapbooks from the 1950's are contained in this collection from Sinclair's time as director. Also, family photographs, a family record book, letters, poetry, and newspaper clippings from the 50's and 80's.