Baltimore and Naples events propel Campaign into its final year
Over the last month, proud Gettysburgians gathered both in Baltimore, Maryland and Naples, Florida to share their passion for Gettysburg and raise their awareness of the College's $150 million comprehensive fundraising campaign, Gettysburg Great: The Campaign for Our College.
Since the Campaign began in 2011, the College has seen tremendous success, raising more than $130 million for the Campaign's five key priorities: Scholarships, Faculty Support, Engaged Learning Opportunities, Annual Giving, and Global Initiatives, which includes the renovation of Plank Gym into a vibrant global center.
Entering the final year of the Gettysburg Great Campaign, more than 22,000 people have given to Gettysburg—raising funds for 8 new faculty chairs, professorships and experts-in-residence positions; 32 funds for student research, career-related experiences, immersion trips, and other engaged learning opportunities; and 190 new scholarships for students.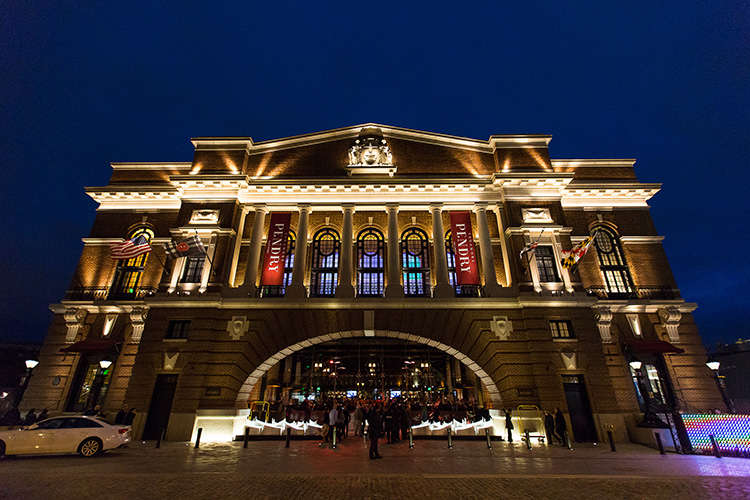 The Baltimore Campaign event was held at the new Sagamore Pendry, a Fells Point hotel developed by Gettysburg Trustee Alan Fuerstman '78. The evening included a student speaker who launched his own start-up thanks to a $10,000 grant funded by Campaign donors.
"Winning the Entrepreneurial Fellowship was a tremendous honor and gave me the tools and the resources to transform my idea into a legitimate business," said Noah Pompan '18. "I know that there are people in this room who made the decision to invest in my success by contributing to the Fellowship—and I just want to take this moment to say thank you. Your belief in me and in the potential of all Gettysburg students really inspires me."
In addition to remarks by Pompan, guests received a welcome from Chair of the Board Jim Chemel '71, interacted in real-time with accomplished Gettysburg students and faculty, and enjoyed a dinner performance by Jazz Dispatch, which is directed by Sunderman Conservatory of Music Prof. Paul Austerlitz.
The event then concluded with a charge by Gettysburg College President Janet Morgan Riggs '77.
"I know that there are many great causes and organizations in this world, but I'm asking you tonight to make Gettysburg yours," she said. "We have just one year remaining in our Gettysburg Great Campaign. One year to make a lasting impact. One year to come together and do great work."
Two weeks prior in Naples, Gettysburg alumni, parents, and friends participated in a full weekend of events, including a Welcome Reception hosted by Colleen and Peter Arnold P'18, a Lunch and Learn on the importance of philanthropy, and a Gettysburg Great interactive reception and dinner held at The Ritz-Carlton Naples Beach Resort.
The marquee event featured remarks by Chemel, Riggs, and Chair of the Campaign Leadership Committee Stephen Cloetingh '81, as well as student speaker Anthony Wagner V '17.
"Countless students before me have benefitted from your generosity, and through this Campaign, countless students after me will benefit from your invaluable gifts of opportunity," said Wagner.
The Baltimore and Naples events are the latest in a series of Campaign-themed gatherings over the last two years, including stops in Washington, D.C.; Philadelphia, New York; and Boston.
To learn more about the Gettysburg Great Campaign or to give back, visit www.gettysburg.edu/campaign. For a quick glance at our fundraising priorities, take a look at this Campaign overview article.
Founded in 1832, Gettysburg College is a highly selective four-year residential college of liberal arts and sciences with a strong academic tradition. Alumni include Rhodes Scholars, a Nobel laureate, and other distinguished scholars. The college enrolls 2,600 undergraduate students and is located on a 200-acre campus adjacent to the Gettysburg National Military Park in Pennsylvania.
Contact: Mike Baker, associate director of communications and coordinator of development communications, 717.337.6521
Posted: Fri, 7 Apr 2017

Next on your reading list
William M. Matz '61 introduces president at WWI centennial ceremony
---
College honors 14 Gettysburgians who made ultimate sacrifice during Vietnam era
---
President Janet Morgan Riggs '77 to speak at 2018 Dedication Day ceremony
---
Share this story: