Chem alumna earns nat'l honor; credits Gettysburg for her success
Allison Campbell '85 selected as an American Association for the Advancement of Science (AAAS) Fellow
For many scientists, selection as a Fellow of the American Association for the Advancement of Science (AAAS) is an achievement to aspire to. For Allison Campbell '85, that aspiration is now a reality. Late last year, the former chemistry major at Gettysburg College was recognized as a Fellow of the AAAS for her work in the "synthesis of thin films for ceramics and biomaterial development."
Campbell's success in the biomaterials field has been nationally recognized through numerous awards and honors from the scientific community. Some of her most notable research includes her study of the fundamentals of bone and teeth mineralization, which led her to invent a coating that helps artificial joints bond to bone. Her achievement in being selected as a Fellow of the AAAS, an international nonprofit organization that promotes the advancement of science globally, speaks to her true dedication to her field. She and the other recipients will be honored at an induction ceremony on Feb. 16 at the AAAS annual meeting in Boston.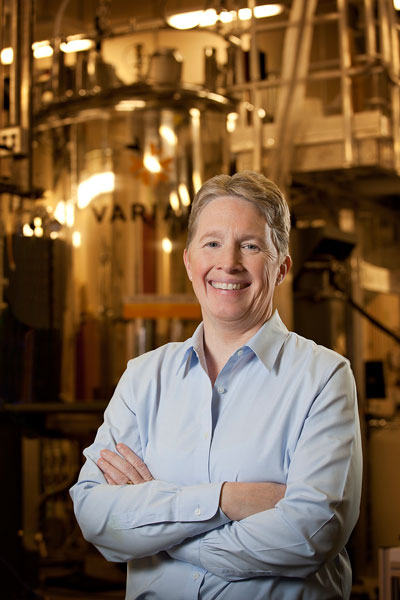 Campbell (pictured, left) credits the solid liberal arts background she received at Gettysburg College as the springboard for success in her professional career.
"I wouldn't be where I am without Gettysburg and Gettysburg chemistry," Campbell said. "I tell everyone who will listen that the liberal arts education I got at Gettysburg prepared me incredibly well for graduate school, but more importantly, for my professional career. Learning to communicate well, either orally or on paper, is critical. Gettysburg taught me that, as well as to think critically."
Her time at Gettysburg also helped Campbell hone her research skills, as she was able to participate in several summer research projects during her time as an undergraduate. She considers those experiences as influential in teaching her how to work independently, solve problems, develop hypotheses, design experiments, and analyze results.
While Campbell feels gratitude towards every professor she had, she especially enjoyed taking physical chemistry with Dr. Donald Fortnum, who taught in the chemistry department at Gettysburg for 35 years.
"[His class] was where I really started to understand chemistry and it began to click for me," Campbell said. "Plus, his cookies were the best."
Following her graduation from Gettysburg in 1985, Campbell went on to attend the University of Buffalo, where she received her doctorate in chemistry.
Campbell serves as the director of the Environmental Molecular Sciences Laboratory (EMSL), an organization funded by the Department of Energy's Office of Biological & Environmental Research. The EMSL focuses on integrating computational and experimental capabilities, and relies on a collaborative environment to support the groundbreaking research of current scientists. Over 700 scientists from around the globe employ EMSL resources to assist with their research on energy and the environment.
"We have people from all over the world doing science on a collection of instruments you cannot find anywhere else," Campbell said. "The science is outstanding and helping to solve real problems in energy and the environment."
The organization takes a multidisciplinary approach to finding solutions to important national challenges in energy, environmental sciences, and human health. As director, Campbell is acutely aware of the scientific success of the organization. But her favorite aspect of the EMSL is the people who work there: "Our staff is the best. They are outstanding people dedicated to our mission. It doesn't get any better than that."
Founded in 1832, Gettysburg College is a highly selective four-year residential college of liberal arts and sciences with a strong academic tradition. Alumni include Rhodes Scholars, a Nobel laureate, and other distinguished scholars. The college enrolls 2,600 undergraduate students and is located on a 200-acre campus adjacent to the Gettysburg National Military Park in Pennsylvania.
Article by: Liz Williams '13, communications & marketing intern
Contact: Nikki Rhoads, senior assistant director of communications, 717.337.6803
Posted: Mon, 14 Jan 2013

Next on your reading list
Economics majors find career success across industries
---
Enhancing our campus, fostering new learning
---
Unexpected connections lead Elise Sondheim '15 to Under Armour
---
Share this story: