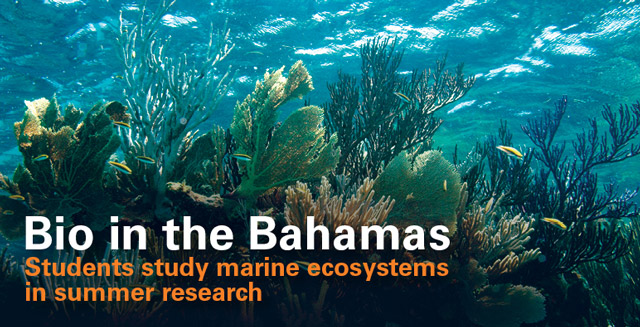 Bio in the Bahamas
Students study marine ecosystems in summer research
Sandy beaches, crystal waters, snorkeling. It sounds like a vacation until you add in seventy-plus hours of field experience, nightly lab discussions, research group projects, and then writing and presenting the findings – all in less than two weeks' time.
This summer 14 students had the opportunity to participate in a field experience lab in the Bahamas to wind up their spring semester class Tropical Marine Biology. The course was created six years ago by Gettysburg College Biology Prof. Istvan Urcuyo and is offered every other spring.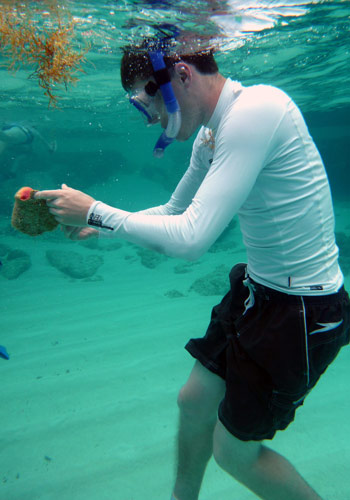 Will Parkinson '13, examines a queen conch (Strombus gigas) while snorkeling at Rocky Point.
Most of the courses in the biology department have both a lecture and lab. In the case of Tropical Marine Biology, the required lab takes place after the semester ends.

"When I originally envisioned this course, I wanted to have a lab component where the students actually work in the environment and perform research, surrounded by the organisms that we've been talking about in lecture," said Prof. Urcuyo. "In Gettysburg we are far away from the ocean and we don't live in a tropical environment, so the lab component needed to take place after the course."

Interested students need to fulfill specific pre-requisites: two foundation courses in biology, an interview with Prof. Urcuyo, and be able to pass a swim test. Enrollment in the course is restricted to only 14 students. There is an additional fee for the lab.
"This is not a course for people who just want to go to the Bahamas. I have high expectations for the students," said Prof. Urcuyo. "It's very rewarding but it's not for everyone. Students must be committed to the course – if during the semester they drop out of the course, that means someone else missed the opportunity to be involved."

While in the Bahamas, the students spend their time at the Gerace Research Station located on the island of San Salvador. Their daily regimented schedule includes group meal times, morning and afternoon field work via snorkeling, library time, and two-hour nightly labs.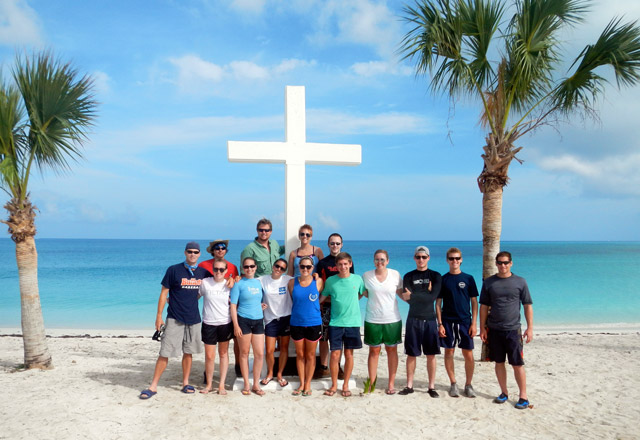 The group in front of the monument in San Salvador that is believed to be the first island in the Americas that Christopher Columbus visited in 1492. First row, from left: Bobby Martz '12, Rebecca Deffler '13, Holly Madland '14, Danielle Rubenstein '13, Melissa Bobby '12, Nick Hommes '13, Christine Serwan '13, Will Parkinson '13, John Vitarello '13, and Matt Blutfield '12. Second row, from left: Matt Toich '12, Josh Monk '13, Hannah Grose '13, and Eric Noll '13.
"One of the best parts of this experience was the chance to get to know the other students in my class and build a bond with them that was unique to this class," said Christine Serwan '13, a student who went on the 2012 field research experience. "Also, the chance to spend time in the environment in which we had studied all semester was a unique and amazing experience that is among my most memorable experiences of my time here at Gettysburg."
Students had the opportunity to research multiple ecosystems while in the Bahamas, including sandy shores, intertidal rocky shores, mangrove forests, and coral reefs. "My favorite snorkel sight was Gaulin Reef, which was farther off-shore than the other reefs we had seen, and as a result, much less touched by humans," said Rebecca Deffler '13. "It was the most beautiful place I have ever visited. The amount, size, and diversity of the fish and coral was absolutely amazing, and not something that could ever be adequately explained in a textbook. This trip was such a great addition to the classroom learning. It helped cement what I had already learned, but it also gave me a new perspective on the ocean and the amount of life in it."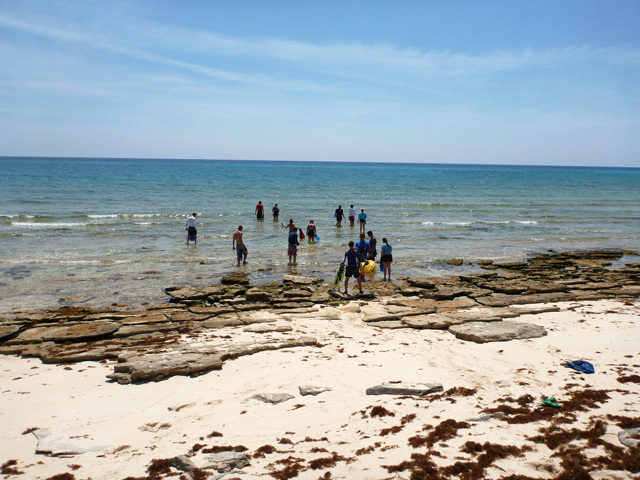 Students get ready to swim out on the first snorkel of the day at SnapShot Reef.
In their nightly labs, the students discuss and identify the organisms they've seen that day, and go over the schedule for the next day, including any specific safety measures to be aware of in the environments they will be entering. "I don't think it's possible to convey in a textbook or on a Powerpoint slide the amount of life in a coral reef," said Deffler. "Learning about the environment and the ecosystem just can't be compared to swimming around one. As much as you learn in class that coral is living, it means so much more to see it in person."

During the last day of the field research trip, the students present the scientific findings of their individual research projects to the rest of the class. "It's a very rewarding experience for both me and the students," said Prof. Urcuyo. "I think they take a much more personal view of the environment. They see both the beauty of the places that have a relatively low impact by humans, but I also take them to highly-impacted places where the coral reef is dying. I think they care more when they can see what the effects are on the marine environment."



From left to right: Holly Madland '14, Hannah Grose '13, and John Vitarello '13, float against the blue background of the open ocean.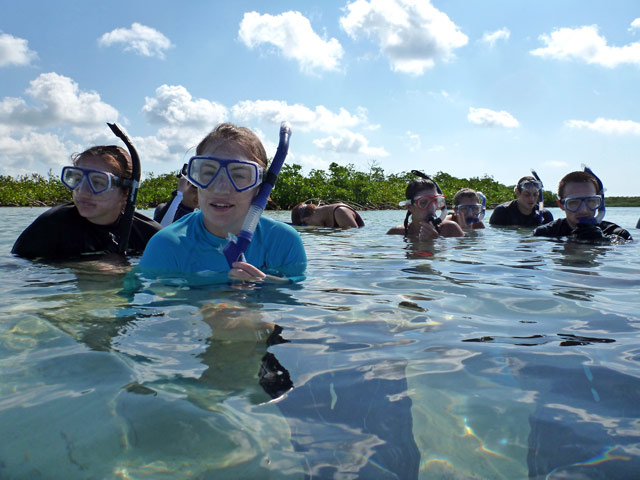 Students surface to rest after snorkeling along the edge of a mangrove forest. From left to right: Christine Serwan '13, Rebecca Deffler '13, Hannah Grose '13, Danielle Rubinstein '13, Melissa Bobby '12, Matthew Blutfield '12, and Eric Noll '13.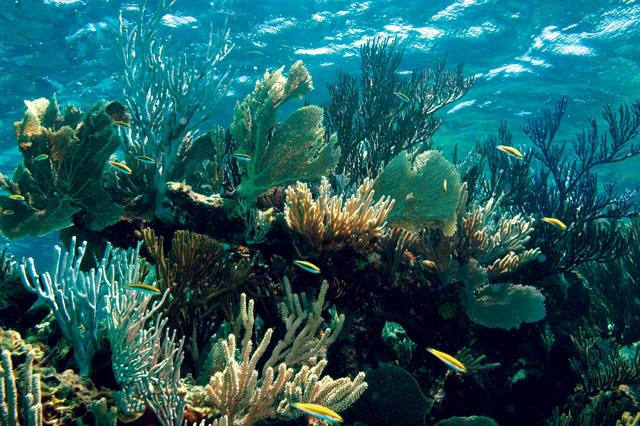 A portion of Gaulin reef off the north-end of San Salvador Island with soft corals (Sea Fans and Sea Rods) growing over and around a dead branch of Elkhorn coral (Acropora palmata). The fish are juvenile Bluehead Wrasses (Thalassoma bifasciatum).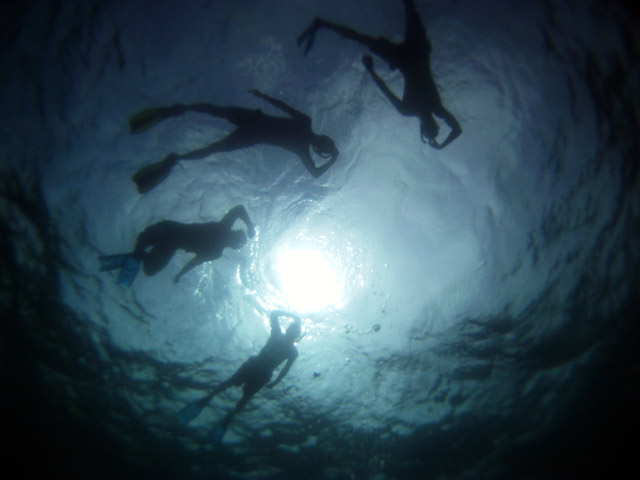 Students snorkel at the surface of the ocean. Photo by Josh Monk '13.
Photos by Istvan Urcuyo unless otherwise specified

Contact: Shawna Sherrell, assistant director of web communications & electronic media
Founded in 1832, Gettysburg College is a highly selective four-year residential college of liberal arts and sciences with a strong academic tradition. Alumni include Rhodes Scholars, a Nobel laureate, and other distinguished scholars. The college enrolls 2,600 undergraduate students and is located on a 200-acre campus adjacent to the Gettysburg National Military Park in Pennsylvania.
Posted: Mon, 17 Sep 2012

Next on your reading list
---
Cultivating a first-class faculty: Prof. Allen Guelzo receives prestigious award
---
Celebration 2018: A forum for intellectual thought and curiosity
---
Share this story: