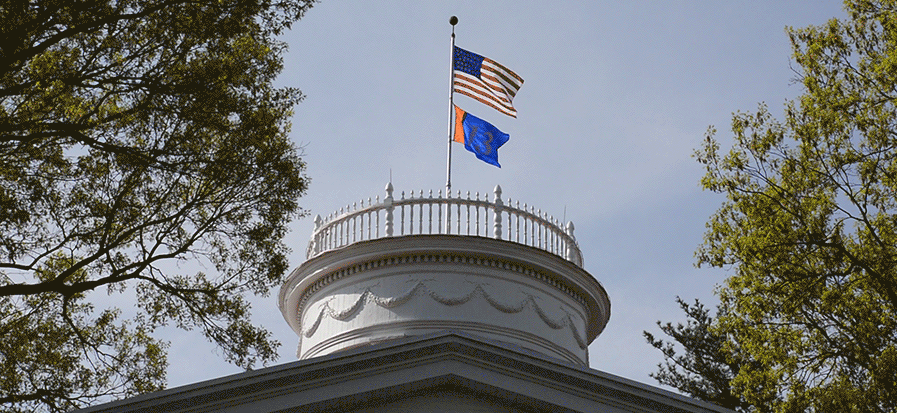 34-star flag flies over Gettysburg College without Congressional approval
Legend has it that Congress gave Gettysburg College special permission to fly the United States flag 24 hours a day above the campus's oldest building, Pennsylvania Hall.

Nope.

Flag Day, June 14, is a good time to lay the legend to rest, as the late history Prof. Charles Glatfelter '46 did in his book, A Salutary Influence: Gettysburg College, 1832-1985.

It's not unreasonable to think that the government might grant special recognition to Pennsylvania Hall, which opened in 1837. After all, the stately white building, with its columns and cupola, became a hospital and lookout post as the Union and Confederate armies swept through campus during the Civil War's pivotal battle on July 1-3, 1863.

However, Glatfelter wrote, there is "no record of such legislation" and it is unlikely "'that Congress would single out for special recognition one of numerous buildings used for the wounded and dying in July 1863."

Nonetheless, "possibly with the assistance of some College authorities, students developed and dutifully passed along ... a very durable tradition, one cherished both on the campus and in the community."

The facts are less remarkable than the myth. Somewhere between 1904 and 1945, Glatfelter said, "the College began flying the American flag over Old Dorm [now Pennsylvania Hall] both night and day, in all kinds of weather."

Doing so was a matter of simple expediency. In a 1970 interview, College Janitor Joe Carver recalled that President Henry Hanson, sometime after coming to Gettysburg in 1923, gave him permission to stop climbing into the cupola twice a day to raise and lower the flag. Instead, Hanson directed Carver "to keep it flying and to maintain a supply on hand from which to replace worn-out flags."

In any case, no Congressional permission is needed to fly the flag 24-7. Congress did not pass a flag code until 1942, and that code permits flying the flag at night, if illuminated, "where it is desired to produce a patriotic effect."

In 1966, the Library of Congress compiled a list of places where the flag was flown 24 hours a day, and asked the president of the College whether it flew here by an act of Congress, presidential proclamation, or custom. "The College gave custom as the reason for engaging in the practice," Glatfelter reported. (Information about the Pennsylvania Hall flag is on pages 508-511 of his book.)

Not a mere legend, however, is the unusual number of stars on the Pennsylvania Hall flag. Just as it would have during 1863's battle, the flag bears 34 stars.

Yet, even as the battle raged, the 34-star Old Glory was already essentially obsolete. On the day after the battle, July 4, 1863, the U.S. flag officially changed from 34 to 35 stars. The new star marked of the admission of West Virginia, which had formally become a state on June 20, 1863. Throughout the Civil War, the federal government never subtracted the stars of the states that attempted to leave the Union.

The 34-star flag used today is made of durable nylon with stars and stripes stitched on, said David Swisher, assistant director of access and special projects in the College's Facilities Services Office. The three-by-five foot flags, ordered through a local company, cost about $80 each and have to be replaced about three times a year, he said.

Replacement occurred at a much more rapid pace during celebrations of the battle's 125th anniversary in 1988. For a couple of weeks, Swisher recalled, numerous flags were run up and down every day in order to be given as gifts to honored guests.


Founded in 1832, Gettysburg College is a highly selective four-year residential college of liberal arts and sciences with a strong academic tradition. Alumni include Rhodes Scholars, a Nobel laureate, and other distinguished scholars. The college enrolls 2,600 undergraduate students and is located on a 200-acre campus adjacent to the Gettysburg National Military Park in Pennsylvania.
Posted: Tue, 11 Jun 2013
Share this story: