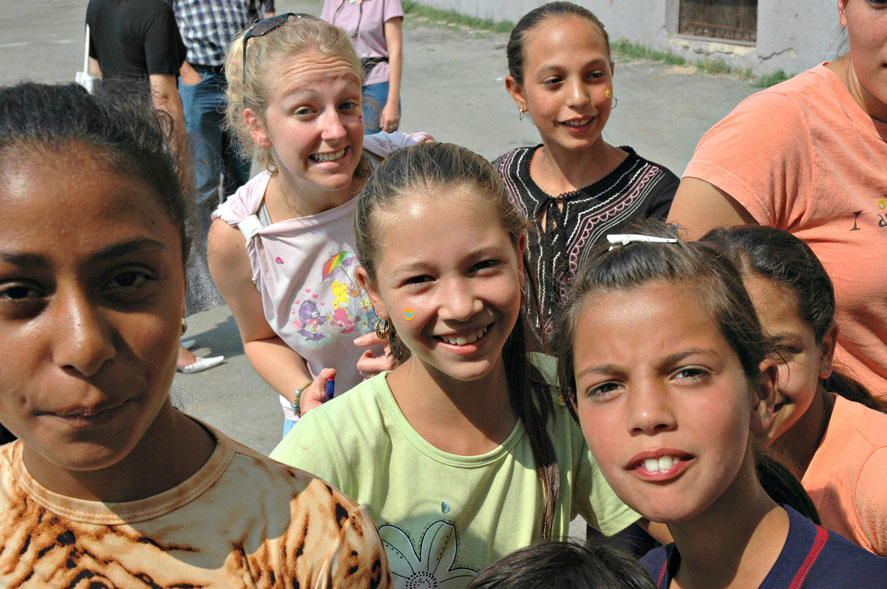 Religious studies grads set to excel in an increasingly globalized society
Jennifer Robinson Ewing '05 and Carin Goodall Rogosky '04 earned a cross-cultural perspective through their Gettysburg College experience
Each year, Gettysburg College students are hired throughout the country and around the world, where they work alongside individuals of various backgrounds, traditions, and beliefs to complete tasks and achieve common goals.

Gettysburg's Department of Religious Studies prepares students to succeed in an increasingly globalized society by teaching students to observe the world through a multicultural lens.

"The academic study of religion opens the door to new and exciting worlds of study, and a religious studies major at Gettysburg College opens the door to all types of career options," said Prof. Charles (Buz) Myers, associate professor of religious studies.


Attorney Jennifer Robinson Ewing '05 and pediatric nurse Carin Goodall Rogosky '04 are two of the program's grads now utilizing their undergraduate degrees to excel in careers in law, medicine, business, government, education, and many other disciplines.

"My father is an Episcopal priest, so religion has always been a large part of my life," said Ewing, who attended law school at Temple University and currently works at a boutique litigation firm in Paoli, Pa. "I chose to become a religion major in order to get a more well-rounded perspective on my own religion, as well as learn about other religions."

The religious studies' non-sectarian, multi-disciplinary curriculum appealed to Ewing's nature to examine each topic from multiple angles. While learning about the traditions of Judaism, Christianity, Buddhism, Hinduism, Islam, and Native American beliefs, she was encouraged to reevaluate her own most deeply held values, think critically about each tradition, and keep an open mind – all skills necessary for a successful attorney.

Rogosky, who works on a medical-surgical unit for school-aged children, as well as for a pediatric burn unit at The Johns Hopkins Children's Center, also looks back on her undergraduate studies fondly.


"Majoring in religion was the best decision I ever made and it really shaped my future in the health care field," said Rogosky, who partnered the discipline with biology and chemistry classes. "My courses in religious studies gave me perspective and [encouraged] openness, and I was fascinated at how history, culture, and spiritual beliefs shape each other and one's interpretation and approach to the world. Every lecture I heard and text I studied was so enriching to me as a person that I knew this is what my undergraduate studies should be about."

As Rogosky neared graduation, she knew she wanted to move beyond classroom learning and start engaging with diverse communities around the world. Through her Peace Corps service in Bulgaria, teaching English and health to school students while also becoming more involve in anti-trafficking efforts, she was able to apply the lessons she learned everyday on campus to her life's work.

"When I discovered pediatric nursing at Johns Hopkins, I knew I had found my calling. I am frequently assigned to our international patients and families because I have learned to enter the relationship with a sense of respect and awareness that they are approaching our shared experiences with a view and history of the world different than my own," Rogosky said. "In these ways, my degree in religious studies at Gettysburg College was an invaluable piece in my journey to nursing."

Learn more about religious and spiritual life at Gettysburg. Watch a video of Lexi Aim '13 discuss her religious studies experience.
Founded in 1832, Gettysburg College is a highly selective four-year residential college of liberal arts and sciences with a strong academic tradition. Alumni include Rhodes Scholars, a Nobel laureate, and other distinguished scholars. The college enrolls 2,600 undergraduate students and is located on a 200-acre campus adjacent to the Gettysburg National Military Park in Pennsylvania.
Contact: Mike Baker, assistant director of communications, 717.337.6521.
Posted: Wed, 27 Mar 2013

Next on your reading list
Cultivating a first-class faculty: Prof. Allen Guelzo receives prestigious award
---
Celebration 2018: A forum for intellectual thought and curiosity
---
President Janet Morgan Riggs '77 announces plan to retire following 2018-19 academic year
---
Share this story: