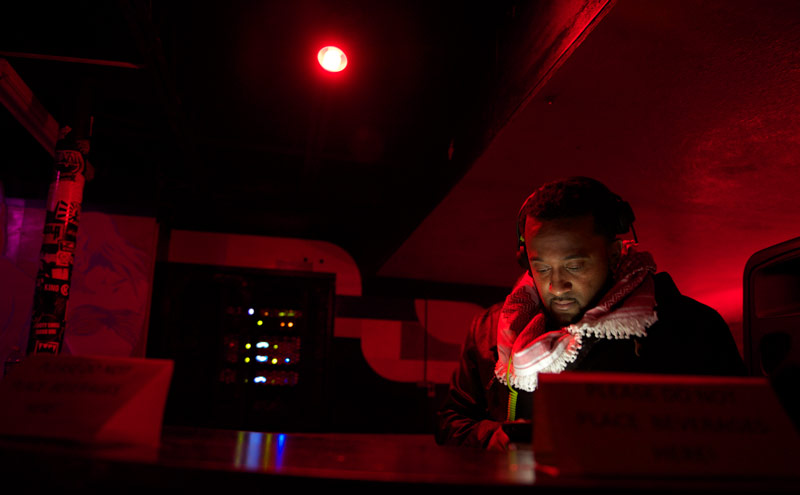 Dion Liverpool '93 uses global experiences to rock the world as DJ Rasta Root
Alumnus creates his own path with liberal arts education
A world-traveler for the first 23 years of his life, Gettysburg College alumnus Dion Liverpool '93 aka DJ Rasta Root, experienced an upbringing that was rich in different languages and cultures. Originally from Canada, he also lived in Guatemala, Brazil, England, Holland, Abu Dhabi, Spain, and Japan. His career path has been diverse, from teaching in Japan through the Japanese Education and Teaching Exchange (JET) program after graduating from Gettysburg, to becoming an international presence in the music industry as a disc jockey (DJ), manager, producer, and entrepreneur.
"I was always around music growing up. My parents played calypso, disco, reggae, and other genres when I was a kid," Liverpool said. "Living abroad for most of my childhood, I found a connection to music because it gave me an indirect connection to 'American Life.'"
The liberal arts education he received from the College and his global experiences served as a conduit for his musical style, sparking international success and appeal. Through traveling, he was exposed to a variety of musical influences and instruments, including the Japanese taiko drum and the Brazilian war drum. Ultimately, it was the turntable that captured his interest – allowing him to blend sounds to provide a riveting experience for the listener.
"I believe that being exposed to so many cultures at a young age gave me a firsthand view of music around the world. My ear became tuned to new sounds and patterns that influence my DJ-ing and production to this day. It's embedded in my DNA," he said.
Life as a Gettysburgian
"I chose Gettysburg for the rich out of class experiences that the campus offers. With my major and minor, I was able to tailor my courses in a way that I felt would best benefit me upon graduation," Liverpool said. He majored in Spanish and developed his own minor in Portuguese, with the help of Prof. Ron Burgess of the Gettysburg College Spanish Department. Liverpool is fluent in Spanish, Portuguese, and conversational in Japanese.
Liverpool even got his start as a DJ at Gettysburg. "When I was a freshman at Gettysburg, my two friends, Rich Norris '93 and Mark Kieffer '93, were already active DJs working at WZBT and also at a club in the Student Union Center called The Dive," Liverpool said. "I learned bits and pieces from them and had a work study job as a DJ staff member for The Dive. This allowed me access to practice mixing whenever I felt like it."
Forging his own career path
In recent years, Liverpool created a business developing high end turntable head shells for music aficionados and fellow DJs called Smokin Shells, a subsidiary of a production company he co-owns, Smokin' Needles Records. In addition, he's worked as a music producer for ABC, ESPN, 2K Sports, and Midway Games.
A turning point in his career occurred when he was selected as one of 60 DJs out of 2,500 applicants to attend the 2004 Redbull Music Academy in Rome. He was able to travel to Europe for a two-week music seminar and connect with current and future stars of the music scene.

His advice for career success?
"Don't feel the need to follow the conventional career paths that most people do. Look forward to the unknown or a path that hasn't been traveled before. Don't spend too much time explaining your choices to people, they probably won't get it until they see the positive results."


Founded in 1832, Gettysburg College is a highly selective four-year residential college of liberal arts and sciences with a strong academic tradition. Alumni include Rhodes Scholars, a Nobel laureate, and other distinguished scholars. The college enrolls 2,600 undergraduate students and is located on a 200-acre campus adjacent to the Gettysburg National Military Park in Pennsylvania.
Contact: Shawna Sherrell, assistant director of web communications, 717.337.6812
Posted: Wed, 22 May 2013

Next on your reading list
Economics majors find career success across industries
---
Enhancing our campus, fostering new learning
---
Unexpected connections lead Elise Sondheim '15 to Under Armour
---
Share this story: