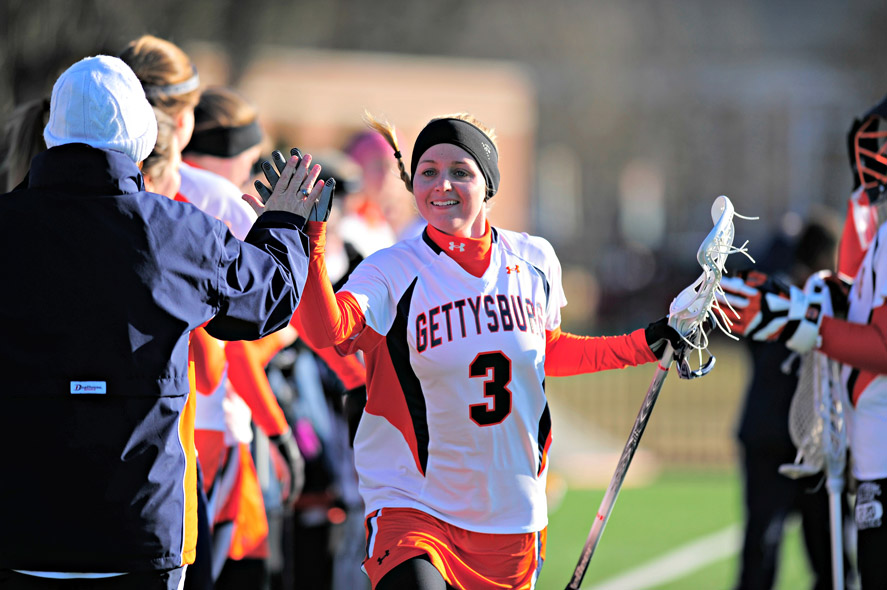 Bullets lax star Lindsay Menton '13 wins NCAA postgrad scholarship
Gettysburg grad recognized for academic and athletic excellence
Even after her graduation from Gettysburg College this May, the accolades just keep rolling in for former Bullets lacrosse star Lindsay Menton '13.

Menton was recently named the winner of a prestigious NCAA postgraduate scholarship. She received one of only 29 scholarships available to female student-athletes from the recent spring season. The NCAA awards up to 174 postgraduate scholarships annually, 87 for men and 87 for women.

The scholarships are awarded to student-athletes who excel academically and athletically and who are in their final year of intercollegiate athletics competition. The one-time, non-renewable grants of $7,500 each are awarded for fall, winter, and spring sports.

Menton is the 10th Bullet to earn a postgrad scholarship and the first since men's lacrosse standout Timothy Kurpis '10. She is also the first Gettysburg women's lacrosse player to receive the award.

Menton was a major contributor during her four seasons with the lacrosse program, appearing in 83 contests with 67 starts. She was a versatile player on both sides of the field, logging 25 goals, 15 assists, 103 ground balls, 42 draw controls, and 48 caused turnovers.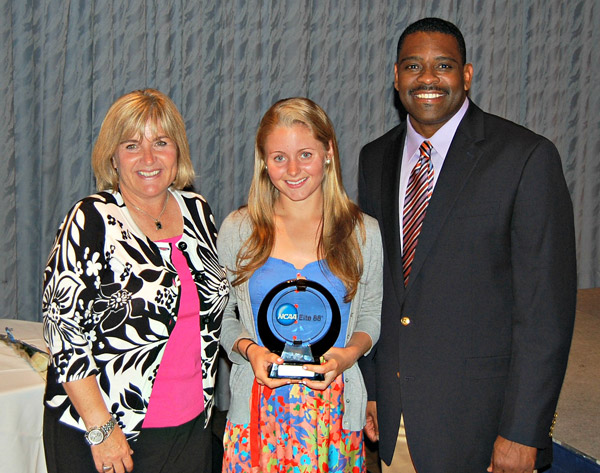 This past spring was arguably Menton's best as she recorded a career-high 32 ground balls and tied a personal mark with 14 caused turnovers. She helped the Bullets claim their second consecutive Centennial Conference title and advance to the second round of the NCAA Division III Tournament. Menton served as a team captain and was tabbed to the conference's All-Sportsmanship Team.

The shining moment of her playing career came in 2011 when she was given the Elite 89 Award for having the highest GPA at the national championships. Menton would later lead Gettysburg to its first national title in women's lacrosse.

Menton graduated from Gettysburg after completing an individually-designed major entitled "Theories in Politics and Society." She was named the winner of the Lou Hammann Award in Interdisciplinary Study during Spring Honors Day as part of the 2013 Commencement activities. The Hamman award recognizes a senior who has done exemplary work in interdisciplinary studies as measured by the completion of a senior thesis, grade average in the individual major courses, and participation in interdisciplinary studies and co-curricular activities.

Menton, who will complete her teacher certification this fall, was also named Phi Beta Kappa.
Founded in 1832, Gettysburg College is a highly selective four-year residential college of liberal arts and sciences with a strong academic tradition. Alumni include Rhodes Scholars, a Nobel laureate, and other distinguished scholars. The college enrolls 2,600 undergraduate students and is located on a 200-acre campus adjacent to the Gettysburg National Military Park in Pennsylvania.

Contact: Corey Jewart, associate director of athletic communications, 717.337.6323.
Mike Baker, assistant director of communications, 717.337.6521.


Posted: Fri, 19 Jul 2013

Next on your reading list
Economics majors find career success across industries
---
Enhancing our campus, fostering new learning
---
Unexpected connections lead Elise Sondheim '15 to Under Armour
---
Share this story: