A hands-on approach: Prof. Rimvydas Baltaduonis conducts new econ research
Economics Prof. Rimvydas Baltaduonis is not only embracing the concept of a global education, he's taking it to the next level. His research is sending him to all corners of the globe, including England, Australia, China, and Guatemala, and as a result, he's made substantial progress in specific research areas crucial to the field of experimental economics.
His latest publication, Risk Preferences and Prenatal Exposure to Sex Hormones for Ladinos, aims to analyze decision-making in regard to risk preference in economical decisions relevant to individual's choices of a risky or less risky option in investment, career, or health related lifestyle decisions. The study focuses on Ladinos, an ethnic group comprising more than 60 percent of Guatemala's population. In his research, Baltaduonis examined the cause of these risk preferences in order to better our understanding of human behavior in a wide range of environments and ethnic groups.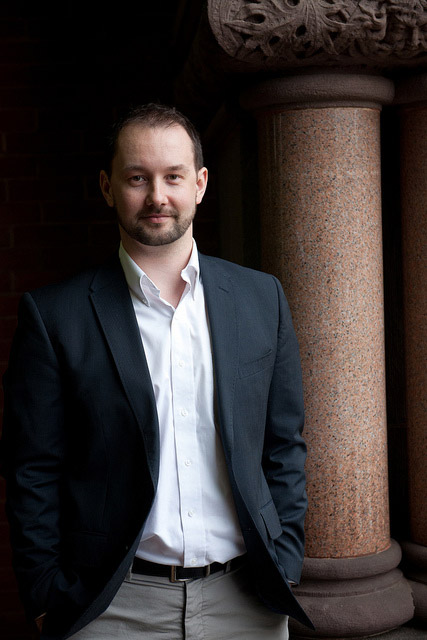 Baltaduonis found inspiration for his research through conversations at the Antigua Experimental Economics Workshop and Conference. The vibrant and intellectual community of thinkers in Guatemala created a welcoming environment to come together and share ideas, allowing Baltaduonis to forge a partnership with two colleagues from Universidad Francisco Marroqui´n in Guatemala, Diego Aycinena and Lucas Rentschler.
In addition to working with colleagues from half a world away, Baltaduonis partnered with Gettysburg College students Taylor Smart '13 and Nathan Blyler '13 to process the data.
Universidad Francisco Marroqui´n in Guatemala established a dedicated lab for experimental economics that can test human participants' decision-making in a controlled environment, making it the first lab of its kind to be constructed in Latin America.
In recent years, Guatemala has ambitiously sought progress for its citizens, both economically and socially. Baltaduonis is asking vital questions about how to accelerate this type of advancement.
"We wanted to know how to inspire economic involvement within the Guatemalan population, how to raise competitiveness in the economy, and how to incentivize higher added value behavior," Baltaduonis said.
It has been argued that risk taking behavior is related to the exposure to sex hormones like testosterone and estrogen already in utero, or before a fetus is born. These factors vary widely and can have an impact on the development of the brain. In Baltaduonis' research study, the early exposure to sex hormones was approximated by the so-called 2D:4D ratio, which measures the length of the pointer finger in comparison to the length of the ring finger. 2D:4D ratio is shown to be the most robust method of measuring the exposure to sex hormones prenatally in humans.
"The measuring process was very rigorous," Baltaduonis said about the collection of data. "Having assistants in both places (Gettysburg and Guatemala City) was useful in acquiring the most accurate 2D:4D measurements possible." Smart and Blyler, as well as other researchers in Guatemala used specialized software to make independent 2D:4D measurements of each participants' hand while tracking their gender and age.
Many similar studies have been done in Caucasian groups, yielding a strong correlation between risk preference and prenatal exposure to sex hormones.
"We wanted to see if these results would hold in the Ladino population," Baltaduonis said.
This study aimed to broaden the scope of risk preference research in regard to ethnicity, which might in turn affect the approach toward development in Guatemala. This was the first such study to be conducted with the Ladino population.
Surprising Results
The findings suggest that prenatal exposure to sex hormones measured via the 2D:4D ratio does not affect risk preferences for Ladinos.
"Our goals for the large behavioral study that we are conducting is to understand better the culture of Guatemala, to facilitate development, and to advance the country further and these research findings are just one part of the puzzle," Baltaduonis said. "We were very surprised to not find a correlation. This shows the importance of conducting research within other ethnicities."
So how can this research be applied to our current knowledge of human behavior?
"Risk preference plays a role in every human's life," Baltaduonis explained. "From picking a career, a class, activities…Better understanding of human behavior allows us to be more informed advisors, and raise awareness about certain tendencies, so that individuals, families, communities might make conscious adjustments and better decisions when seeking their goals."
Founded in 1832, Gettysburg College is a highly selective four-year residential college of liberal arts and sciences with a strong academic tradition. Alumni include Rhodes Scholars, a Nobel laureate, and other distinguished scholars. The college enrolls 2,600 undergraduate students and is located on a 200-acre campus adjacent to the Gettysburg National Military Park in Pennsylvania.
Article by: Julie Day '16, communications & marketing intern
Contact: Mike Baker, senior assistant director of communications, 717.337.6521
Posted: Mon, 13 Oct 2014

Next on your reading list
Biology Prof. Alex Trillo's research attracts international attention
---
Celebrating 2018 midyear graduates
---
---
Share this story: