Political commentator David Gergen spoke to 639 graduates on May 19 at Gettysburg College's 178th Commencement
David Gergen, political commentator and former presidential advisor, spoke to 639 graduates May 19 at Gettysburg College's 178th Commencement Exercises, connecting students' passion for service to the history of Gettysburg.
"The spirit of Gettysburg College [is] a spirit in which all of you take justifiable pride," Gergen said. "It has often struck me that this devotion to service and leadership, so carefully cultivated on this campus, is deeply rooted in the soil of the battlefields nearby. It calls to you these days just as the bugles called men and women to service in the war to save the Union."
He provided examples of great service from the past – both in Gettysburg and beyond – and noted that many young men and women who have made a difference have served out of duty and honor. Gergen borrowed from the American jurist Oliver Wendell Holmes, Jr., saying that their "hearts were touched with fire."
"What I see here and on other campuses across the country – and what distinguishes your generation – is a revival of the spirit that we have often seen when times are tough – from the Revolution of 1776 to the Civil War to the Great Depression and World War II. I see an America where Millennials are lining up, eager to serve," he continued. "You, too, will have your 'hearts touched with fire' if you leave here to enlist in causes greater than yourself, if you sign up out of honor and duty, and if you come to work and love those at your side."
View Sunday's photos on Flickr
View Saturday's photos on Flickr
President Janet Morgan Riggs, a 1977 graduate of the College, echoed Gergen's message in her charge and parting words to the Class of 2013.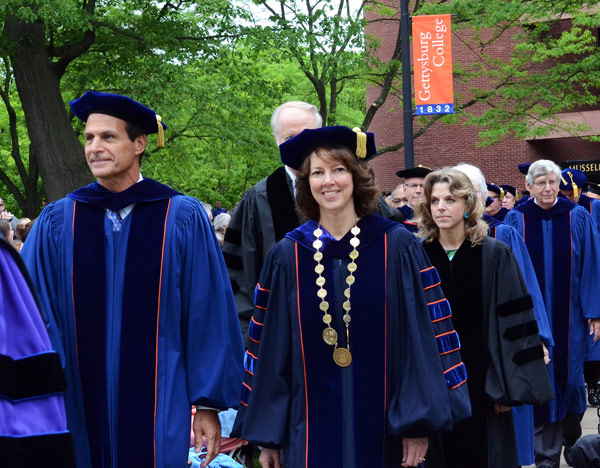 "My charge to you is simple. Use what you've learned here. Wherever you are, whatever you do, you can make a difference. You can offer solutions to problems, you can treat colleagues with compassion, you can find a better way of getting a task done, you can offer a helping hand, you can start a business, you can serve as a role model, you can write or perform music, you can counsel and support the mentally ill, you can represent someone in court, you can work towards a cure for disease, you can run for public office, you can manufacture or sell a product that will make someone's life easier or happier. Whatever you do, wherever you live, you can infuse into your work and your community high aspirations, good will, compassion and respect for others, and integrity. Class of 2013, we are all counting on you to make a difference – and you will," Riggs said.
Student speaker Anthony Palmer, a member of the Class of 2013, reflected on something else that makes Gettysburg College a great community – the personal, human experience.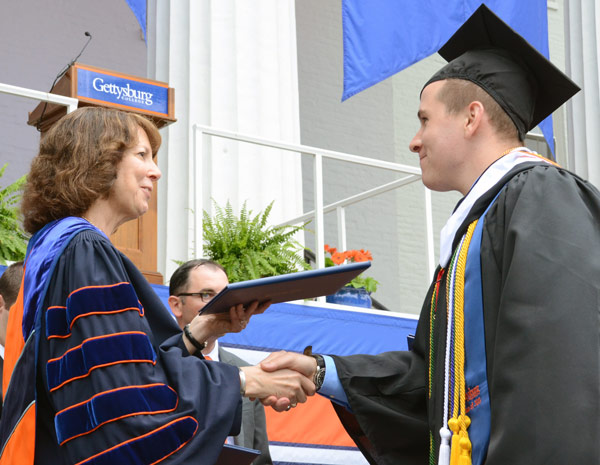 "Gettysburg is about the human experience. About passion, people, and treating your work like art," Palmer said. "In a question and answer session on Twitter, someone asked President Riggs, 'What makes Gettysburg special?' 'That's easy,' she answered. 'It's the people.' It is the people. If there's one thing we've learned here, it's that people matter."
In addition to Gergen receiving a Doctor of Public Service, honorary Doctor of Science in International Relations was presented to Julia Chang Bloch, the first Asian American in United States history to hold the rank of ambassador, and an honorary Doctor of Humane Letters was presented to Jennifer Bryant '82, a writer of biographies, novels and poems.
John Commito, professor of Environmental Studies, received the Gettysburg College Award for Distinguished Teaching.
Tom '60 and Joan Wachob '60 Norris received the Lavern H. Brenneman Award for exemplary service to Gettysburg College.
Additional coverage of Commencement 2013, including photos and videos.
Founded in 1832, Gettysburg College is a highly selective four-year residential college of liberal arts and sciences with a strong academic tradition. Alumni include Rhodes Scholars, a Nobel laureate, and other distinguished scholars. The college enrolls 2,600 undergraduate students and is located on a 200-acre campus adjacent to the Gettysburg National Military Park in Pennsylvania.
Contact: Nikki Rhoads, senior assistant director of communications, 717.337.6803
Posted: Sun, 19 May 2013