A global Gettysburg
Bowen Yang '16 interns with Ambassador Julia Chang Bloch
Bowen Yang '16 grew up in China and recalls seeing the U.S. Ambassador to Nepal, Julia Chang Bloch, speaking on a television broadcast when she was in high school. For some reason that moment stuck in her mind. She couldn't know that a few years later she'd attend college in America, meet Bloch through the Eisenhower Institute (EI)'s Women in Leadership program, and have the opportunity to intern with the ambassador. The story is serendipitous, but Yang's path is paved with far more than luck.
The Psychology and International Affairs major is reflective and intentional about her experience, pursuing opportunities that inform her passion for social justice. She was originally drawn to Gettysburg after learning of its connection to the Civil War and seeing parallels in her Chinese town.
"My hometown, Xiangyang, saw many battles because of its significant geopolitical location in ancient Chinese history. It's a place with cultural depth: you feel like you're not just living in the present, but also surrounded by the wisdom of people in the past," she said of her decision to attend a college with historical ties. "Most importantly, Gettysburg College provided me with enough financial aid to actually come and study in the United States."
Yang participated in EI's Women in Leadership program as a sophomore—they visited Washington D.C., where she had the opportunity to meet Bloch in person for the first time as part of a speaker series highlighting women leaders in different career sectors. Bloch was representative of the education sector. In addition to serving as a former ambassador, she founded a nonprofit organization called US-China Education Trust (USCET), which promotes US-China relations through education and exchange for next generation leaders.
"The visit to D.C. was really eye opening for me because college was my first time in the States—it helped me learn through a different lens," said Yang. "It was also a great networking opportunity. I was not thinking of interning for Ambassador Bloch at that moment, but now looking back, everything just connected."
After that learning experience, Yang kept in touch with Bloch as she continued to explore opportunities on campus. She visited Alabama through the Center for Public Service (CPS) to learn more about civil rights, which fostered her own reflection on self-identity and developed her interest in exploring parallel issues related to Asian and Asian American communities. She later became an immersion trip coordinator and completed a Heston Summer Fellowship Experience. She also studied in Serbia. The experiences simmered, and new ideas took shape.
"When I was abroad, I looked back at my college experiences and kept thinking about how to develop a more personal understanding of social justice work," said Yang. "I also had the continued curiosity to better understand the American society, but from looking at Asian and Asian American communities. So I thought about Ambassador Bloch and the U.S. China and Education Trust, about how it would be a good opportunity to gain insight and inspiration for the work. EI really laid the foundation for me."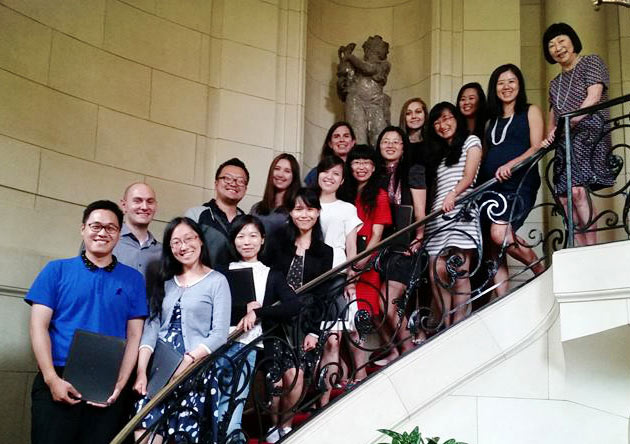 This past summer, Yang helped lead all aspects of USCET's summer institute for its Chinese Leaders in American Studies Fellows. The group visited historical locations around Gettysburg, Washington D.C., and Philadelphia to learn more about social justice and civil rights movements in America.
Bloch said Yang was integral to the program and serves as an example of what it means to excel in an increasingly globalized world.
"Bowen is committed to what she's doing and had the courage to come to a totally new and different country without her parents to study in an environment not familiar to her. That takes deep conviction and courage," said Bloch. "Bowen's experience has been circular—she is an international student getting her degree at Gettysburg. She interned at USCET and helped guide our Chinese fellows through their stay in America—they had a marvelous time in part because Bowen knows the area and the school. This is a real life example of globalization."
Bloch herself was born in China and moved to the United States before she turned 10. She attended the University of California, Berkeley, and pursued a master's degree in government and Regional Studies (East Asia) from Harvard University. Her career began as a Peace Corps volunteer, followed a passion for public service, and culminated in her appointment as the first U.S. ambassador of Asian origin.
"I believe deeply in diplomacy and getting more women into the Foreign Service," Bloch said. "When I was young, I had no role models, so I think it's important for younger people to see somebody who looks like them serve in the positions to which they aspire."
Her advice for young women aspiring to enter public service is to think about their potential, broaden their skills, believe in themselves, and be willing to take risks.
"The world today is so much more global than when I was young. If Americans do not gain broader cross cultural skills and language skills, then I do not think we will be able to compete very well in this world," said Bloch. "And if the U.S. relinquishes its leadership role, then I think the world will be a less peaceful and prosperous place. So, America must continue to lead, and Americans must do what we can to be global citizens."
Yang said her global experiences have contributed to her personal growth. In the process, she developed the ability to think critically outside the boundaries of her own background, and to communicate and connect with others from different cultures. A senior, she's also already thinking about applying those skills in her life post-Gettysburg.
"I want to work and do some fellowships first before going to graduate school. I have a broad variety of interests—art, social justice, U.S.-China relations," she said. "I want to see how some of those interests can apply to the real world, just how my interest in U.S.-China relations played out through this internship. But I believe that whatever I choose, Gettysburg has prepared me."
Engaged Learning
Provide high-impact learning opportunities within and beyond the classroom.
Founded in 1832, Gettysburg College is a highly selective four-year residential college of liberal arts and sciences with a strong academic tradition. Alumni include Rhodes Scholars, a Nobel laureate, and other distinguished scholars. The college enrolls 2,600 undergraduate students and is located on a 200-acre campus adjacent to the Gettysburg National Military Park in Pennsylvania.
Contact: Carina Sitkus, senior assistant director of communications, 717.337.6803
Posted: Wed, 30 Sep 2015
Share this story: