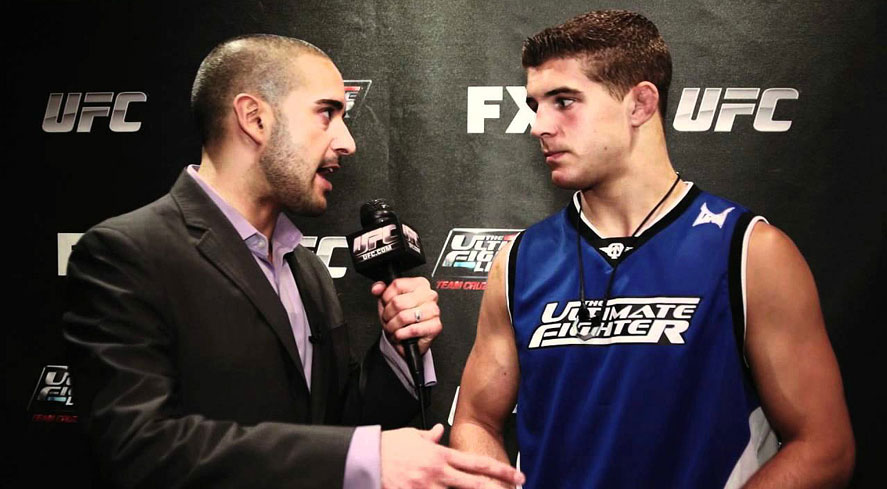 The Octagon Orator
Jon Anik '01 shines as UFC play-by-play announcer
The Octagon--an eight-sided mat and cage, home to the Ultimate Fighting Championship's (UFC) fiercest competitors--has a way of not only demanding the best of its gladiators, but of the top voices in the sport as well.

Gettysburg College alumnus and Theta Chi brother Jon Anik '01 has been up to the challenge. As a play-by-play announcer for FX and FUEL TV UFC fights and host of UFC Ultimate Insider, Anik has developed into a beloved personality for the mixed martial arts community due to his articulate and captivating presentation of the action.


"I'm sure I'm a broken record when it comes to this, but it really is about repetition. Everything in life is," said the former political journalism major. "Improving each and every time out is truly my focus."

The job is not normal. Seated merely feet away from many of the world's most intimidating and skilled fighters imposing their will on one another, Anik creates a narrative from the chaos. Through his broadcasts and recaps, he not only details the myriad of moves displayed by the athletes, including techniques derived from Judo and Tae Kwon Do, but highlights dynamic storylines that appeal to viewers around the country.
"At our core, we are fans," he said, acknowledging it can be difficult to remain cool when the fight's intensity escalates. "When you are in the moment you really have to keep control of your emotions and make sure you are still focusing on the broadcast.

And these UFC broadcasts beckon Anik around the world, from his home in Las Vegas to China, Australia, England, and Japan.


"Jet lag is a very real thing. A huge part of what I'm focusing on when I'm on the road is to make that adjustment, not unlike the fighters, to make sure when I sit down to call the fights I'm on point," said Anik, a former ESPN anchor and host of MMA Live. "Whether I'm doing them at 6 a.m. or in Brazil, where the main event goes off at 1:30 a.m., I put the effort in to make sure I am performing optimally."

For Anik, since earning the position in late 2011, the experience has been a whirlwind. But for this Gettysburg College alumnus, there is no place he'd rather be.

"It sounds trite, but this really was my dream job," he said. "It has been everything I hoped it would be and more. I obviously still have a lot of learning to do. It's a lot harder for me to call mixed martial arts than it is for me to call basketball, baseball, or football—sports that I really grew up playing and watching. I love that part of it because it is definitely a challenge. I wouldn't change a thing and I'm happy with my decision."

Founded in 1832, Gettysburg College is a highly selective four-year residential college of liberal arts and sciences with a strong academic tradition. Alumni include Rhodes Scholars, a Nobel laureate, and other distinguished scholars. The college enrolls 2,600 undergraduate students and is located on a 200-acre campus adjacent to the Gettysburg National Military Park in Pennsylvania.
Article derived from Bleacher Report. Photos by YouTube and FUEL TV.
Contact: Mike Baker, assistant director of communications, 717.337.6521.
Posted: Mon, 10 Jun 2013

Next on your reading list
Economics majors find career success across industries
---
Enhancing our campus, fostering new learning
---
Unexpected connections lead Elise Sondheim '15 to Under Armour
---
Share this story: