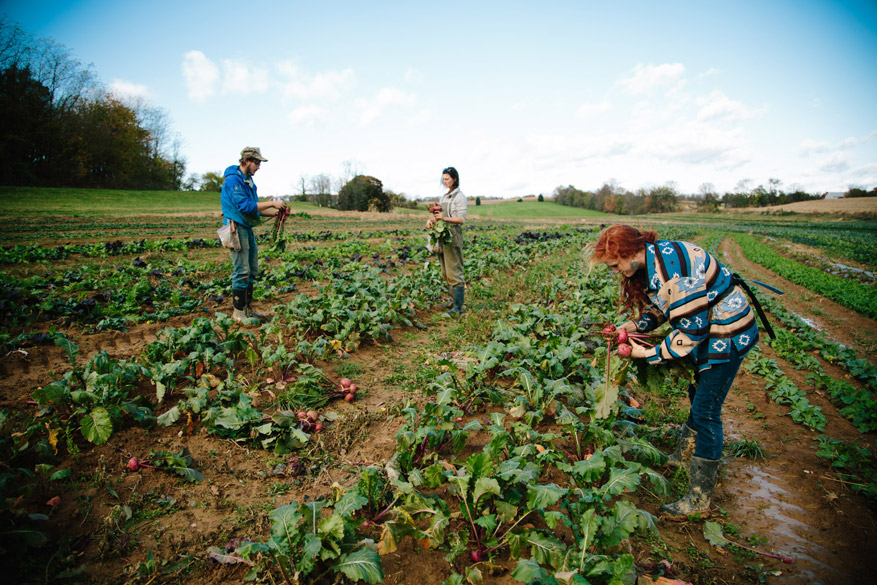 Shaped by studying abroad; watch video
Rebecca Croog '14 finds her future in agriculture, quinoa, and Latin American studies
Rebecca Croog '14, an environmental studies and Latin American studies major, was looking for an experiential education when she applied to colleges.
"I chose Gettysburg because I wanted an academic experience that cultivated curiosity," said Croog. "I wanted to pursue a variety of interests, participate in discussion-based classes, and establish personal connections with professors."
During her first year, Croog decided to learn Spanish experientially by going to Guatemala that summer. While there, she learned about the history of the United States and Central American relations. Croog also spent a lot of time with farming communities and agriculturalists. Studying abroad solidified two passions for Croog that arose at the same time – an interest in agricultural communities and Latin American studies. "I realized agriculture was a way I could bring my two majors together," said Croog.
"In my academic pursuits, I'm constantly trying to connect what I study to who I am and how I live," said Croog. When she returned, Croog and a friend found a farm near Gettysburg where they could participate in a workshare program- volunteering labor in exchange for vegetables. By the end of the summer, she knew she wanted to study abroad for an entire year. She spent the fall of her junior year in Bolivia and the spring in Cuba.
"I initially went to Bolivia because I was fascinated by their current political and social transition, but once I got there, I realized a direct personal connection that I wanted to research further," said Croog.
That personal connection? Quinoa. "Bolivia is the number one producer of quinoa and the United States is the number one consumer," said Croog. "I eat quinoa almost every day. I wanted my research experience in Bolivia to be an opportunity to do what most quinoa eaters cannot- to discover the other side of my daily portion of quinoa."
While working on her project about quinoa in Bolivia, Croog developed a passion for research and the challenges it presented. "I had these certain perceptions of what a quinoa-producing community would look like. I had the privilege of seeing it for myself and it challenged a lot of my perceptions- they are very dynamic communities. It opened my mind," said Croog.
In Bolivia, Croog discovered the quinoa-producing communities were not completely centered around quinoa farming. "I imagined the farmers producing quinoa for centuries using their traditional methods, cutoff from urban areas until they were suddenly thrust into cities, markets, and global exchange when the quinoa boom occurred," said Croog. When Croog traveled to the communities, she found this was not the case; farmers have been participating in a multitude of economic activities beyond quinoa production, including supplemental work in urban areas of Bolivia, Argentina, and Chile, for years. Croog is focusing her capstone project this spring on the worldwide quinoa boom and the history of agriculture in Bolivia, shown specifically through one community's experience.
While in Cuba, Croog became interested in urban agriculture. As a result, she's also working on a project about Baltimore's urban agriculture. She is hoping to continue urban agriculture research in a graduate program in the next year. Reflecting on the future, Croog said, "I will have to keep exploring these research questions in different ways. That element of experiential learning - getting your hands dirty- that's what I look forward to."
"In the United States, we have our ideas of what development and progress should look like," said Croog. "Some of these places with rich histories of protest and mobilization show you the flaws in systems and ways to improve. I think it's important to get out in the world and understand the effects of global systems."
Founded in 1832, Gettysburg College is a highly selective four-year residential college of liberal arts and sciences with a strong academic tradition. Alumni include Rhodes Scholars, a Nobel laureate, and other distinguished scholars. The college enrolls 2,600 undergraduate students and is located on a 200-acre campus adjacent to the Gettysburg National Military Park in Pennsylvania.
Contact: Shawna Sherrell, assistant director of web communications, 717.337.6812
Posted: Tue, 7 Jan 2014

Next on your reading list
Discovering her resilience: World traveler to future Marine
---
---
Cultivating a first-class faculty: Prof. Allen Guelzo receives prestigious award
---
Share this story: