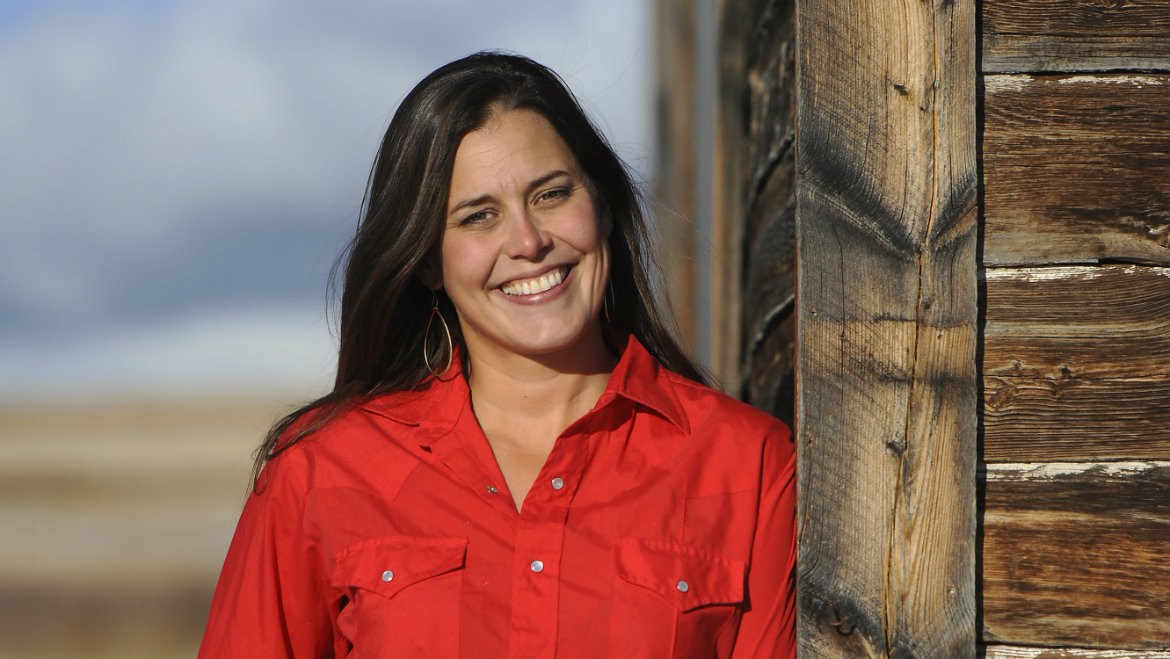 Launching a women's workwear revolution
Sarah Calhoun '01 is known for many things—revolutionizing the industry of women's workwear, kickstarting a philanthropic music festival in a small Western town, and inspiring female leadership in rural communities. For the Red Ants Pants Founder and CEO, these accomplishments served as her testing ground as an entrepreneur, and helped to realize her philosophy of business, too.
"I would have thought business was solely about people going out and making money, but I've found it has so much more potential than that," Calhoun said. "It's an incredible tool that can create change in whatever realm we are working towards."
The environmental studies major cites several of the experiences she's had at the College as the driving factor behind her values-driven business. From facilitating trips for the Gettysburg Recreation Adventure Board (GRAB) to participating on trips with the Center for Public Service (CPS), Calhoun saw how building bridges—whether between people or countries—is something that we need in our world.
"There are so many lessons I learned in those programs that still echo in my mind and my work today," Calhoun said.
Her first job after graduation combined the lessons she learned in the classroom and her love of the outdoors and the environment, which she was able to explore through GRAB and CPS. She worked as an instructor for the Hurricane Island Outward Bound School, helping inner city kids achieve their potential and develop leadership skills through active learning expeditions in outdoor recreation areas.
After two years there, she worked as a trail crew leader for the Student Conservation Association, which took her across the country.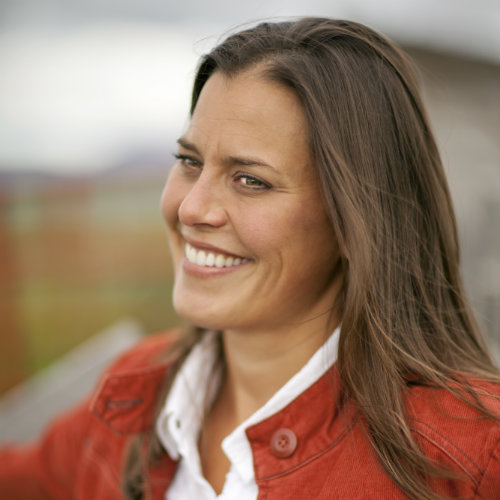 It was a few years later when Calhoun left the East Coast for a small town in Montana with the goal of launching a business.
"I had noticed for a long time that there were no companies that made workwear for women," Calhoun said. "Women's bodies are different—they are more curvy, and they need pants that fit, function, and flatter."
At first, she reached out to companies who already created workwear products for men in an attempt to convince them to start a line of workwear products for women, too. When one of them responded, encouraging her to give it a try since she was so passionate about it, she decided to take the chance.
"I was very naïve at 25. I thought to myself, 'How hard can it be?' So I did some research," Calhoun explained. "I already knew the demand was there, but I wanted to see if there were any other companies out there doing this type of work. At the same time, I was ready to put down some roots, so I made the move to Montana with a copy of Small Business for Dummies in hand."
The move took her to White Sulphur Springs, a town of 900 that sits on a square mile of land. It's about an hour to the nearest city, and according to Calhoun, it's a place where the pioneering spirit is alive and well.
It was there that Calhoun launched Red Ants Pants, a company that makes workwear and accessories for women and is dedicated to the development and expansion of leadership roles for women, the preservation and support of working family farms and ranches, and the enrichment and promotion of rural communities.
The work wasn't without its challenges, too, but according to Calhoun, some of her greatest decisions came from finding good mentors, asking for help, and putting a value on her products, her company, and her time.
Building a values-based company culture also helped drive her initial success, and opened the door to the creation of a philanthropic arm of Red Ants Pants several years later, which is supported by the Red Ants Pants Music Festival.
"The music festival was a total shot in the dark, but it aligned with the mission of our company with regard to women's leadership and rural communities," Calhoun explained. "Music is such a powerful tool to bring people together, and it allows us to celebrate rural Montana and all of the things that are so vital to our communities."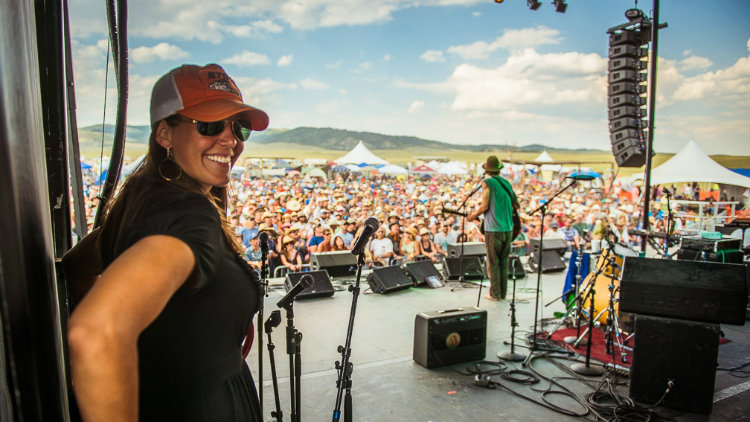 She describes the first festival as a bit surreal. It took a lot of work from a lot of people to pull off, but in the end, provided enough momentum to continue to build on each year.
Now, the festival offers events from work skill demonstrations and sheep shearing and ranch roping competitions, as well as a lineup of musical guests, vendors, a beer garden, hayrides, and kids activities. In addition to being a fun event for Montanans to celebrate their culture, it's had an undeniable impact in the region, too. It's allowed Red Ants Pants to give away $85,000 over the past six years in the form of community grants, and additional funding for timber skills workshops and a four-day long women's leadership workshop.
It's also what helped her feel comfortable with the title "entrepreneur."
"For the first few years with Red Ants Pants, I felt like I was pulling the wool over people's eyes because we weren't making a profit. Even later, I never really defined myself as an entrepreneur," said Calhoun.
"After the second year of the music festival, though, I saw it was even bigger and started growing. Being able to actualize a crazy idea like a music festival in a cow pasture in the middle of no where, seeing that succeed and make money, that is where I really started to gain confidence in that title."
Calhoun's Red Ants Pants has been hailed as a role model for small business success, and was even invited to the White House to attend a 2012 Business Leaders' Forum on Jobs and Economic Competitiveness. Later that same year, she returned to campus to speak at TEDxGettysburg about the founding of Red Ants Pants.
Watch Calhoun's TEDxGettysburg talk on youtube, or view the video below.
Founded in 1832, Gettysburg College is a highly selective four-year residential college of liberal arts and sciences with a strong academic tradition. Alumni include Rhodes Scholars, a Nobel laureate, and other distinguished scholars. The college enrolls 2,600 undergraduate students and is located on a 200-acre campus adjacent to the Gettysburg National Military Park in Pennsylvania.
Contact Kasey Varner, assistant director of communications, 717.337.6806
Posted: Fri, 10 Mar 2017

Next on your reading list
Biology Prof. Alex Trillo's research attracts international attention
---
Celebrating 2018 midyear graduates
---
Ben Tabor '13 on making connections at home and abroad
---
Share this story: