Photo Gallery: Construction Progress on Campus
It's officially summer in Gettysburg, and we are in the process of making several exciting updates to our facilities, including:
An addition to The Eisenhower House, our admissions building (to be completed by fall 2017);
An addition to our Dining Hall (to be completed by fall 2017); and
The renovation of our College Union Building (to be completed by fall 2018)
These projects provide enhancements to our facilities and ensure our campus continues to serve as a welcoming environment conducive to living and learning.
View the construction progress in the Flickr gallery:
About the projects
The Admissions building
The addition to the Eisenhower House will provide a welcoming space for visitors and transform the existing space into the state-of-the-art, 4,500 square foot, Fourjay Welcome Center, thanks to the generous philanthropic support of Geoff Jackson '91 and his family. The exterior will prominently feature the campus's well-known statue of President Dwight D. Eisenhower, whose office was previously in the space, and a new patio. Inside, a multi-purpose room will provide space for about 60 visitors and feature an LCD panel screen.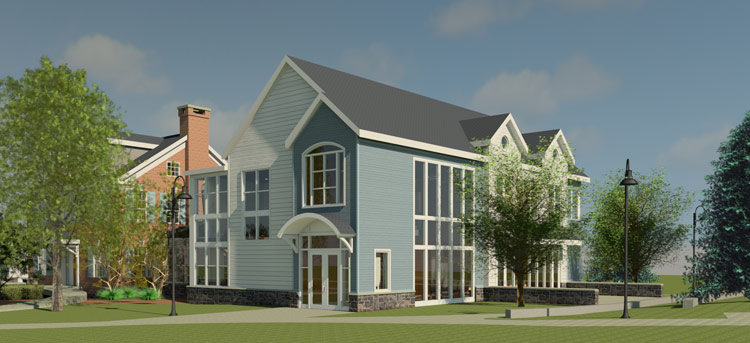 A rendering of what will be the new Fourjay Welcome Center.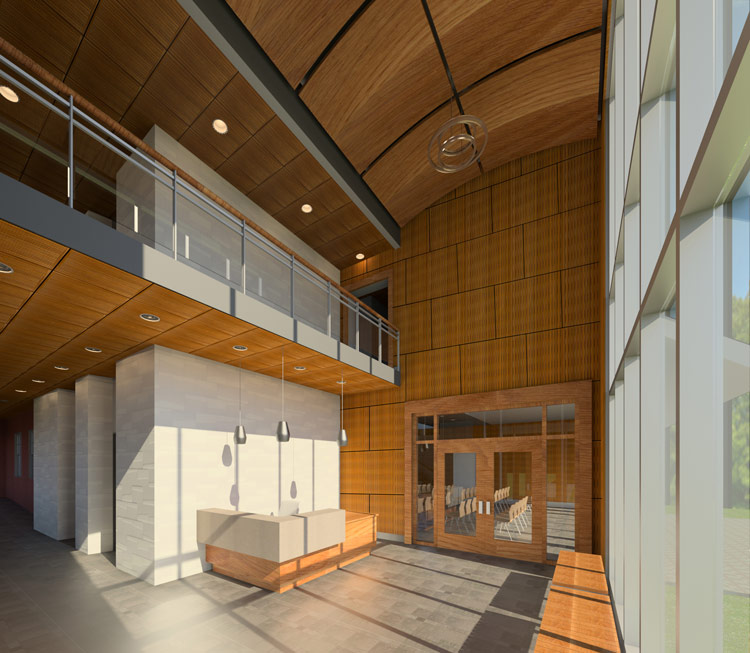 A view from the lobby of the Fourjay Welcome Center.
The College Union Building (CUB)
A 26,000 square foot addition and the renovation of the CUB will utilize current space occupied by an unused pool to create a new home for our Center for Career Development, the Garthwait Leadership Center, and other offices in support of student activities. The space will also include new student programming space and food service venues. Construction continues as planned (the CUB was closed briefly after a project-related fire incident on July 13).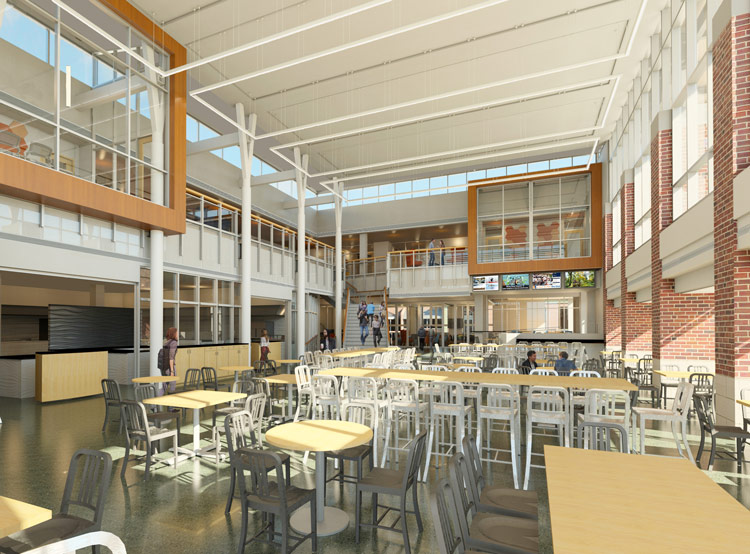 Rendering of common space in the newly renovated College Union Building.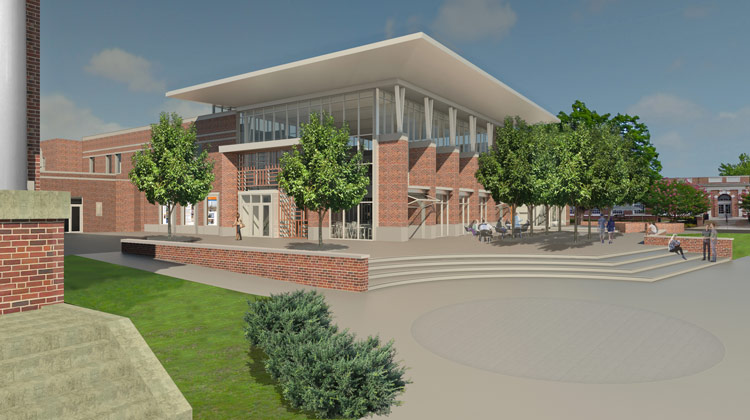 Rendering of the CUB addition
The original building was designed and built in the late 1950s.
Dining Hall
At the start of the 2017-18 academic year, the Bullet Hole, a favorite lunch spot currently located in the CUB, will be temporarily relocated to an addition in the Dining Hall. This space will later provide more spacious seating in our dining facilities.
Read more in the Gettysburgian.
Founded in 1832, Gettysburg College is a highly selective four-year residential college of liberal arts and sciences with a strong academic tradition. Alumni include Rhodes Scholars, a Nobel laureate, and other distinguished scholars. The college enrolls 2,600 undergraduate students and is located on a 200-acre campus adjacent to the Gettysburg National Military Park in Pennsylvania.
Contact: Carina Sitkus, senior assistant director of communications, 717.337.6803
Posted: Wed, 19 Jul 2017

Next on your reading list
Everything you need to know for Orientation 2018
---
Have you heard about the Cross-Disciplinary Science Institute at Gettysburg?
---
Sunderman Prof. Bill O'Hara pioneers video game music course
---
Share this story: