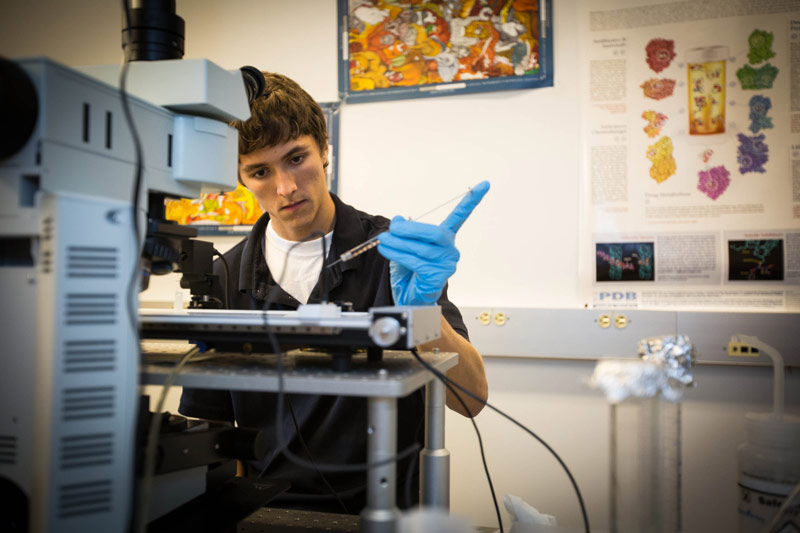 Summer of scholarship
Students dive deeper into disciplines through faculty-mentored research
From conducting DNA sequencing to studying food insecurity in Adams County, Gettysburg College students are engaging in a broad range of faculty-mentored summer research projects. In diverse locations such as Maine, Bali, Iceland, India, and Nicaragua—and even right here on campus—students are expanding upon their classroom experiences through hands-on learning.
Research in the sciences
With support from endowed science research funds and a $1.3 million grant from the Howard Hughes Medical Institute, there are 33 students conducting research in biology, chemistry, physics, environmental studies, mathematics, and health sciences. These students meet throughout the summer to discuss their research, attend workshops on graduate school and scientific writing, and will share their research on campus this fall.
Exploring Huntington's disease—Alex Campbell '15 arrived at Gettysburg as a pre-med major, but became interested in science research when he took the biology department's first-year research-based Phage Biology course. This summer, he's working in the lab with chemistry Prof. Shelli Frey to study Huntington's disease, a currently incurable hereditary neurodegenerative disorder. Campbell and Frey are examining the role of cell membranes in the toxic behavior of the mutant huntingtin protein, and are testing cholesterol and other biologically relevant molecules as potential therapeutic methods.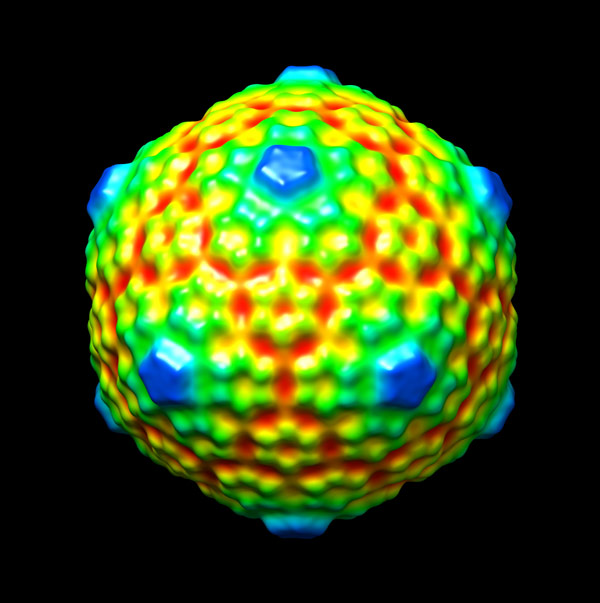 Sequencing and modeling viruses that infect bacteria—Four students are working with biology Profs. Veronique Delesalle and Greg Krukonis to study bacteriophages, viruses that infect bacteria. Stacey Heaver '15 is using bioinformatics software to assemble and compare the genomes of phages (isolated by Kendra Hayden '12) in order to explore what genetic factors explain the differences in their host ranges. In collaboration with Penn State Hershey Medical Center Prof. Susan Hafenstein and graduate student Kristin Shingler '11, Aden Lessiak '15 is researching Avani, Gettysburg College's first sequenced mycobacteriophage (a phage Heaver isolated in 2011). Lessiak is using 2D images of Avani to create one of the few 3D models of mycobacteriophages in existence, which may provide insight into how phages package their DNA and infect their hosts. All students, including Katherine Boas '16 and Brianne Tomko '16, have been working collaboratively on projects to finish phage genomes, describe phage communities, and measure bacterial population growth.


Humanities and social sciences research through the Mellon Summer Scholars program
Gettysburg's Mellon Summer Scholars program is a selective, ten-week program that allows students to initiate, propose, and pursue projects under the close mentorship of Gettysburg faculty. Scholars receive housing and research stipends, live together with a former Mellon Summer Scholar who helps them reflect on their experiences, and meet weekly to discuss their progress. Mellon Scholars share their research with the campus at Gettysburg's annual Celebration colloquium in the spring.
Religion, judgment, punishment, and the Titanic—English major and religious studies minor, Kelly Hagerty '14, is studying the use of religion to discuss and understand the Titanic tragedy from its 1912 sinking to the present. As part of her research, Hagerty visited the Southampton and Titanic museums in Belfast, Ireland, and traveled to Massachusetts to visit libraries and museums—interviewing a number of Titanic historians along the way.
Taking Nietzche to the theatre—Weston Jackson '14, a double major in theatre arts and philosophy, is writing an original theatre script that explores the themes of existentialism, alienation, and the absurd. This play will incorporate the existentialist philosophies of Nietzsche, Kierkegaard, and Dostoyevsky, theatrical themes of alienation from Hamlet, Woyczeck, and Waiting for Godot, and contemporary play development and performance.
Understanding the Middle East in Pennsylvania—Self-designed Middle East language, culture, and conflict major Victoria Mohr '15 is spending her summer interviewing Iraqi refugees in Lancaster and Philadelphia. Through these conversations, Mohr hopes to learn more about how language proficiency, employment, and cultural adjustment affect these individuals' daily social interactions and contribute to their social and community structures. Religious studies major Samantha Smith '15 is exploring a similar topic, and has spent her summer interviewing Pennsylvania veterans who served in Saudi Arabia and Kuwait to discuss their experiences with the local culture, views of Muslim men and women, and understanding of enemy forces during their service. Smith hopes to create a digital archive of these interviews that will shed light upon American perceptions of Muslims in the Middle East from during the Gulf War into the present day.
A cross-cultural comparison of music instruction—Music education major Alice Broadway '14 is working with Prof. Brent Talbot to investigate how students' former music education practices influence the way they learn new musical forms. This summer, Broadway traveled to Bali as part of Prof. Talbot's Music, Language, Culture, and Immigration course to learn gamelan from native Balinese teachers. During this trip, she observed her classmates' learning experiences, and asked them to compare their Balinese instruction with their prior music education experiences.
An app to study rebellion—Using archival and present-day photographs, interviews, narrative documents, audio and video pieces, and detailed maps, Michele Seabrook '14 and history Prof. Pete Carmichael are creating a free, interactive tour "app" of Nat Turner's Rebellion. Seabrook's tour will connect Turner's experience of bondage with the historical and cultural landscape of his time, and will explore how he operated within a larger slave community. She has traveled to Virginia to conduct interviews and to tour historic sites, and has researched at the Southampton County archives, the Library of Virginia, and the Virginia Historical Society.
Cookstoves and religious practice in rural India—Environmental studies and globalization studies double major Jessie Pierce '14 is working with Prof. Monica Ogra and Project Gaia, a global nonprofit with an office in Gettysburg, to study the viability of ethanol cookstoves in two rural Indian Hindu and Muslim communities. While ethanol cookstoves are gaining popularity in developing countries as a safer and cheaper alternative to wood, waste, and oil-based fuels, the use of distilled grain alcohol in ethanol fuel production can cause cultural complications for communities that struggle with substance abuse or have religious restrictions regarding the use of alcohol. Pierce is spending a month in Gandikhatta and Ganga Bhopur to learn local attitudes toward ethanol distillation and its use for cooking.
Community-based research through the Heston Summer Experience program
The Heston Summer Experience program provides paid internships for students to engage in community development and sharpen their understanding of complex social issues. Heston Interns are placed in communities in Gettysburg, Kenya, and Nicaragua.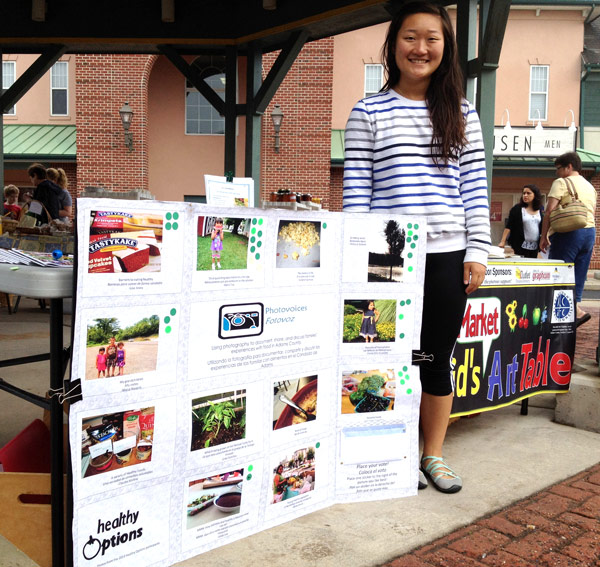 Voices of food insecurity in Adams County—Health sciences major Helena Yang '14 has partnered with Prof. Amy Dailey and the Adams County Food Policy Council to research community-based food insecurity through the Council's Healthy Options program. Yang is organizing a Photovoice project that empowers local community members living in the "food gap" (meaning they do not qualify for federal assistance, but still have food insecurity) to share their experience through photos. She has also facilitated a poverty simulation for Representatives and staffers in Harrisburg, collaborated with AARP and a local senior center to deliver fresh produce through Meals on Wheels, and co-coordinated community workshops on growing and eating healthy foods.
You can read more about all of this summer's Heston Interns on their blog.
Founded in 1832, Gettysburg College is a highly selective four-year residential college of liberal arts and sciences with a strong academic tradition. Alumni include Rhodes Scholars, a Nobel laureate, and other distinguished scholars. The college enrolls 2,600 undergraduate students and is located on a 200-acre campus adjacent to the Gettysburg National Military Park in Pennsylvania.
Posted: Mon, 22 Jul 2013

Next on your reading list
Discovering her resilience: World traveler to future Marine
---
---
Cultivating a first-class faculty: Prof. Allen Guelzo receives prestigious award
---
Share this story: