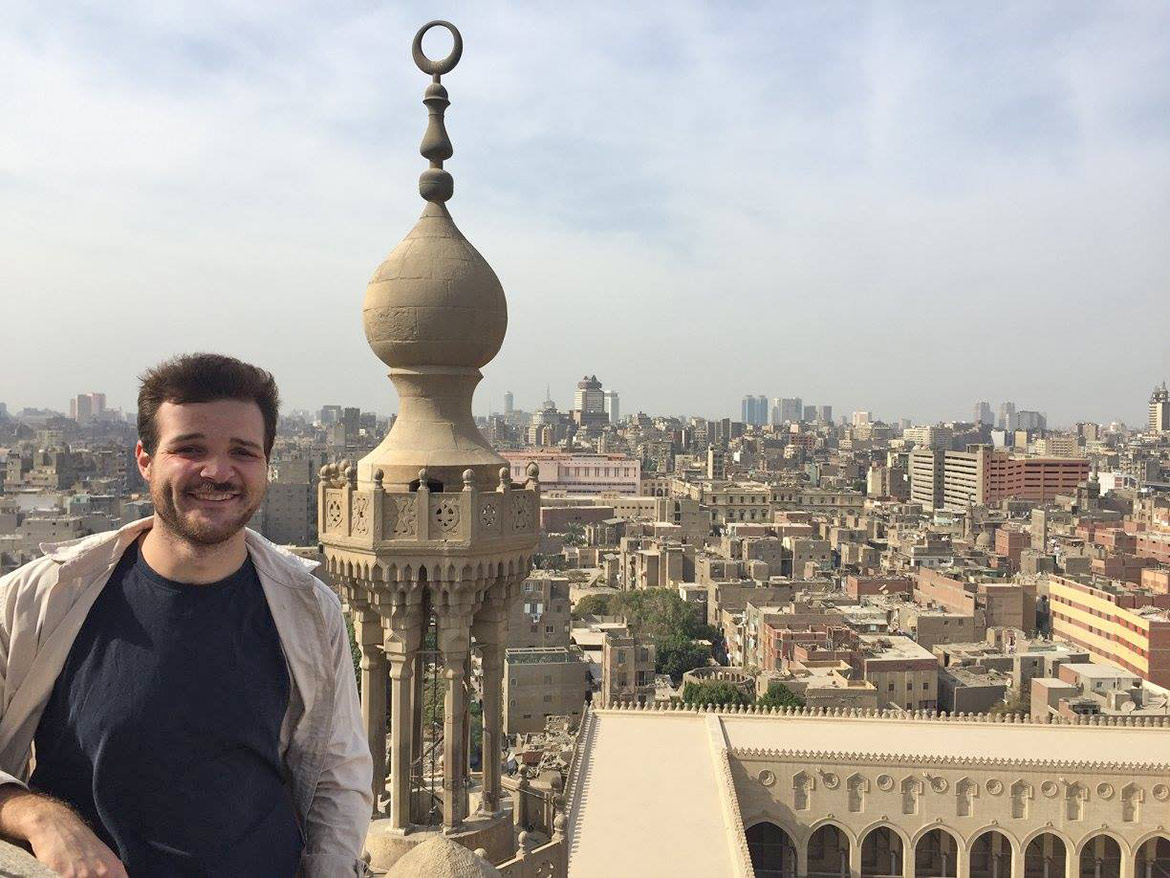 In His Words: Darren Spirk '16 one year after graduation
When I took my English senior seminar in spring of 2015, Prof. McKinley Melton handed me a paper that I would later hand to a class of 10 Syrian women in one of my English classes that I teach in Cairo, Egypt.
Prof. Melton handed me Alice Walker's definition of womanism, a more encompassing form of feminism that focuses on intersectionality, inclusivity, and loving oneself. The students I teach immediately identified with the concept, which we then applied to an op-ed written by the woman who created the burkini. As French politicians continue to ban women from covering themselves at public beaches and pools, effectively marginalizing them to private spaces, we see how enforcing one definition of freedom inhibits rather than empowers Muslim women.
I am incredibly fortunate for the opportunities I've had since receiving my diploma from Gettysburg. A week after the graduation ceremony, I was hired for a summer teaching fellowship with an NGO working on child education, youth development, and women's empowerment in Nablus, Palestine. I taught intensive English classes to university-aged students while also getting time to observe and navigate daily life in the West Bank. I then moved to Egypt to work as a Syrian community teacher.
I teach five English classes to the Syrian community: four standard English classes ranging from beginner to intermediate levels, and a specialized advanced class for female English teachers. I also get to be involved in program development and community outreach under the guidance of two Syrian colleagues who work tirelessly to improve the services we provide. I learn merely from being in this organization, which offers holistic services for refugees ranging from child and adult education to psychosocial services and legal aid.
Having now lived in Cairo for three-and-a-half months, I continue to see how even my ability to move to these countries is a privilege. The students I taught in Palestine were physically trapped from moving outside the confines of their ever-shrinking territory, while the Syrians I teach now are in Cairo of course out of necessity, not choice.
As Gettysburg continues to become more global, these are sensitivities that both students and graduates need to have—sensitivities I hadn't fully developed when I studied in Morocco in the fall of 2015. We obviously should travel the world, but with tact and awareness of what it means to enter a space as an American.
Most days, I take taxis to get from my office to the centers in which I teach. I bumble through conversations in Arabic with Egyptians ranging from society and politics to, well, the classic musician Shaggy. Sometimes I try to defend preconceptions of Americans as the elite in Cairo—that I actually work on a local salary. Sometimes I try to debunk idealism around America as the "land of the free." Sometimes I say I miss the food and craft beer. But ultimately, I just try to be truthful with an awareness that what I choose to say has an impact.
My path to becoming more self-aware began with my work at Gettysburg's Center for Public Service (CPS), which provides a unique atmosphere for students to work through and ultimately expand the tricky concept of wanting to help people. And what I want to dedicate my life to now is incredibly similar to work I was a part of with CPS. At the Painted Turtle Farm, we helped bring the resources, space, and framework of a community farm to people who already had the knowledge and skills to create this place.
As I return to my class of Syrian educators armed with theories of gender, race, and neocolonialism, again I just bring the materials. They are the ones who can empower their communities with the specific knowledge that they already have, and I am merely a collaborator in the process of these women becoming more effective leaders in their communities.
The conversations I have with this group are particularly poignant for me given the November election. Witnessing the generous and loving ideas of women who represent a population garnering so much hate in the US is an incredible gift. I feel so fortunate that I am able to translate the liberal arts education I built as an undergraduate—reading the world critically, particularly in relation to global power structures—to a population that frankly deserves this knowledge more than I do, that can do so much more with this knowledge than me.
Founded in 1832, Gettysburg College is a highly selective four-year residential college of liberal arts and sciences with a strong academic tradition. Alumni include Rhodes Scholars, a Nobel laureate, and other distinguished scholars. The college enrolls 2,600 undergraduate students and is located on a 200-acre campus adjacent to the Gettysburg National Military Park in Pennsylvania.
Contact: Carina Sitkus, senior assistant director of communications, 717.337.6803
Posted: Wed, 28 Dec 2016

Next on your reading list
Econ majors to learn from Chris Matthaei '01 gift, innovative software
---
Alumni honored for career success, dedicated service
---
Enhancing our campus, fostering new learning
---
Share this story: