Do you want to discover and describe a virus that no one else has ever seen? Do you want to discover new viral genes? Do you want to use your virus as a therapeutic to cure disease? Then come virus hunting with us!
Specific viruses, called bacteriophage (or phage), can infect and kill bacteria. Within minutes of infecting a bacterium, a single phage can make several copies of itself, killing the bacterium and releasing the new phage into the environment. Phage are the most diverse and numerous life-like form on earth and scientists are finding new and unique ones every day!
Loving your enemy's enemy: Many bacteria are pathogenic and cause disease in plants and animals. Since phage kill bacteria, we can harness phage and use them as a therapeutic. Phage isolated from our Phage Hunters class have been used as "phage therapy" to cure pathogenic bacterial infections.
The Biology Department offers a research-focused experience for first-year students in Phage Hunting. This class is open to a limited (16) number of students and provides students ownership of a project, an authentic discovery-based research experience, and an opportunity to contribute to the scientific research community.
In the fall semester (BIO 113), students learn how to isolate and purify phages (viruses that infect and kill bacteria), describe the growth characteristics of their phage, characterize its morphology via electron microscopy, and isolate and purify their phage DNA to have it sequenced and to perform molecular fingerprinting analyses to identify unique phage. Students will also apply their phage as a therapy to kill unwanted, antibiotic resistant, infectious bacteria.
FAQ:
Who should take this course? Any student intent on research or interested in finding out if research is the right career path. Any student who likes the challenges and excitement of authentic discovery. You do not need to have had any previous research experience to be considered for this course.
How challenging will this course be? Bio 113 meets three times per week for a total of eight scheduled hours and it is more time consuming than a regular introductory course. Students should also expect to work on their research outside of class time (sometimes on weekends).
How does this course fit in my potential major? BIO 113 is a lecture and lab course and replaces BIO 111 or 110 in the fall semester.
How do I apply? Click on the link for the on-line application. Application must be submitted by Monday June 4th, 2018 (5pm E.S.T.), and selected students will be notified by email June 14th, 2018.
More questions? Contact Dr. Nikki Shariat, Assistant Professor, Biology Department, for further information (nshariat@gettysburg.edu).
The application is closed for the 2018-19 academic year.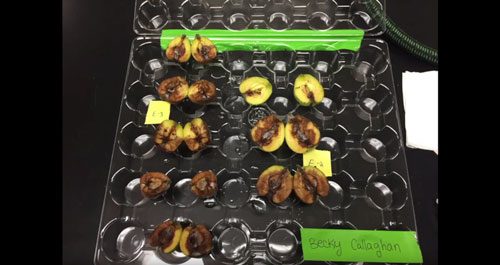 Thanks to Phage Hunter Rebecca Callaghan '19 for putting this video together.