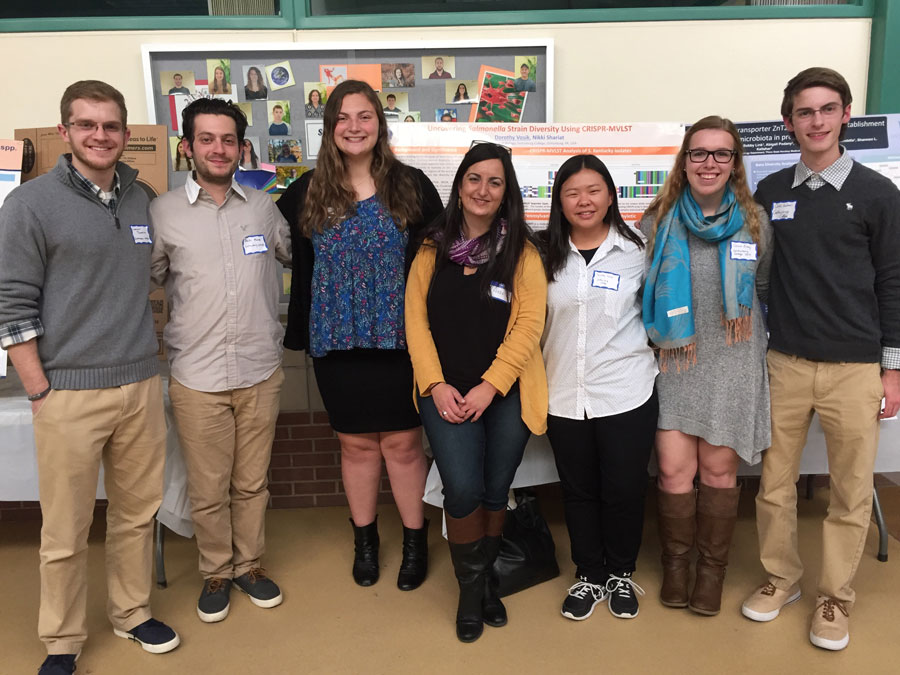 Undergraduate researchers, Cameron Thompson, Jacob Marogi, Kaelea Composto, Dorothy Vosik, Celine Erkey, and Caleb Hellman, all from the Class of 2019, from the Shariat Lab – the CRISPR Crew – presented research posters at the 2016 Allegheny Branch of the American Society for Microbiology Annual Meeting (ABASM). It was held at Penn State Behrand in Erie, PA on Nov 11-12th. They all conducted their research at Gettysburg College as first years and sophomores. ABASM is a great opportunity for undergraduate and graduate microbiologists in the region to present their work to fellow specialists in the region. This year, Cameron, Celine, Caleb, and Jacob were recognized with prizes for their presentations – well done for Doing Great Work!

Jacob Marogi '19, a Biochemistry & Molecular Biology major, presented "The Function of CRISPR-Cas Systems in Salmonella." CRISPRs are repeat regions that exist in bacterial genomes – they have been shown to protect bacteria from attack and subsequent death by bacteriophage. Jacob has been studying the role that these CRISPRs play in Salmonella and considering their evolution in different Salmonella strains. Jacob won 2nd Place in the Molecular Microbiology Undergraduate Research Poster Session.

Cameron Thompson '19, a Biochemistry & Molecular Biology major, presented "CRISPR-SeroSeq: A New Tool for Salmonella Serotyping." To complete his project, Cameron got familiar with chicken poop – he spent time during the summer in Pennsylvanian poultry houses collecting samples to search for Salmonella. He then used specific molecular DNA signatures that are found in Salmonella – CRISPRs – and some fancy bioinformatics approaches to identify the different types of Salmonella. Cameron won joint 1st Place in the Environmental Microbiology Undergraduate Research Poster Session.

Dorothy Vosik '19, a Biology major, presented "Uncovering Salmonella Strain Diversity Using CRISPR-MVLST." When people get sick with certain pathogens (including Salmonella), the Public Health Department has to identify them in a rapid and accurate manner, which is important to limiting an outbreak. Dorothy has been partnering with the Pennsylvania Department of Health to use a new technique - CRISPR–MVLST - to precisely identifySalmonella strains from patients.
Morgan Brown '19, BMB major, presented "An Unseen Hero: the Role of a Novel GYF Protein in Rescuing Cell Cycle Defects", at the 2018 Allegheny Branch of the American Society for Microbiology annual meeting, held at Gettysburg College on Nov 9th-10th. Morgan has worked with on this research project for three years in the laboratory of Dr. Steve James, becoming an expert at deleting and modifying genes and performing fluorescence microscopy to determine the subcellular location of the GYF protein. In carrying out this work, Morgan discovered a novel role in cell cycle control not previously attributed to this class of genes. Morgan is planning to pursue PhD studies in genetics and molecular biology.
Sarah Francisco, '18, BMB major, presented "Mutations in the Aspergillus nidulans SET2 gene abolish its activity as a Histone H3K36 trimethyltransferase and rescue defects in the snxA mRNA shuttling-binding protein", at the Pennsylvania Academy of Science annual meeting, held at Kings College on March 31-April 1. Working for two years in the laboratory of Dr. Steve James, Sarah studied the SET2 gene, an epigenetic regulator that controls the expression of many other genes. Sarah sequenced a mutation in SET2, and performed Western blots to demonstrate that the mutant enzyme had lost the ability to methylate its target, the DNA-binding protein Histone H3. Sarah hiked the Appalachian Trail following graduation in 2018 and is currently applying to MD-PhD programs.
Jenny Giannini, '18, BMB major, spent four years working with Dr. Jennifer Powell studying the connections between pathogen avoidance, innate immunity, and stress responses in the nematode C. elegans. She discovered that a G-protein coupled receptor called FSHR-1 is important for discriminating between pathogenic and non-pathogenic bacteria, and was the first person at Gettysburg College to successfully edit a eukaryotic genome using CRISPR/Cas9. Jenny has presented her work at numerous regional and national meetings and is a co-author on a paper (Miller, et al. 2015). She is currently a Fulbright Research Fellow at the Max Delbrück Center for Molecular Medicine in Berlin, and has been accepted into a PhD program at the University of North Carolina-Chapel Hill.
Zoe Yeoh, '18, BMB major and studio art minor, presented "FSHR-1 and SKN-1 link innate immunity and oxidative stress" at the International C. elegans Meeting in Los Angeles. Zoe spent three years in Dr. Jennifer Powell's lab, where she focused on dissecting the relationship between an important immune receptor (FSHR-1) and the master regulator of the oxidative stress response (SKN-1). Zoe is also known for her artwork featuring laboratory scenes and other scientific themes, which has won awards in juried exhibitions. Zoe is currently a research technician at the Dana Farber Cancer Institute in Boston and is applying for PhD programs.