First-Year Seminars offer the benefits of an experience often reserved for college seniors to students beginning their college career.
These courses, designed for and offered only to students in their first semester at Gettysburg College, provide an opportunity to work closely with a faculty member and a small cohort of peers to explore a topic that they all find interesting. First-Year Seminars employ and develop a variety of skills including writing, speaking, critical thinking, quantitative reasoning, and the use of technology or instrumentation.
All students in a First-Year Seminar live in the same residence hall, which provides them with an opportunity to integrate their academic and residential lives. This experience, alongside programming offered through the college's extended orientation program, offers students the opportunity of learning and working with other students and faculty on common educational interests and goals while deliberately fostering connections that support the transition to college.
First-Year Seminars may include field trips, films, guest speakers, workshops, and community service projects. Many of these opportunities are designed for a specific seminar or group of related seminars.
First-Year Seminars are focused on a professor's personal interest, presented in a way that invites discussion.
First-Year Seminars at Gettysburg College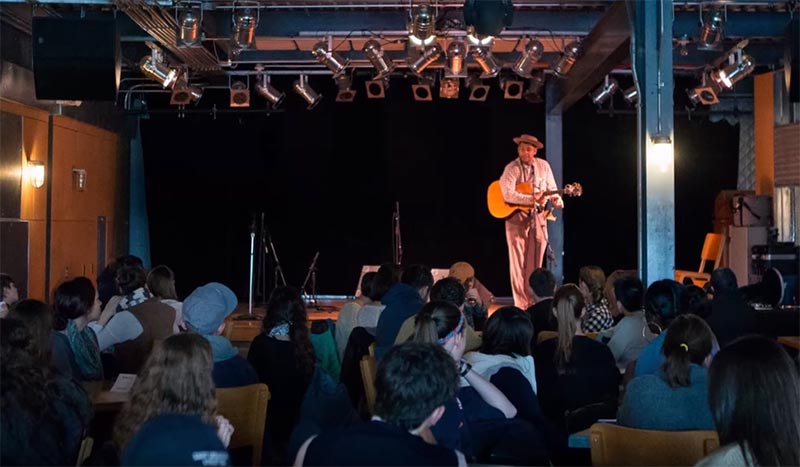 Did you know...
Class size is limited to 16 students
Seminars emphasize the active participation of students
All students in a First-Year Seminar live in the same residence hall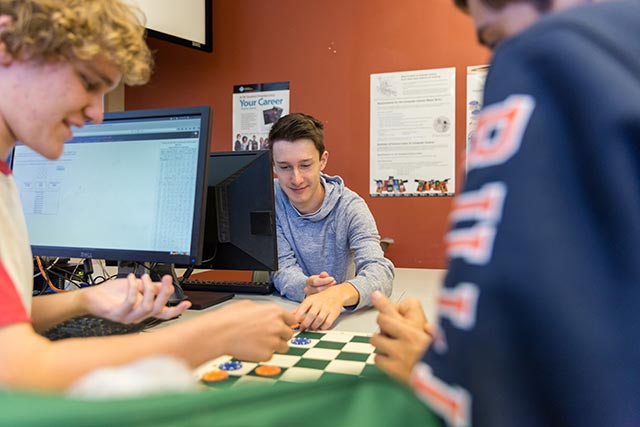 First-Year Seminar Course Descriptions
What is an "expert learner"? What is the reason that the hippocampus of a taxi driver may be larger than what you would expect? What are the neurobiological underpinnings that decide whether you can recall a fact, understand a concept, or apply previously acquired knowledge? How do our identities shape how we learn? In "Are you smart?", we investigate the strategies and characteristics that define successful learning. The topics discussed in this first-year seminar range from central nervous system anatomy and physiology to habits and techniques that can help you find success in the transition to the academic challenges of college.

In this seminar STEM Scholars students will learn what distinguishes science from other modes of inquiry, and be introduced to skills used throughout the various STEM disciplines. Through readings, analyses, discussions and engaging group activities, the STEM Scholars will learn what scientists do and how they do it, with special emphases on the importance of problem solving, quantitative skills, and clear communication with fellow scientists and the general public. Students will learn about the history of science, proper experimental design, uncertainty, and methods for collecting, interpreting and analyzing data. We will discuss how basic scientific research informs technological applications used in our daily lives; learn about cutting-edge scientific discoveries as well as discuss the ethical issues involved in the pursuit and application of science. This seminar focuses on a multidisciplinary approach to learning, understanding, discussing and practicing the specific skills necessary for students participating in the STEM Scholar program in preparation to a successful career in the STEM fields at Gettysburg College and after graduation.

With only 5% of the world's population, the United States accounts for around 25% of those incarcerated across the globe, outpacing countries like Russia and China. This has not always been the case: in the 1950's the US incarceration rate was around 125 prisoners for every 100,000 people but by 2017 it stood at 666 of 100,000. Moreover, the growth of mass incarceration has not been equal across lines of race and ethnicity. More than 60% of the US inmate population is people of color and black men are nearly six times more likely than white men to be incarcerated. In socio-economic terms, poorer Americans are much more likely to serve time than those from higher income brackets. Is this a new system of Jim Crow based on race and class? What are the costs, in economic, social, political, and cultural terms, of locking up so many people? This seminar examines the growth of mass incarceration in the United States in the postwar period with a particular focus on how race, income, and power factor into the US becoming the home one-fourth of the world's inmates.

This course examines the role religions play in escalating conflict and promoting peacebuilding. As global religious fault lines emerge, even Western democracies face the challenge of enhancing unity in diversity. In a time when religion is associated with either religious extremist groups or exclusionary policies, there is need to recognize how religions and religious actors could advance conflict resolution. It is equally important to acknowledge that religion is a supercharger is various conflicts. In addition to reviewing an interdisciplinary scholarship on the subject matter, this course highlights examples of religion based conflicts in different regions and initiatives of faith-based actors as peacemakers.

Today we often associate religion with conflict, but what about religion as a source of peacemaking? This course studies peace movements and global peacemakers across a variety of religious and non-religious conflicts, political settings, and cultures to examine the role that religion can play in peacemaking. What methods work for resolving conflict? How is peace achieved? How does religion play in to conflict resolution? To answer these questions we will study the human dimension of conflict resolution through attention to the lives of iconic peacemakers –such as Thich Nhat Hanh, Pope Francis, Shirin Ibadi, the Dalai Lama, Mahatma Gandhi, Malala Yousafzai, and Dorothy Day-- and their religious backgrounds, the religious influences in their lives, and the religious dimensions of their politics, strategies, inner spiritual lives, and social movements they created. For the last section of the course we turn to three critical issues today—immigration, wartime violence against women, and religious extremism—and study religiously informed efforts towards solutions.

This course is intended to encourage thoughtful analysis and discussion of the perennial problem of poverty. Too often, the wealthy and middle class tend to think about, talk about, and relate to the poor as though they are somehow inferior or defective. Ironically, the poor are chastised and denigrated for acting 'rationally' according to modern economic theory while the middle class and wealthy are praised for similarly responding the incentives they face. The course is also designed to give students the seed of an understanding of poverty in the United States and to allow students to model civil discourse on sensitive issues. Students should take from this course satisfaction that they have dealt with an important human as well as public policy issue with sensitivity and integrity.

Smokey Bear is one of the most highly recognized icons in American culture today. But while many know of his efforts to prevent wildfires, fewer are aware of the contentious issues surrounding the issue of fire policy on national forests. What would Smokey say if he knew that many foresters currently promote forest fires as part of efforts to maintain a healthy forest? Likewise, could he make sense of the fact that bison can be defined as a protected "threatened" species, a threat to livestock, or as "burger on the hoof" simply as a function of where they graze? Or how the strongest advocates for the wildlife refuge system are those who most enjoy shooting it? Or the way environmentalists have worked to eliminate grazing on public rangelands....by becoming ranchers themselves? Such conundrums can be a bit much for any level-headed bear to take in. This course investigates the surprising and often contradictory environmental policy and management challenges facing national parks, forests and wildlife refuges in the United States. To make sense of them, students visit a number of such places, interact with real managers, conduct a project, and consider the "big ideas" of nature that quietly underpin America's system of public lands.

War is a subject of fascination in our society; but it is an experience only truly understood by participants. War literature is one of the means of conveying the experiences of war to broader audiences. Writing is a way in which soldiers try to convey and contextualize their memories in print. This seminar is an opportunity for students to read and reflect upon some of the literature of modern war. In reading non-fiction and fiction recollections, by discussing the themes and contexts of war books, and through writing reflective and thoughtful papers, students will learn something of the history of modern war from the point of view of the participant. Students will learn history through literary memories and, it is hoped, will gain the methodological skills to approach literary and historical sources for analysis. For first year students, this seminar will introduce them to the methods of research writing in the humanities, through reading about war.

Work is something that affects almost everyone. Quite often it, and its associated successes and failures, are described in the context of capitalism. Work is often used as a form of identity and quite often it is used as a source of self-esteem. This seminar dives into the whole concept of work and how this concept has evolved in society and shaped our sense of self. The idea of work and identity has been studied from different perspectives, such as anthropology, industrial/organizational psychology, social psychology, management, and the humanities. We will be looking at work and its relationship with our sense of self. Finally, we will be studying some historical aspects of work and how it has been affected by science and technology.

Why do we repeat myths of civilizations past? Do they have something to teach even as they are recycled and re-contextualized? For example, what kind of a hero is Odysseus? He kills over one hundred young suitors and murders the household maids all in the name of restoring order to his kingdom. Does this represent a model ruler? It is this the only model for masculinity? And what archetypes are there for women in such a myth? One of the reasons ancient myths remains so relevant is because of the many ways in which they have been revisited. The course looks at Greek myths from multiple perspectives including: psychology, history, performance, film, and literature to question its appropriations and re-imaginings. Beginning with a basic introduction to oral traditions and epic the course also considers literary adaptations from Sophocles to Margaret Atwood. The section on "Myth & War" covers historical uses of myth from the rise of European Nationalism and WWI up to contemporary nativism. Psychological approaches discuss Freud & Jung while performance studies covers ancient tragedy as well as modern renditions. The course offers students a multidisciplinary survey of myth, theory, and notions of appropriation and discourse that bring the past in dialogue with the present.

Tell a story about a time you felt safe, an instance in which you offended a person of a different race, an important message you heard about what it means to be a man. Stories give form to life's complexities, allowing us to make the abstract more personal and concrete. Through engagement with four story types, this course will consider how storytelling methodologies are used to enforce or dismantle oppression, mobilize or restrict change. By analyzing and sharing stories, students will gain an understanding of the complexity of race, class and gender and the power dimensions through which inequity operates. This process will also encourage students to make sense of their own experiences and identity, connecting the personal with the political, the individual with the social. Designed in collaboration with the Center for Public Service, this course combines a traditional academic component with experiential education through participation in campus dialogue groups, field trips to hear from community members and a community-based learning component.

This seminar will offer students the opportunity to study a selection of British and American women writers -- some major, some minor -- covering the past 500 years. Beginning with Queen Elizabeth and her contemporaries and ending with twentieth-century figures such as Virginia Woolf and Zora Neale Hurston, we will explore Woolf's famous question: what if Shakespeare had a sister? We will consider the impact of gender on the creative process, and how economics, class, and racial issues intersect with gender to produce a unique female voice. The course will include several film showings and a field trip to Washington, DC.

This seminar looks at the changing practices in women's healthcare from the holistic, ancient, earth-based traditions that centralized women to the rise of the mechanomorphic American medical system, specifically gynecology. The course examines key historic events that shaped women's healthcare, issues of gender biology, the gardener/mechanic metaphor, the modern medicalization of women's natural cycles, the Wise Woman healing tradition, Chinese medicine and acupuncture, Ayurveda, and issues around women's personal empowerment. Social issues concerning the control of women's reproduction and the impact of the environment on women's health are addressed. Additional topics include holistic nutrition for women, body image, gender identity, sexual orientation, negotiating young-adult social and emotional challenges, and power and control in intimate relationships. Particular attention will be on centralizing women in their own healthcare.

This seminar, taught in English, explores the three cantos of the Divine Comedy: Hell, Purgatory, and Paradise. Students examine the life of Dante Alighieri and his times. Discussion focuses on the characters and events of this classic poem. Questions students will ponder include: what happens to us after death? What does it really mean to be a good person? Why do bad things happen to good people? How far would a person go for love? Why is having too many sexual relationships an ultimately less serious matter for the soul than drinking or eating too much? Here is the masterpiece of world literature that inspired and changed the lives of Michelangelo, Galileo, and James Joyce who once said, "Dante is my spiritual food!" No knowledge of the Italian language is expected or needed.

The national debate over the removal of Confederate monuments raises important philosophical questions about how communities—whether local, national, or global—remember their past. This seminar draws on these debates to examine how we form memories that bind us together as communities and what it means for these memories to be represented and affirmed through the monuments, memorials, and other structures of memory that we display in our public spaces. The course also considers the contradictions, complexities, and limits of collective memory that are expressed in our memorials and monuments, raising the question of how we take responsibility for histories of oppression and cultural trauma such as slavery, colonization, racism, war, and genocide through monument making. The course will culminate with a discussion of both local and global perspectives on the implications of preserving, complicating, and toppling monuments for challenging and reshaping our historical narratives.

This seminar is an investigation of myth and reality of secret societies from the "Underground Railroad" to the Freemasons, the "Black Hand," "Skull and Bones" and the "Men in Black." Have secret social networks really tried to influence the world? What role do they play in history and politics? What is a conspiracy theory? Who claims that the moon landings were a hoax and why? And what do "alternative facts" have to do with all this?

What makes you happy? Can you increase happiness? Should you want to? In this course, we will explore the meaning of happiness and examine how it is defined and assessed in current research. (Interestingly, not all researchers define happiness the same way nor do they use the same assessment tools.) We will investigate the different theories for where happiness comes from (is it due to nature, nurture, or both?) and identify the possible benefits of being happy. For example, is happiness really related to having more friends, being more creative, making more money, and living longer? In an effort to understand if and how we can increase happiness in ourselves and others, we will focus on popular happiness trends found in pop culture as well as in empirical research from fields including psychology, economics, health, and religion. Being mindful, doing good deeds, having positive relationships, having money, spending money, exercising, and being religious are all topics we will consider when trying to increase happiness.

What did you think of that movie? This seminar is a philosophical exploration, through both text and film, of the nature of the self and its relationship to the world. Along the way it addresses questions concerning the experience of time and its relation to memory, the meaning of suffering in and out of the context of religious faith, the nature and value of thinking as a practice of everyday life, and the roles and limitations of human knowledge and technology. In addition to textual analysis, the course examines these questions with some of the more provocative films in the history of the cinema (such as Blade Runner, Fight Club, 2001: A Space Odyssey, and others), mining and developing strategies for watching movies at various intellectual levels, thereby enriching the overall experience of the capabilities of film, and illuminating the significance of philosophy as a living activity of thought that finds and transforms us in even the most seemingly mundane moments.

Why do we apologize? Does an apology require sincere feelings of remorse in order to be valid? Can apologies sometimes cause more harm than good? Is it still right to apologize, even if the person delivering the apology does not believe that they were wrong? Apologies are powerful expressions, which can escalate or help resolve conflicts in personal and political life. This course examines moral and political questions that emerge in the aftermath of conflict, including various conceptions of harm, responsibility, forgiveness, and reparations. These concepts are considered through the analysis of various kinds of apologies, all of which attest to the power and ritual significance of this speech act. Some apologies ask for forgiveness, and some apologies are gendered or culturally expected utterances that function as social lubricant, for good or bad reasons. Nonapologies avoid responsibility and shift blame, and formal public apologies issued by prominent individuals and governments acknowledge harm done to social groups. Some examples of public apologies studied in this course include public apologies issued by governments of the United States, Germany, and Australia, as well as truth and reconciliation commissions in Canada and South Africa.

"We all agree that your theory is crazy. But is it crazy enough"? --Niels Bohr Everybody knows that the Earth goes around the Sun and that the Loch Ness monster isn't real. But how do we know? How sure are we? In this course we'll look at a variety of controversial topics ranging from global climate change to homeopathic medicine to the existence of ghosts, as well as the enduring controversy over the Earth orbiting the Sun--enduring, that is, in the early 1600s. We'll discuss how the scientific method works, how we can use it to figure out what's happening and what are the limits of what we can know, hopefully to separate what we can accept as true and what we have to reject as truly crazy.

The famous inscription Woody Guthrie placed on his guitar in 1943 says something profound about how many artists and musicians view their work: while art entertains us, it also can enlighten and liberate us as well. Unfortunately, the history of America often taught in schools focuses largely on names, dates, and other facts pieced together in an effort to tell a particular kind of story about America--one that does little to help us appreciate the struggle that runs like a swift current just beneath the surface of daily life. In this seminar we will revisit some of that history, focusing primarily on the way musicians--from 19th century slaves to 20th century bluesmen, from Depression-era balladeers to Civil Rights marchers, and from war protesters of forty years ago to war protesters today--have attempted to right wrongs, educate sensibilities, and awaken the consciences of people in an effort to make America a place that lives up to its promise.

Learning and performing music requires mind, ears, heart, and body. In this course, students explore practices for healthy music-making, including: exercises to connect the musical mind and body; healthy habits for pain-free playing or singing; methods for efficient, effective practice; strategies for handling stage fright and performing at the highest level. This course is open to all musicians of any genre. The ability to read music is not required, and there is no audition.

In this class you will discover how dance teaches us about ourselves, our beliefs, and our cultures through our bodies. So why DO people dance? How can dance help reconcile current dialogues and arguments about race/ethnicity, gender/sexuality, and social class? As a nearly universal bodily experience, dance can be a fun way to work out tensions from stress to muscle soreness. But consider how the dance battle between a D.C. cop and teenager doing the Nae Nae restored balance to a volatile situation, similarly to Tommy the Clown's krumping in Los Angeles and capeoira "fights" first practiced in Brazil. Dance crosses perceived boundaries between social classes (think Dirty Dancing and Step Up); questions gender norms (as in Mark Morris's androgynous Nutcracker snowflakes); and expands national identities (such as Nina Davuluri's Bollywood dance fulfilled her "American Dream" of becoming the first South Indian Miss America). Finally, how do the swan dances of Misty Copeland, the first African American female principal dancer for American Ballet Theatre and Under Armour model, and Lil Buck, jookin' street dancer and collaborator with ballet great Baryshnikov, resist stereotypes? No dance experience is needed, just a willingness to experiment with and observe different forms of movement.

Godzilla, Astro Boy, and Hello Kitty are all Japanese nationals who have become global citizens. Beginning with Godzilla, this course examines Japanese popular culture from the immediate post-war period to the present. People of all ages enjoy Japanese characters, stories, and culture through varied media such as film, animated films (anime), comics (manga), video games, game shows, fanzines and fan sites, and novels. Scholars write of Japan's "Gross National Cool" and "soft power" as they joke about the cultural invasion of Japan. Using a variety of interdisciplinary methods, the course examines the sustained presence of these popular icons and cultural works in Japan and beyond. Identifying these cultural products/art forms as reflections of Japanese identity, culture, history, art, and literature, we then examine the portability of these icons/media into other cultures. We seek to answer such questions as: How and why do some characters survive and thrive outside of Japan, while others such as Sweetbread-man (Anpanman), Bacteria-man (Baikinman) have not made the trip across the ocean? What, if anything, has been changed to make a character/story/game more appealing to another culture? What is an otaku and how has the definition changed over time and place? What do these products say about post-war Japanese culture? Informed discussion, writing, research and presentations provide a thorough examination and analysis of the appeal of Japanese popular culture and its relation to Japanese identity and globalization.

The topic of death raises more questions than answers. What happens when a person dies? Is there an afterlife? How does one deal with the loss of a loved one? How do our funeral practices compare with those of other religions and cultures? But the topic of death also raises personal questions of life: What is the meaning and purpose of our existence? What can I accomplish in my time here? How should I treat my elders, my peers, and my juniors who will predecease or survive me? While we will all experience death, too few of us talk about death. This course intends to begin that life-long discussion by considering death from a variety of angles. We will look at death and popular music and culture, death and the medical profession, the business of death, and the psychological impact of death. We will look at how other religions and cultures view death and deal with the dead. We will also explore various types of death, from illness and disease to suicide, murder, and genocide.

This seminar looks at journalism through some of the great movies about the craft, such as "All the President's Men," "Spotlight," "Salvador," and "Truth." But it also explores some of the anti-heroes through movies, such as "Shattered Glass" and "Absence of Malice." The goal will be to show students how journalism is a noble craft that can change society but also can be misused and cause unnecessary pain. The course will be interwoven with a look at current events and how lessons learned from the movies could be applied to the news of the day. The seminars will focus on class discussion and participation, as well as papers and essays on the movies and current events. The ultimate goal will be to foster critical thinking about the press so the students can be better-informed citizens who can ask the right questions about important issues of the day.

How fast can a human run? How high can one jump? Will someone long jump thirty feet? World records are what have been done in the past but what will the future hold? This seminar will explore the factors that contribute to the limits of athletic performance and determine if there is a ceiling that is being approached perhaps by the next generation. Students will use statistics to examine the progression of world records in several sporting events. Historically significant milestones will be highlighted including the four minute mile and Bob Beamon's Olympic long jump. The factors contributing to athletic performance include the anatomy of muscle and bone to determine breaking points, physiological limits of energy production, biomechanical analysis of an athlete's technique, sports nutrition, "flow" in sport psychology, legal and illegal use of ergogenic aids, equipment and product design, and technological advancements. Each student will select a current world record and through investigation predict the limit of which the human body is capable.

This course will explore the historical evolution of society's struggle to understand what cancer is and how to treat it. While normal cells have defined life spans, cancer cells overcome the normal cycle of death and replacement and, given the proper nutrients, proliferate forever. Thus the ongoing war against cancer is paradoxically, a war against immortality. The modern view of cancer evolved from nearly 4000 years of observation, discovery, debate, and modeling, with emphasis shifting over the centuries from humoral theory, to cell structure, to mutation theory, to aneuploid theory, and most recently, to immune evasion strategies. In 1971 President Richard Nixon enacted the National Cancer Act, declaring a "War on Cancer." In some ways we are winning that war, as hundreds of cancer-causing genes and multiple cancer inducing mechanisms have been identified which has given rise to new promises for treatment. Moreover, certain risk behaviors are also in decline, the first anti-cancer vaccine has been developed, and novel immune modulating therapeutics are being explored. However, in other ways we are losing ground, as the outcome of too many cancers still remains grim and the incidence of others is alarmingly on the rise.

This course examines the significant impact tea had on world history as the love of tea spread from East to West. It moves both chronologically and episodically from early developments in China to Japan and India and Great Britain and the United States, with brief side trips to Central Asia, the Middle East, and Africa as well. Topics and themes include religion and rituals, health benefits and environmental issues, trade, diplomacy and empire, sabotage and espionage, and social interactions. Throughout the course, historical inquiry and methodology are paired with a hands-on exploration of the Japanese tea ceremony and related cultural practices.

Climate instability? Peak oil? Overpopulation? Malnutrition? Glaciers shrinking? Great rivers drying up before they reach the sea? Siberian forests on fire all summer and Pakistan flooded for months on end? Is this the end of the world or the beginning of a new one? Is this a crisis with no real remedy in sight or an opportunity to build a more balanced, more just, more resilient human presence in the world? This course examines the human-earth relationship in terms of fundamental human needs for food, water, and shelter and explores the systems that shape our choices with regard to these essentials of human life. Secondly, it seeks to build a bridge between science-based information and citizen action in search of strategies for staying human—and humane—on a planet in transition.

This First Year Seminar investigates the history of same-sex desire in the West. Our central aim in this course will be to ascertain how far our contemporary conception of homosexuality is universal and transhistorical and to what extent it is historically contingent and constructed- and how the answer changes the way we perceive our own identities and those of others around us. We will study what it meant for two women or two men to be in an erotic of sexual relationship at various historical moments- how they experienced their own desire, how others regarded them, and what their place was in society. We will also consider how other categories, such as gender, race, and social class, intersect with and inform the way same-sex desire and sexuality is enacted and perceived.

Elections. In the United States, we vote on many different decisions: we vote for the president of the United States, for our representatives in state and national government, for our local representatives and leaders. We might vote for our sports team captains or the leader of our community group, for our favorite singer in a competition, or among friends to decide what kind of pizza to order. But what issues affect the outcome of the vote? What criteria do we hope our voting system satisfies? Different voting systems can lead to different outcomes. Are we using the system we think is optimal for our situation? How can outside influences affect the impact of our vote? Are some voters disenfranchised under a given system? In this course, we explore some of the topics and issues related to voting and elections. We analyze these issues through a mathematical lens, using mathematics to predict, to analyze, to quantify.

When people come to America, what are their hopes and fears? What do they think of America when they get here? And what can we learn about America itself, and what it means to be an American, from the dreams of the nation's immigrants? This course focuses on literary representations of 'coming to America,' ranging from the colonial period to the present day, by diverse authors from Europe, Central and South America, Asia, and beyond. We consider how the act of narrating the immigrant experience helps authors make sense of their journeys and create a sense of belonging. We also explore the costs of remaking one's life far from home and learn more about how 'native' Americans have responded to immigrants in different historical periods. Literary readings are supplemented by short historical works giving context for immigration issues in different eras, as well as by digital and multimedia works that document the immigrant experience in America. Possible authors include William Bradford, Olaudah Equiano, Anzia Yezierska, Willa Cather, Maxine Hong Kingston, Edwidge Danticat, and Reyna Grande.

The United States is often called "a nation of immigrants," and yet Americans have always debated immigration policies and treated certain immigrants as less desirable than others. These contradictions are echoed worldwide in an era of unprecedented migration. Some individuals arrive in new countries by choice; others flee war, persecution, and poverty. How are people affected by the experience of immigration? How can we understand the development of children of immigrants? What are the needs of refugees? Of undocumented immigrants? How do individuals with family histories of immigration come to understand themselves and the diverse communities to which they are connected? What kinds of experiences help immigrant youth feel at home in their new countries, and which experiences lead to a sense of alienation? In this course, we ask how the social sciences, psychology in particular, approach immigration, identity, and development. We address topics such as impact of immigration, models of identity and acculturation, and the diverse paths by which families, communities, and colonial legacy shape identity. The course addresses immigration in general in the context of western countries, and also offers an in-depth exploration of the two immigrant-origin groups in the United States, namely Latinos/Latinas and immigrant Muslims. In class projects, students utilize qualitative research methods and personal stories of immigration – from memoirs, our own experiences and those of our family members, and interviews with immigrants – to examine identity among immigrants and those from immigrant families. The course includes a community-based learning project with local Latino/a youth.

This course is designed to look afresh at the "long" 1960s—from John F. Kennedy's election as president to the resignation of President Richard Nixon in 1974. In less than fifteen years Americans experienced a civil rights struggle, fought a frustrating war in Vietnam, wept over assassinations, witnessed the rise of the counterculture and a "credibility gap," debated the virtues of rock music, and saw two strong presidents lose their political mandates. This course will pursue the question, "what was the sixties?" from the a range of perspectives, including those who benefited from the social changes wrought during this era, and those who resented change and resisted it.

Introduction to the interdisciplinary field of Human-Animal Studies. This course invites students to collectively examine modern human-animal relationships in cross-cultural, geographic perspective. Students will learn how to question, research, analyze, and represent the historical, economic, cultural, ethical, and political geographies of various non-human animals. Classic and contemporary readings, films, and popular media sources will be supplemented by field trips, research and service-learning opportunities, and interactions with local animals and their caregivers in order to provide students with a rich and supportive learning environment as they together address questions such as, What underlies humans' diverse relationships with animals in different places and times? How are humans' relationships to animals shaped by our own forms of diversity? How are the struggles of humanity linked to the struggles of animals? The course is intended to be flexible, positive, collaborative, and student-centered; thus students will be expected to contribute their own learning goals and questions as well.

Microeconomic theory attempts to explain the decisions that individuals and firms make about spending time, money, and other scarce resources. In this experimental microeconomics seminar, students participate in a series of economic experiments designed to test hypotheses and develop models of economic behavior. Participants learn the core ideas in microeconomic theory by discussing and writing about experiences and observations.

When an individual rebels against the status quo, he or she implicitly affirms the existence of a larger community and is thereby often compelled to pursue social justice. America enjoys a rich tradition of radical thought and behavior, from the Boston Tea Party to the Civil Rights movement to environmental activism. Of course, rebellion can be precarious for the unprepared: reckless revolt may have dire consequences for both the individual and the community. This seminar will scrutinize examples of the rebel's voice in American culture, in an attempt to discern between fruitful revolt and fruitless rant. In a series of written assignments and group discussions, students will be prompted to respond to a diverse selection of readings and films, encouraged to interrogate the American zeitgeist, and asked to examine their own role in the evolution of our democracy.

What kind of linguistic choices do people make, and why do they make the choices they do? This course entails the study of regional and social varieties of American English from sociolinguistic perspectives, focusing on the forces that influence different types of language variation in the United States. We will investigate the social basis of language, and the linguistic basis of social life; what happens when languages come into contact, how dialects form, how and why language changes and how and why different social groups (age, gender, ethnicity, and class) speak differently. Through the use of film, literature, music and poetry, we will examine issues of linguistic identity, language status, and communicative pride and prejudice, and in doing so will develop a multi-cultural, multi-disciplinary perspective on the role of language in daily life.

In a world where rapidly developing means of communication, as well as shared international social, economic and political concerns impact the importance of mutual understanding, effective intercultural communication becomes increasingly vital for people of all ages and professions. This FYS addresses issues of intercultural communication, with a specific interest in developing students' knowledge and skills concerning communication with diverse audiences. With a linguistically and culturally diverse group of students, this course integrates students' current ideas and skills with readings, discussions and writing assignments that draw from diverse writers and audiences. Key components of the course include analyses of different genres of writing in different cultures, discussions of students' cultural expectations as writers and readers, and development of essential writing skills for academic and other intercultural audiences. In order to refine students' academic writing skills, U.S. college expectations will be one component of the course, but intercultural competence both within and beyond U.S. academic audiences is also central to the course. As a result, this course is foundational for any area of study and any context, whether formal or informal, that can be enhanced by improved intercultural understanding and communication.

Almost everyone who comes to Gettysburg College knows that there was a battle here sometime in the past. Many know that it was a pivotal battle in the American Civil War. However, how many know the actual battlefield of Gettysburg? What happened in this battle? Today, the battlefield is covered with monuments, paved roads and tourists. How did this happen? This seminar uses class presentations, discussions, small group research projects, writing assignments, computer technology, and field trips to explore the battlefield and its history. Students spend time on the battlefield, write descriptions of their work, analyze and evaluate their findings, and make presentations to the seminar class.

Students read and analyze great poems, novels, short stories, and other literature of the American Civil War, and develop understandings of the myth of the Lost Cause, slavery and race, the concept of "hallowed ground," and apply these to present day economic and political issues. Literature, songs, and movies about the war give us the feeling of what it was like to be in America (and on this ground at Gettysburg) in the 1860's, and show us how the war came to be seen afterward and how we are "still Rebels, still Yankees." Was Lincoln a racist and does he still matter? Are the movies GETTYSBURG and GODS AND GENERALS accurate and fair? Is the Old South a lovely civilization gone with the wind? Why are there red and blue states now? Did the war resolve whether a nation "so conceived and so dedicated" as ours "may long endure?" What ghosts still haunt the campus, the nation, and our own sense of who we are?

This course examines Supreme Court rulings on sex and sexual conduct in the United States. Each week, students study Supreme Court cases and related literature on a different topic concerning sexual behavior, sexual misbehavior, sexual orientation, and sexual expression. The class considers the historical context in which the issues developed, modern laws on the issues, and policies that may emerge with respect to each of the issues. Students visit courts, interact with policymakers who work in sex-related fields, and interview people who have been impacted by Supreme Court decisions on sex-related matters.

This seminar is a computational look at a variety of games, focusing mainly on combinatorial games (e.g. Chess), games of chance (e.g. Backgammon), and games of imperfect information (e.g. Poker). Students will come to understand not only how we mathematically model such games, but also how we compute optimal (or approximately optimal) play for such games. Sophocles wrote, "One must learn by doing the thing; for though you think you know it, you have no certainty, until you try." Thus, students will not merely read about game-playing techniques from fields such as Game Theory and Artificial Intelligence, but will also apply them through both handwritten and computer programming exercises. No prior programming experience is necessary; students will be introduced to simple programming languages and techniques as part of the course. By the completion of the course, students will understand the fundamentals for reasoning about many games, gain a sense of how the computer can serve as a power tool for the mind, and experience the joy of discovering new and deep insights into the artificial micro-worlds of games.

Which bodies do you think are beautiful? Bodies that are young? Sexy? Fat? Able? Black? Athletic? What do each of those categories mean, anyway, and who gets to say which is the best? The fact is, while each of us has our own ideas about beauty and bodies, these views are culturally conditioned as well, and as children we are socialized into believing that certain bodies are more beautiful—"better," even--than others. All around the world, religion plays a role here, too: religions have specific (and somewhat contradictory) ideas about beauty and bodies, particularly about which bodies are blessed—the bodies that are the "best," the "holiest," the most beautiful. In this course, students will examine the different teachings about beauty and bodies in Buddhism and Christianity, and interrogate their own views, and the way beauty and bodies are viewed in 21st century American society, particularly as they relate to sexuality, disability, race and gender.

In this seminar we will study the Vietnam War in order to determine its impact on the United States and its institutions. However, like so many historical events, the lessons of the War depend upon who is interpreting them, their personal experience, their political viewpoint, or sometimes even their age. A very rich mythology has grown about the War, which will be examined and tested. We will answer such questions as: Why did the United States get involved in the first place? What effect did the media have on the outcome? Could the U.S. have won if it just did...? What was the effect of the anti-war movement on the ultimate outcome? Are the Vietnam movies an accurate representation of the War and its protagonists? What happened at My Lai and why should you care? Are Vietnam Veterans walking time bombs? The course will concentrate on original sources and the first-hand experiences of participants. Our discussions will be topical and take maximum advantage of the rich resources available locally and on the Internet. We will examine texts, literature, and movies, and each student will have an opportunity to present his or her research and to lead discussion of the class

"Homelessness" is a term that conjures up unsavory images in the popular imagination, flat, generic, cliches that owe as much to fear as to fact. The truth is that children account for a shocking proportion of the homeless in America today, as do women fleeing abuse, as do the working poor, many of whom find it impossible to secure affordable housing in many of our cities. If working men and women and school-attending children number among the homeless, why do the stereotypes of the pushy panhandler and the drunken skid-row bum continue to dominate our collective vision of homelessness? Why does this population continue to grow? What can be done to alleviate the circumstances surrounding homelessness in America? Should we act? Should we care? Designed in collaboration with the Center for Public Service, this course combines the traditional academic component with experiential education through a number of Service-Learning opportunities. Each student will participate in regular service commitments in the local community throughout the semester, and the keystone of the course will be a four-day group Service-Learning trip over the October Reading Days. This trip will be based at N-Street Village at Luther Place in Washington, D.C., and will draw upon very long and well-established relationships between Gettysburg College and N-Street, D.C. Central Kitchen, The National Coalition for the Homeless, the Congressional Hunger Center, Martha?s Table, DC Outfitters, and a host of other service organizations based in Washington. Indeed, a number of Gettysburg alumni work or have worked at some of these organizations, and the class will have the opportunity to serve with a number of members of the Washington Alumni Association over the course of the weekend. Most importantly, we will meet and work with many people who are or who have been homeless, as well as quite a few who have dedicated their lives to serving those less fortunate than themselves. If experience is any guide, we will like a great many of the people with whom we will come into contact; we most certainly will learn from all of them. In the classroom portion of this course we will study materials from a number of non-fiction texts, organizational websites, popular newspapers and magazines; moreover, we will read a number of memoirs and novels that are concerned with homelessness and related issues, and we will view a number of relevant films. These more literary materials may prove especially useful in transcending the comfort barrier most affluent Americans have learned to construct between ?us? and ?them,? between those who enjoy security and privilege and those who do not. One of the most potent powers of literature is the portal it offers us into another time, place, or consciousness; through such a gateway we may begin the long journey towards understanding and empathizing with those who are (or seem!) different. Literature also reflects a culture?s sense of itself, of what it values, and of what it fears. Thus, we will study portrayals of homelessness in popular works of fiction and film in order to refine our understanding of how the American understanding of homelessness has evolved since the Great Depression. Some of these works will reflect common assumptions about the homeless while others may challenge such views, but all will contribute to our understanding of how we as a people face the realities of poverty, homelessness, and social inequities.