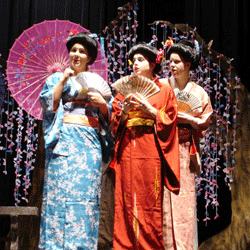 We encourage interested music students to connect with our Conservatory faculty and staff. While in-person visits will not be feasible this fall, we look forward to meeting with you virtually!
Virtual visits for the Sunderman Conservatory
The Sunderman Conservatory will be offering a variety of events for prospective students to learn more about the program, including information sessions and opportunities to connect with our Sunderman faculty.
Register for a Conservatory virtual event
Sunderman Conservatory of Music Open House
November 7th 1:00-2:30pm EST
Join our faculty and students for an engaging Open House featuring:
Sunderman highlights with Dr. James Day, Director, and Dr. Amanda Heim, Coordinator for Recruitment and Outreach
A current music student panel
A musical presentation of "Letters from Gettysburg" including an open discussion with composer, Dr. Avner Dorman, and director, Dr. Robert Natter
Attendees will be able to ask questions throughout the sessions while learning about the many opportunities Gettysburg College's unique Conservatory program provides.
Virtual college fairs
Additionally, the Sunderman Conservatory is partnering with the Music Admissions Roundtable to offer a series of virtual performing arts college fairs this fall.
If you have additional questions, please contact Dr. Amanda Heim, Coordinator of Recruitment, at aheim@gettysburg.edu or Mrs. Mary Smith, Sunderman Conservatory Admissions Liaison, at mlsmith@gettysburg.edu.