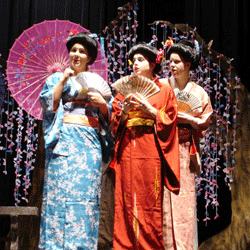 We encourage interested music students to stop by for a visit or connect with us virtually. Students are welcome to meet with faculty, schedule a private lesson, sit in on classes, observe ensemble rehearsals, and chat with our recruitment coordinator. (We do ask that unvaccinated students wear a mask during any indoor meetings.)
To arrange a visit, please contact Dr. Amanda Heim, Coordinator for Recruitment, at aheim@gettysburg.edu. Dr. Heim can assist with arranging individual faculty appointments and lessons. Dr. Heim is also available to personally discuss Conservatory degree programs and provide a general overview of curricular goals.
Location
The offices of the Sunderman Conservatory of Music are located on the third floor of Schmucker Hall. Schmucker Hall is located on North Washington Street between West Water and West Stevens Streets. If using a GPS, the physical address is approximately 250 North Washington Street, Gettysburg, PA. Additional performance venues include:
Luella Musselman Paul Recital Hall (second floor, Schmucker Hall)
Majestic Theater (North Carlisle Street)
Christ Chapel (North Washington and West Stevens Streets)
Driving directions to the admissions office (300 North Carlisle Street) are available online and parking is behind the building. The admissions office is one block away from Schmucker Hall and two blocks from the Majestic Theater.
Admissions Visit Information
In addition to auditions and other music appointments, students interested in the Sunderman Conservatory are also encouraged to take a campus tour, attend an admissions information session or schedule a personal interview. Admissions appointments can be arranged by calling the admissions office at 800-431-0803 or by registering online.
Visits for the Sunderman Conservatory
The Sunderman Conservatory will be offering a variety of events for prospective students to learn more about the program, including information sessions and opportunities to connect with our Sunderman faculty.
Register for a Conservatory event
Request Information
Find out more about Sunderman Conservatory at Gettysburg College.
If you have additional questions, please contact Dr. Amanda Heim, Coordinator of Recruitment, at aheim@gettysburg.edu or Mrs. Mary Smith, Sunderman Conservatory Admissions Liaison, at mlsmith@gettysburg.edu.